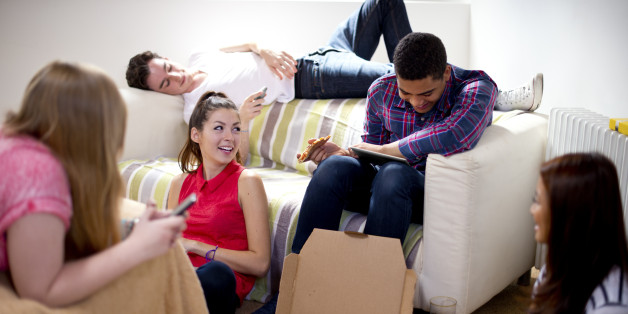 I know that's the most obvious statement ever, but when you find yourself in need of emotional and perhaps culinary, support, having human beings physically present to nod their head and offer their two cents is a whole lot more important than calling your mom to tell her how sad you are. You're not that sad. You just need some friends to be not sad with. And this has become especially important when relocating to a new city.
I recently moved to a new city to find a land with greener pastures and higher workers wages. I left my little, I mean giant, college town and moved a few hundred miles down to a big city where the buildings are tall and the birds crap everywhere. And the most important part of this statement is that I moved alone. I graduated college with the best friends I'd ever made, but all of our moving plans were different and none of them matched mine. I would be moving without kids I really knew to a city nearly foreign to me. And unlike Christina Aguilera in Burlesque, I didn't have a sexy dance background and a four octave vocal range to help me book a burlesque club job run by Cher and make lots of sexy dancer friends (and score the guy who played Jack). So I was terrified. But with a few thousand in my back pocket (I mean stored in a checking account... God that'd be dumb), I went anyways because #yolo.
At first, days blurred together a bit. With the added confusion of a city with a strangely organized grid system and six-way intersections (yup, real thing), my mind was more lost than anything else. But the most frustrating thing was that I felt slightly alone in the endeavor. I say slightly because saying totally alone is way too hyperbolic. No one's completely alone (props to Sondheim). But yeah, alone-ness was felt. But rather than wallowing in this pool of Alex's so-called-independency, I turned on Icona Pop Pandora, danced for 10 minutes and got to thinking.
So here's the thing: When you don't have friends immediately at your disposal, you find yourself digging in your mind for the slightest bits of relationships that you've conjured up in the past. And this is exactly what I did. I excavated the cave that is my memory to remember and rediscover people that I once knew. And so naturally, Alex did was Alex knows best: I stalked the sh*t out of people on Facebook to find who lived near me. Not my proudest quality. But hey, I gathered some useful info on these ghosts of my past and sent them some PMs (Private Message(s) for my older readers -- hey mom and dad).
Slowly, but kinda surely, I reconnected with kids that I haven't seen or spoken to in five years. And out of the blessings of life or whatever, I was brought to Charlotte Quam, Jon Thomas and Will Schneidman* (*real names changed for privacy). All of a sudden, these old friends I once knew all found themselves in the same position: we wanted to be independent, yet we also sought to share this independency with people who shared that desire. So we made time together and hung out. Those hangouts turned into more hangouts. And the hangout group grew in number. And you know what the best part is? Both the kids I was brought back into contact with and the new kids I was meeting felt the same. For us, excavating old and forming new relationships in our new surroundings was almost more important than finding work or an apartment (to an extent...). I have concluded that, together, the 20-somethings of America have an unspoken pact to unite and form friendships, even if it means catching the train at 4 a.m. (#buddysystem). And we'll make those friends in whatever ways necessary: whether through going to a bar alone, attending a concert without knowing the artist, or even just taking the courage to ask a train stranger for the time (even if you already knew what it was). Because, well, that's just our form of survival.
And so immediately, Alex's life boomed with friends! (Well, a few. But they burst with quality. Jon taught me that term!) We're in this weird in-between where we've left our parents, but we aren't old (or bold) enough to take that other huge life step where we sign a paper to do everything with someone else and raise babies to do the same thing (I mean, if that's what you're into). So right now, in this awfully confusing time of young adulthood, who do we have to share our lives with? Friends. And right now, I couldn't be more thankful for them.
Independency is a weird term. It infers that you seek dependency for yourself, and only from yourself. But when you start somewhere from scratch, you sometimes have to depend on others to realize and remember that independency. For the young adults of America, friends are the cornerstone of this goal. And for me, making new friends has been of the utmost importance. I've learned that if you don't have family around, you can always, and probably should, make a new one! (But not literally...) We may not have steady careers right now. But for me, having steady friends feels just as rewarding.
But I'd still like a steady career.