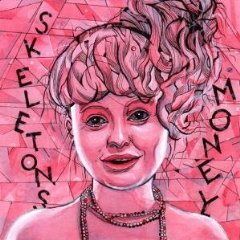 Musician, Matt Mehlan, released full lengths Git and Lucas in 2005 and 2007, respectively. The former was released under the name Skeletons & The Girl Faced Boys while the latter was produced by the Skeletons & Kings of All Cities. Mehlan incorporated a revolving door of musicians from the Ohio based Shinkoyo Collective during the recording process. Git's remarkably original take on synth heavy pop and Lucas' organic psychodelia attracted considerable critical acclaim, but little commercial success. Since that time, singer/bassist/guitarist/saxophonist, Mehlan, has settled on a permanent band composed of John Leland on drums, and Tony Lowe and Jason McMahon playing dueling guitars. The New York City based foursome now known simply as Skeletons, released a third full length, Money, November 4th on the hip German label, Tom Lab.
Money is, unequivocally, the most important release from the tail end of 2008. As the album title suggests, Mehlan stretches the theme of financial survival in America's most expensive city over ten tracks, totaling just under fifty-five minutes. Certainly, "the starving artist" is not a groundbreaking concept, but the Skeletons plight is articulated with knock out originality and force. The record opens with "Fill my Pockets Full," a gentle ballad where Mehlan's quivering voice competes with a looping piano and a cacophony of car horns. "Take away all the things that trouble me/ Fill my pockets full my fridge with food to eat," Mehlan pleads with a genuineness that could burn holes through the most stubborn cynics plaid button down.
From there, Money explodes into all of its hi-fi overdubbed glory on the albums funky second track, "The Things." The bass holds down an energetic groove, which is broken up by a series breathtaking bridges, largely the handy work of McMahon and Lowe. "The Things" seamlessly flows into a drums and vocals breakdown before crashing into a wall of floating trumpets and chimes. The crescendo hits with the force of a heavy weight punch, the listener's wind knocked out two tracks deep.
Money's core lies in two bass heavy stand out R & B grooves, "Stepper aka Work" and "The Masks." Lehland's funky, unconventionally challenging beats lay a foundation beneath the tracks everything-but-the-kitchen-sink production, reminiscent of Beck's Midnight Vultures. The songs are spaced apart by several more sinister tracks including Unrelentinglessness, where amorphous horns, piano, and jazzy fills lurch about until Mehlan cuts in accompanied by Gregorian-like backup vocals, "There's a simple way to get through the day: if you like magic tricks you'll like this! Don't you close your eyes! Keep them open but don't see nothin'."
The Skeletons' tightrope walk between vanguard profundity and sugary pop sensibility is a dazzling accomplishment. Perched somewhere between Animal Collective's Strawberry Jams and Dirty Projector's Rise Above, it trumps them both. They will be sharing the stage Friday Dec 12th with the talented Nat Baldwin and New York City's avant Jazz/Rock trio Zs at Manhattan's Less Artists More Condos. Do yourself a favor see them live, buy Money and never stop listening.