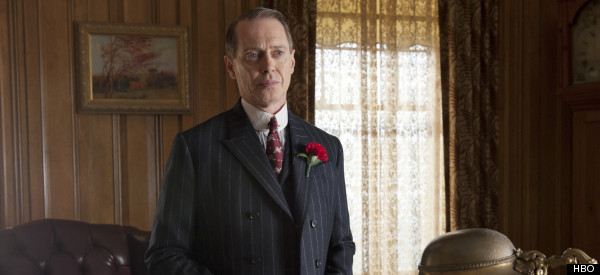 Spoiler alert: Do not read on if you haven't seen the second episode of "Boardwalk Empire" Season 3, entitled "Spaghetti and Coffee."
It didn't take Gyp Rosetti very long to make his first move on Nucky Thompson. The brutal and simple-minded New York gangster -- who arrived on "Boardwalk Empire" to be a thorn in Nucky's side -- stuck up a New York-bound convoy of liquor-packed trucks at a gas station in Tabor Heights, NJ, sending them back to Atlantic City after a brief stand-off. After being told he can't buy Nucky's booze, he seems intent on making sure nobody else can either. Rosetti wants a war, and he's likely to get it.
For now, though, Nucky is keeping a low-profile, shaken by his colleague Munya's murder. And luckily for fan-favorite Richard Harrow, he's not on anyone's radar as a possible suspect in the killing.
This episode also saw two notable debuts, as former Police Chief Eli Thompson was released from his stint in prison and Chalky White made his first appearance of the season. They were both once important players in Atlantic City's power structure, but it's not yet clear where they fit into Nucky's new world order.
To keep track of the deals, deception and death, HuffPost TV presents our weekly "Boardwalk Empire" gangster rankings, a guide to who's up and who's down among HBO's organized criminals.
Check out the slideshow to find out how your favorite liquor-slinging sociopath fared this week ...
PHOTO GALLERY
'Boardwalk Empire' Gangster Rankings, Week 2