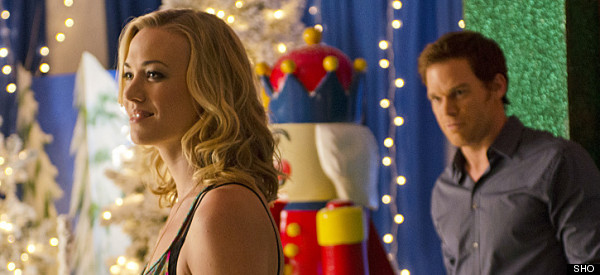 Spoiler alert: Do not read on if you haven't seen Season 7, Episode 6 of "Dexter," titled "Do The Wrong Thing."

Well, that on-the-table sex scene was a hell of a way to end an episode, wasn't it? For much of "Do The Wrong Thing," Dexter set his sights on killing Hannah McKay, but in the final moments, he came to his senses and just had sex with her instead. Was it hilariously absurd? Of course, but as it turns out, even a stressed serial killer cannot resist the hotness of Yvonne Strahovski.
Even though Hannah fit every aspect of the code, in the end, it didn't matter. So what if she killed people with Wayne Randall, carried around a dead rabbit and has a history of poisoning people close to her? She said, "I can get dirty," gave Dexter a flower with blood spatter petals, and it left him defenseless. What can you say? The guy has a thing for damaged blondes. And Hannah McKay has a thing for serial killers, so she found almost being serial killed to be a total turn-on.
So what else happened in this episode? Well, I pretty much can't think of anything else after watching that last scene. Just kidding (sort of). Thankfully, I took notes.
Speaking of Dexter's former flames, Lumen came up in this episode when LaGuerta decided to take another look at some open cases in her Bay Harbor Butcher investigation. She noticed there was something that didn't quite add up about the Barrel Girls killings, and after she told Deb about her theory, Deb quickly figured out that Dexter was responsible, and that he took out Jordan Chase & co. with Lumen. Deb wanted to know if Lumen could resurface, and possibly spill Dexter's secret. But Dexter assured her that there has been no news of Julia Stiles signing on for a Season 7 guest arc, so all is well.
Meanwhile, in prison, Issak fended off the Columbians gunning for him by breaking one guy's hand while smoothly telling him to step off. The writers are making him into an evil supervillain who could believably take Dexter down at some point.
In other news, Deb went out on a date with crime writer Sal Price, who suspects that Hannah McKay played more of a part in Randall's murders than his previous work -- and her immunity deal -- would indicate. Price seemed genuinely interested in Deb, but then again, he could just be interested in her personal story as the Ice Truck Killer's ex-girlfriend. Just imagine if he knew the Bay Harbor Butcher was her brother. It's plausible that he could actually discover that through his research eventually, which opens up yet another door that could lead to Dexter's undoing.
Quinn first gave the bribery money back -- only to take it again later -- after his stripper girlfriend warned him that dealing with the Koshka Brotherhood could get him killed. But then, Issak's No. 2 sat Quinn down and told him to lose the blood evidence linking Circo to the Columbian killings or else Nadia would get shipped off to a sex club in Dubai. Quinn was conflicted, but when Nadia disappeared, Quinn made sure the blood evidence disappeared. Deb will undoubtedly blame Dexter.
What did you think of this episode? How about that final scene? Leave your thoughts and theories in the comments.
"Dexter" airs Sundays at 10 p.m. ET on Showtime.
PHOTO GALLERY
Dexter Season 7 Photos