Why I won't be shaving on November 30
It's officially November, or as it's come to be known, "Movember" -- a month dedicated to raising awareness of men's health issues. Last November, many of my male friends grew their facial hair during "No Shave November" as a sign of support for me. I've always been hairy, but at the time, I was hairless and unable to grow any hair whatsoever, let alone a beard. Just two months prior, I had been diagnosed with Stage IV Gastric Cancer and had lost every hair on my body from the chemotherapy treatments I was receiving every two weeks. I was a healthy 30-year-old male with no family history, and found myself battling stomach cancer.
While gastric cancer isn't as prevalent in the United States as other forms of cancer, it happens to be more common in men than women. It may never have its own month as large as October has become for Breast Cancer Awareness. That said, I'd personally like to use this November as an opportunity to raise awareness of men's health issues by celebrating my own.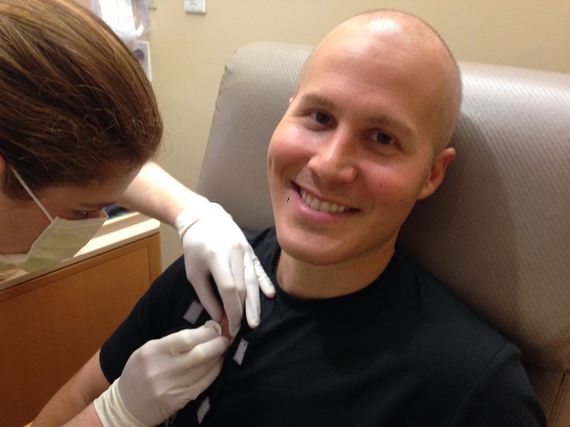 Just last week, I completed my 21st cycle of chemotherapy, my sixth since starting back up in the fall. Like last time, my hair started to fall out and I shaved my head a few weeks ago. While I've been getting rave reviews on the no hair look, I am happy to say that I have no further chemo appointments on my calendar at this moment. So, this November, alongside my male friends, I'll be doing my best to grow back my 5 o'clock shadow, and of course some hair on my head! When November 30 comes, I'll be happy to have spent a month advocating for men's health awareness... and I'll also be happy to hold the razor and help my friends shave their beards, but I'm keeping mine.