The annual Santa Fe Film Festival was held at the end of October for the first time since it was established in 1999. Previously scheduled in early December, the new date was viewed as a way to take full advantage of the natural splendor of the American Southwest and showcase the City of Santa Fe, known internationally as "The City Different" and the first city in North America to become a member of UNESCO's prestigious Global Creative Cities Network (Montreal, Québec, Canada, is now the second North American city to be awarded this designation). The State of New Mexico also happens to be a major center of the movie industry -- nicknamed "Tamalewood" -- and its efforts to advance film production are viewed as integral parts of the State's economic development strategy.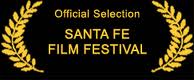 This year's Santa Fe Film Festival was also different from previous years in that it is undergoing a major redesign of its mission and operations. Still focused primarily on the screening of independent films that offer entertainment value and opportunities for creative expression, the festival is now more than ever dedicated to providing quality on a human scale so that both filmmaker and audience are meaningfully engaged with each other. In this way, the film festival becomes a unique edutainment venue and vehicle for personal growth, providing a much-needed mirror to remind us of who we are and why we exist. Moreover, through "slices of life" and stories that depict and challenge the human condition, the existential value of film and filmmaking, especially through the lens of the festival experience, is enhanced significantly.
What I recently experienced in Santa Fe provides an instructive and very meaningful case in point. Besides the showing of a number of excellent, award-winning, feature documentaries and shorts, the 2010 Festival celebrated the 40th anniversary of the 1970 satirical war comedy, "Catch-22," with a special screening involving some key members of the cast -- Alan Arkin (a Santa Fe resident), Richard Benjamin, and Paula Prentiss. If you don't remember or know anything about this film or the book of the same name by Joseph Heller, Catch-22 is a black comedy and anti-war satire revolving around some "lunatic characters" during the later stages of World War II. In a distinctive non-chronological style, the plot centers on a bombardier and his colleagues who are based on a Mediterranean island west of Italy. Without going into the details of the film, it is the notion of "Catch-22" coined by Heller and portrayed in the movie that I'm sure every reader will recognize.
To jog your memory, a Catch-22 is a logical paradox arising from a situation in which an individual needs something that can only be acquired by not being in that very situation. In other words, the very thing that you would like to acquire or do becomes logically impossible. In your life, including your work life, have you ever encountered this kind of no-win situation? You know, where you had knowledge of being or becoming a victim but had no control over it occurring? If so, you found yourself, like the characters in the movie, in a "Catch-22!"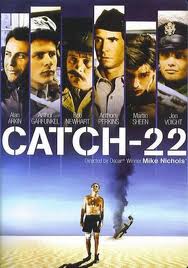 The opportunity to discuss the deeper meaning of this notion, after seeing it played out on the movie screen, with members of the cast of "characters" was an occasion to remember. In addition to Alan Arkin's uniquely-branded sense of humor (he played the central character of the film), the insights and experiences of co-stars, Richard Benjamin, now a highly-respected director, and acclaimed actress, Paula Prentiss (also Richard's spouse of 40 years), added dimensionality to the movie and its message that would not have been possible or accessible without being in such a "festival" environment. And having the chance to spend some quality time with these wonderful people (at the ranch of actor Val Kilmer, the Santa Fe Film Festival's Honorary Chair) revealed elements of their true character, both individually and collectively, that will always be cherished.
So, as you can tell, the film festival experience means much more than merely the screening and recognition (through awards and the like) of film productions seeking distribution -- which is not to say that this objective, especially for the filmmakers, is not important. On the contrary, such recognition and distribution are very important since in many ways the production of a movie/film marks just the beginning of a filmmaker's journey. Sadly, too many films don't receive the exposure they deserve even if their message is compelling, extraordinary, and meaningful. In the age of the Internet with its awe-inspiring prospect of "going viral," the film festival route often looks like the lone hope for some filmmakers to see their labor of love go mainstream or even make it to DVD!
This said, the film festival represents an important venue for both filmmakers and film audiences to experience the linkage between movies and meaning that otherwise might go unnoticed. In addition, people have the good fortune of seeing many so-called "independent" films that really matter, convey a meaning-centered message, and hold promise to make a positive difference in the world. In Santa Fe, for instance, I was able to see an advance screening of an eye-opening documentary called "Bag It" about our crazy-for-plastic-world and what to do about it. Funny and serious at the same time, this film influenced me in a deep and profound way. In a practical sense, I now find myself doing everything I can to avoid the use of plastic bags which I am finding is not an easy thing to do!
At the festival I also was introduced to a unique distribution channel, "Spiritual Cinema Circle," that positions itself as touching the heart and soul of cinema. If you are like me you would ideally like to see more movies that carry a soulful and inspirational message. Like trying to avoid plastic bags, however, finding such films can be a formidable challenge in "mainstream," commercially-oriented, profit-driven movie houses. Spiritual Cinema Circle offers an alternative to the "dark side" of film as well as opens up opportunities to see movies with limited or no release in theaters. And while there appears to be somewhat of a trend happening to bring existential issues to the big screen, as a film buff, it's always nice to know that alternatives to waiting around for them also exist.
Beside my ongoing relationship with the Santa Fe Film Festival, I would be remiss if I didn't mention another annual film festival with which I have an affiliation -- the International Health Film Festival that takes place on the Greek island of Kos (Κως), the birthplace of Hippocrates (Ιπποκράτης), the ancient Greek referred to as the "father of Western medicine." In this regard, I'm very proud to announce that our new initiative The OPA Way!® is an official sponsor of this film festival, consistent with our philosophy of "living a happy, healthy, meaningful life" inspired by and based on Greek culture.
***
You can find out more about Dr. Alex Pattakos, author of the international bestselling book, Prisoners of Our Thoughts, in his HuffPost Bio. You can learn about his new initiative, The OPA Way!® of "living a happy, healthy, meaningful life," as well as join the new OPA! Village (it's free!) at: www.theopaway.com.