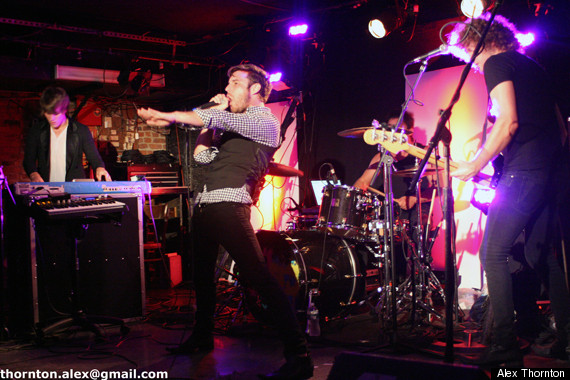 For an early show on a typical Thursday night The Mercury Lounge had drawn in a decent-sized crowd, though a majority of them lingered at the bar despite a great lineup. The crowd, with a median age in the mid-thirties, had a distinct rockabilly vibe and genuine, enthusiastic energy.
Arriving just after 7pm, there was already a band on stage for what I later learned to be a showcase performance for the folks at A&M/Octone Records, a label that boasts Maroon 5 and The Hives. In fact, even their CEO/President, James Diener, was in attendance to see the Nashville-bred electro-pop/rock band Mike's Pawn Shop. Unlike some bands who's live show lacks, the five members of Mike's Pawn Shop rocked the stage from beginning to end, their set sounding as if it were being played straight from the CD. With catchy, radio-ready songs like "Belief", it would be a surprise if they stayed unsigned for long. Their first single, "When I'm Gone" is an upbeat, electrically enhanced anthem driven by strong vocals reminiscent of already established, and popular, pop-punk bands. The only disappointing part of the show was that the crowd maintained a ten-foot perimeter away from the stage. Lead singer Mike Woods kept trying to encourage them to get up on their feet with his charming Southern drawl, but some crowds just can't be persuaded and the band certainly has no fault in this instance. This is a band you definitely need to keep an eye on.
It was just after 8pm by the time the stage was reset for Dan Sartain. The crowd pushed closer and cheered brightly for this rockabilly and blues singer who is currently promoting his new album Dan Sartain Lives. The Alabama-born Sartain sounds as if he is one of the good ol' boys you might think of when recalling old time rock and roll, and his appearance is that of an urban cowboy. With a throbbing bass that could easily be mistaken for an upright and driving drums complete with cowbell, his music all but forces you to stomp your foot in time with delight. However, when you examine the lyrics, you realize you are dealing with an honest songwriter who isn't trying to impress you, but rather he is telling you how it is in songs like "Panama City Beach" where he relives his 1998 spring break trip. The crowd, who knew all the words, kept shouting out requests so he eventually abandoned whatever set list he had prepared to sing songs like "Drama Queen", which he describe as, "so f****n' nasty you'll get arrested for ownin' the motherf****n' album!" Sartain's songs are the epitome of stripped-down rock-and-roll so it is no surprise that he has been an opener for acts like The White Stripes; front man Jack White just produced his latest single by the name of "Bohemian Grove". His intense passion for music and lively banter with the audience kept the show low-key and left it feeling like one of the most real shows I've seen in ages.
The early show ended all too early as that label suggests, but the night continued with blind benny, McAlister Drive, and Thought So though most of the crowd had taken off post-Dan Sartain. While Mike's Pawn Shop and Dan Sartain certainly differed in style, they both had a feel good quality about them that can transcend musical boundaries. If you're looking for anything from happy dance music to a great live show, either band wouldn't be a miss.
PHOTO GALLERY
Dan Sartain At Mercury Lounge