Up the stairs and past the steel gates of Acquavella's 79th street townhouse lies a compilation of veritable masterpieces. However aesthetically varied, these paintings testify to Georges Braque's innate ability to constantly reinvent and reconceive his own artistic practice. Curated by Dieter Buchhart, formerly of the Kunsthalle Krems, "Georges Braque: Pioneer of Modernism" marks the first major Braque retrospective in the United States since the Guggenheim Museum's celebrated exhibition in 1988.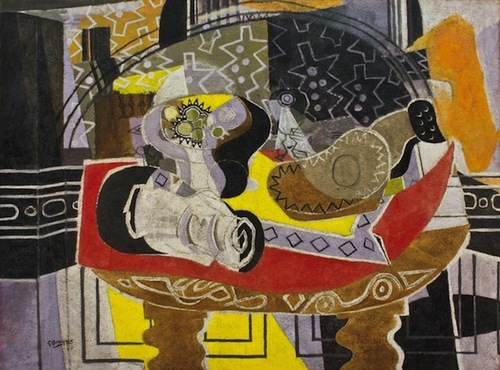 Still Life with Guitar I (Red Tablecloth), 1936, Oil on canvas, 38 1/4 x 51 inches (97 x 129.5 cm)
Gift of R. H. Norton, 47.46, The Norton Museum of Art, West Palm Beach, Florida
© 2011 Artists Rights Society (ARS), New York / ADAGP, Paris
The chronological hanging begins with the Braque's electrically colored Fauve compositions, the creation of which occupied only a few years (1905-7) at the beginning of his career but included such powerful works as "Landscape at L'Estaque" (1906), in which the mystery of a pathway framed with trees sparks nothing but curiosity. "Houses at L'Estaque" (1907) transitions into Braque's proto-Cubist period born out of Cézanne. The show expands with his masterful analytical Cubist phase—the founding of which and subsequent reconfiguration of painting itself he shared with Picasso—and culminates with lush yet brooding amalgamations of figuration and geometric dissections of the "Studio" series.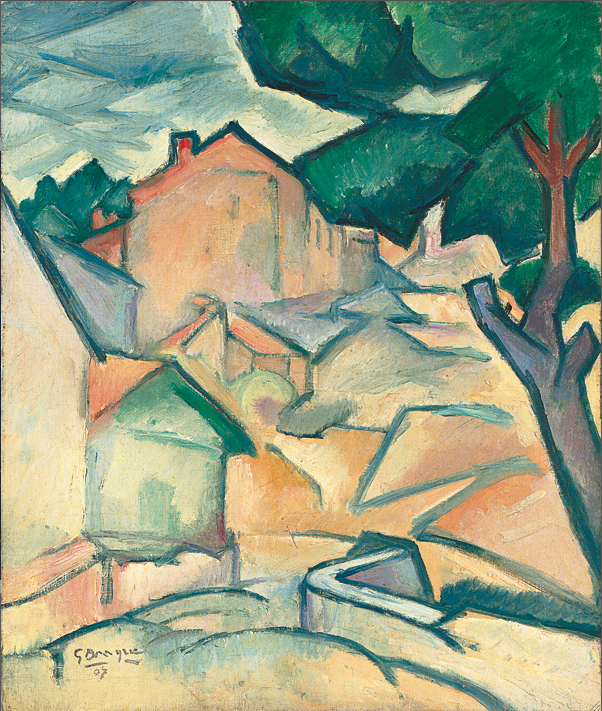 Houses at L'Estaque, 1907, Oil on canvas, 21 1/2 x 18 1/8 inches (54.5 x 46 cm), Private International Collection
Photo © Christie's Images / The Bridgeman Art Library
© 2011 Artists Rights Society (ARS), New York / ADAGP, Paris
"Piano and Mandola," painted in the winter of 1909-10, spins the viewer visually with shades of brown and grey coalescing to form the barely recognizable figures of instruments. The mesmerizing strokes surely could have inspired Duchamp's "Nude Descending a Staircase, no. 2" (1912) evoking a sense of rapid, directional movement.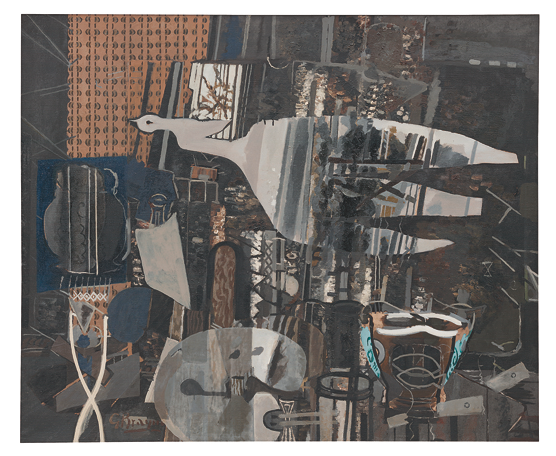 Studio V, 1949-50, Oil on canvas, 57 7/8 x 69 1/2 inches (147 x 176.5 cm)
The Museum of Modern Art, New York. Acquired through the Lillie P. Bliss
Bequest, 2000. Accession Number: 123.2000
Digital Image © The Museum of Modern Art/ Licensed by SCALA / Art Resource, NY
© 2011 Artists Rights Society (ARS), New York / ADAGP, Paris
After the war, Braque turned from the abstractions of the Cubist era, reinvigorating himself through experimentation with a new palette and mixing paint with sand, coffee grounds, and even ash. In "The Yellow Tablecloth" (1935)—that situates a full still life in a skewed perspective—and "Still Life with Guitar I (Red Tablecloth)" (1936), the pebbled texture of sand adds to jarring aesthetic effect grounded in the artist's aggressive use of vivid colors and patterning.
The "Studio" paintings of the late '40s and '50s feature the most commonplace of items from instruments to flower pots as well as birds positioned within interiors that seem, at times, to spill outwards with the potential for natural light and foliage. At this point, Braque incorporated a stronger sense of geometry, reminiscent of his early Cubist days, into his paintings as viewed in "Studio IX" (1952-1953/6) which contains the "Cubist fragmentation" of what once was an opaque bird pointed out by Buchhart in his catalogue essay.
While Braque has never been a secret, he has not benefitted from the same attention that his contemporaries from Picasso to Miró have received, particularly from MoMA. Furthermore, significant works rarely come up for public sale save the tremendous late interior "La Treille" which sold for $10m a year ago. Alongside galleries from Gagosian to Nahmad, Acquavella's show and the accompanying catalogue provide a museum worthy experience sans admission. For fashioning such an accessible narrative and assembling a tremendous array of works that account for the entirety of the artist's career, the gallery must be applauded. The art of Braque is as intellectually challenging as it is visually rewarding but worth every second taken to savor each picture.