What happens when you bring together over 5,000 registered attendees to learn about how technology, social media and entrepreneurship are bringing much-needed innovation to the District of Columbia? Excitement, fun, learning, connection and celebration in Washington. For a few days in sultry June, D.C. has exchanged nerd capital for digital capital.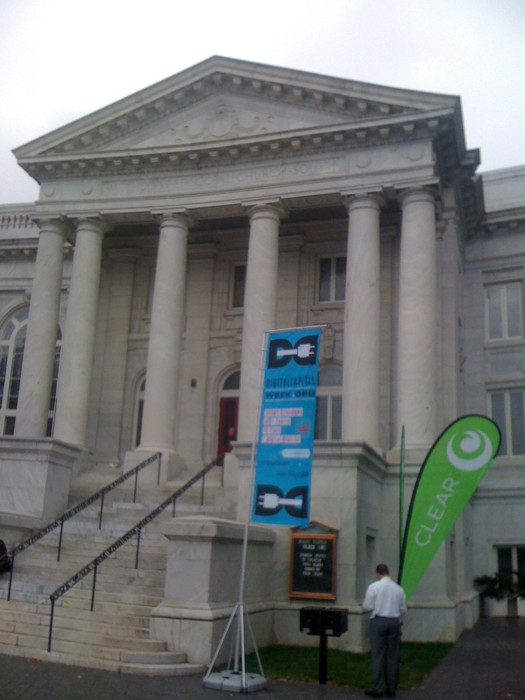 Digital Capital Week is a ten day event on technology, innovation and all things digital in the United States' capitol. More than one hundred events are listed on the D.C. Week Schedule, featuring something for everyone interested in technology and the city. The wired set - and there are thousands - are following @DCWeek along in real-time using the #DCWeek hashtag on Twitter, comment on its Facebook group, contribute pictures on Flickr or download the D.C. Week iPhone app.
Digital Capital Week blasted off last Friday night with a spectacular opening party that featured power stilts, firedancers, live bands, breakdancing troupes, local beer and hundreds of attendees.
Zappos.com CEO, Tony Hsieh, kicked off his "Delivering Happiness" book tour on Saturday, followed by a "CityCamp," an unconference "dedicated to bringing people together who are passionate about building a better District of Columbia." Dozens of writers, producers and designers from Washington's media world came together at a Mediabistro happy hour Monday night.
On Tuesday, Vonage founder Jeff Pulver discussed the "state of now" and announced the launch of JustCoz.org, a new website that will allow Twitter users to donate tweets to a cause. Digital Capital Week's Media 2.0 Day featured a discussion on the future of the media that left some in the audience a little angsty.
Gov 2.0 comes to D.C. Week
While much of the buzz and foot traffic at today's "Gov 2.0 and Org. 2.0 Day" event went to sessions on all-things-social, like the
nonprofits and social media D.C. Week panel, the organizers set up an impressive lineup of speakers on meaty topics like government transparency, cloud computing and privacy, technological innovation in the District of Columbia, mobile technology in 21st Century statecraft, and online engagement and open leadership.
For those that are unfamiliar with the term, Government 2.0 is a combination of technologies that allows people to more easily publish information online, often with a social software or computing component that enables community between their online identities. Tim O'Reilly has advanced the paradigm of government 2.0 as a platform, which I also find to be a useful metaphor. It's also one recently advanced by the actions of the Department of Health and Human Services, which is making community health information as useful as weather data
Given the quality of the Gov 2.0 panels at D.C. Week, I livestreamed each of those session and archived them at uStream.tv. Higher quality versions of sessions may be available at DigitalCapitalWeek.org in the days to come. In the meantime. the livestreams are embedded below, along with a few key links and observations from each panel.
Transparency on the Social Web: The Facebook Generation and Politics at DC Week
A panel on government transparency featured lively conversation from Clay Johnson of Sunlight Labs, Gray Brooks of the F.C.C., Riki Parikh from Senator Warner's office, Andrew Noyes of Facebook and Gloria Huang of the Red Cross, all moderated by Kathleen Fitzgerald of Scribd. Each offered an assessment of what's changed in government because of the social Web.
Johnson was concerned about the glut of bad data and poor reported. "We need to start going on better information diets, just like food diets," said. "I'd prefer to eat fried chicken but my wife makes me eat broccoli."
Parikh explained how his office is seeking to add to that mix. "We're pushing more information," he said. "We're not relying on the reporters who cover Capitol Hill. Our communication director likes to say we specialize in retail messaging, not wholesale messaging." Riki said they use Twitter for where the Senator is going to be and YouTube to show him around Virginia, supplementing TV coverage. "We can't rely on the traditional media to be out there and covering it."
What's different now than in the last election? "Mobile, mobile, mobile," said John. "There are a few really interesting things mobile brings to the table. A field operation with high speed access has a printing press and geolocation in their pocket. That's more useful than a computer for winning elections." Johnson, not surprisingly, given his vocation, also emphasized open data. "The reason why I'm excited about the work I've done at the Sunlight Foundation is that I'm hopeful it turns our electorate into a more rational society."
Parikh had a different hope for the U.S. Senate as the 21st Century progresses: enabling constituents to track constituent service requests. "We're not allowed to do that because of rules," he explained, pointing constraints around keeping personal information on Senate serves.
For more insight from the Red Cross, F.C.C., Johnson and Parikh, check out the video below.
D.C. CTO Bryan Sivak and Peter Corbett at D.C. Week
Peter Corbett, founder of iStrategy Labs and one of the core organizers for Digital Capitol Week, led a what open cities technologist Philip Ashlock described as "an enlightened conversation on city IT innovation, particularly [regarding the digital divide." It's clear from listening to Sivak, the District's chief technology officer, that addressing this divide is an issue he's passionate about. While he was proud that D.C. city libraries have an iPhone app and Web portal, he acknowledged that the cost of connectivity and smartphones meant many residents would not use them.
"DC has one of the robust fiber optic networks in the nation," said Sivak. He noted that there is only 30% utilization of all of the hundreds of miles of fiber. Extending last mile access could be transformative. "If we can bridge the digital divide, we will fundamentally change the fabric of this city," he said.
Sivak also wants to enable more innovation around opening up transit data. That may be possible because "the Circulator line is the only one D.C. government controls," said Corbett. "That allows government to be progressive on publishing data." That Circulator data is now being published on API.DC.gov.
What's next? "We're putting QR tags on all buses, stops & shelters in the city," said Sivak. Combined with GPS to allow bus tracking, those QR codes could be used to check buses in and out, track traffic patterns and more. The discussion in the video below addresses all of that and much more.
Privacy and Cloud Computing
Randy Skoglund, Russ Fromkin, Michael Nelson and John Knopf held a wide-ranging discussion on the issues around privacy created by the trend towards cloud computing, where shared processing resources, software and information are provided to users on demand. Data protection, security and international laws were all on the table, including the proposal of an industry coalition to amend the Electronic Communications Privacy Act. More information about that effort is available at digitaldueprocess.org. For more on the topic, including a question from this correspondent on the relationship of the Patriot Act to data privacy in the cloud, head to the last ten minutes of the video below.
Mobile technology and 21st Century statecraft
What does mobile mean to Africa? Mobile banking, the ability to check crop prices before market, diagnose disease through FrontlineSMS Medic and to access knowledge in "information deserts," to name but a few. "This is what we mean by 21st Century statecraft: Using these tools to give voice to as many people as we can," said Caitlin Bergin, Policy Officer, Africa-U.S. at the Department of State.
Many other ways that mobile technology can change both culture, commerce and diplomatic relationships arose over the course of the discussion. One interesting note is that a flashlight is one of the most popular features of Nokia cellphones in Africa, given the lack of access to steady power. A new bicycle charger kit released this month could hold particular interest to energy-poor, remote regions.
Listening to the discussion, former Congressional staffer Justin Herman wondered if "there is danger in citizens reporting crime data to governments who suffer from corruption?" There are risks to technologies that could have dual uses, as there are to the State Department funding technology directed towards Internet freedom. For more of the discussion, tune into the video below.
Online engagement with Cammie Croft and open leadership with Charlene Li
Department of Energy director of new media Cammie Croft spoke about online engagement. Croft is a new media veteran, moving from the campaign trenches of the Obama campaign to the high intensity environment of the White House. Building better White House policy through online citizen engagement has lead her to a new challenge at the Department of Energy, where she's working to implement its open government plan, including dissemination of oil spill data. Croft earned kudos from Altimeter founder Charlene Li, who tweeted after the session that she was inspired by @cammiecroft who chose to stay in dot Gov after leaving @whitehouse despite challenges, cuz of change she can impact. "
Li, who co-authored the best-selling book "Groundswell" in 2008, was in town to talk about her newest work, "Open Leadership." She offered advice and perspective on what leadership in the age of social software means.
So how open do you need to be to succeed in the age of blogs, wikis, social networks and tweets? The answer is defined by the goals you need to achieve, according to Li. "You can't Six Sigma your way into innovation," said Li. The most important question you have to ask about social media is how relationships change, suggested Li, not forming a "Facebook strategy."
So what's the value of open government? "Try activity-based accounting" to assess it. suggested Li. "Relationships are harder. How do you quantify faith in government?"
She also offered a tough assessment of the prospects for classic consulting models that deliver expensive research products. "The time you can have a paywall is coming to an end, especially in disruptive spaces," she said. Whether that perspective rings true over the coming year for newspapers that try to charge for content is as of yet undetermined. /
GIS for Citizen Engagement
While I couldn't make the session, Gadi Ben-Yehuda's session on "geographic information systems (GIS) and Gov 2.0" focused on how mapping and geolocation are an important element of engaging citizens. He wrote about it elsewhere on the Huffington Post, in "Neither fish nor fowl," and released a video to explain more, embedded below.
More on Digital Capital Week

On Thursday afternoon, Pulver will host the D.C. 140 Conference, which I'll be participating on with NPR's Andy Carvin. Tune in at noon for seven hours of rapid-fire speeches and panels on "the state of now" from the technoanthropologist and his friends, followed by TechCocktail. On Friday, there will be a "digital garage." And on Saturday night, there's going to be a heck of a closing party.