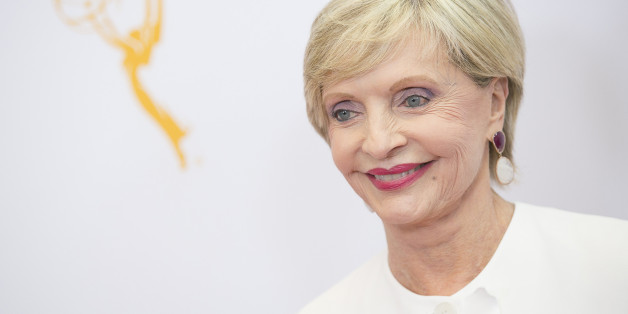 I saw her standing off to the side near the avocado dip and after swallowing what I could of a half eaten sandwich, I turned to my pal and whispered that Florence Henderson was indeed only feet from us.
We both inhaled and paused, sandwiches drooping.
She nudged me and giggled and as I stood staring at that famous smile and that radiant spirit, I went back to the late 60s in our apartment in Playa Del Rey California, to see me lying on the floor of our den, watching Carol Brady speak sternly to Marcia about not being able to play Juliet because of her ego, or sliding into second base with the boys in the backyard so she could bond with the new family, or believing Alice's fake tooth ache so the kids could run out and sneak an anniversary picture. (Jan! Where's your glasses?)
And all the while, as I watched and as I lay there at 7 years old, I felt held by her. I felt Carol Brady saw me like she saw her kids. She spoke to me. She reprimanded me and taught me to be kind to people and pick things up when I threw them down and not to ridicule, bully or tease people, because simply put:
"It wasn't very kind."
And as I would come home from school and disappear into my room with an emotionally detached brother and a distant, if not, practical and stalwart mother, my television humans became my home. See, the world I knew was unsafe and frightening. It was strange and made no sense to me and I knew innately that what I was was punishable and shameful. I was hit, pushed, scarred and bloodied and never the better for it. For me, learning to fight back meant learning from the only models I had, which were my TV family, and Florence was the matriarch.
And as I grew into the size of my life, Henderson moved through the hallways of her depression, her debilitating stage fright and into the depths of her own fears. She conquered Broadway, more TV, and never stopped working whether it was her own cooking show or an autobiography or one of the myriad of Brady lives constantly being resurrected.
Florence never stopped and she never gave in to other's text about her. What she knew was true, she felt was true. She wasn't told how to live, she simply did it. This is courage and this is what I always knew about her.
And so two years ago, there I stood, being pushed gently by my pal as the summer wind ripped through the fancy party blowing me closer and closer to a woman whom I'd never met, but who had changed me significantly. I could barely speak as I stood next to her and most every actor that was at this party felt the same, whether they were Oscar winners or not, People's breath stopped and some stood in a pause unable to form words for a moment,
It was truly an iconic moment and not at all lost on any of us.
But Henderson was miraculous. She was radiant and present and warm and genuinely funny. Raucously so. She had a big laugh that filled that outdoor patio and shook us all to the core, and she paid attention with a fervor and an excitement.
So I breathed big and walked up to her,
I got to tell her about the living room and being Trans, and Marcia's shatterings, and her one night as Mama Morton, and her appearances with Paul Lynde, and the fact that she allowed me to breathe at a time when my life was being strangled.
And she wept and held onto me and said thank you, and I wept and held on to her and did the same. And I got to tell her. I got to be with her in a way that reminded me that her greatest gift to me was her kindness and her ability to lift others up, even if I felt they didn't deserve it.
And I got to to tell her what it was like to have her part of my chosen family and that my Transness always seemed normal when I brought it home to her in my fantasies, and that it actually made my transition just a little easier when I manifested her openness and her acceptance in my life. You see, Florence's ability to release that part of her inner self that was glorious and beautiful was so honest, it became who she was to millions of the disgraced and the marginalized. We wanted her because she accepted us, and that became not only Carol Brady but Florence Henderson as well.
And in a time, when being what I was and living out and present was not only unheard of, it was against the law, Florence's courage was radically kind.
And so we held on to each other night and so we let go.
I find it appropriate that during Thanksgiving my mother's voice is a constant for me. She and I had a complicated relationship, but we both came to an understanding eventually, and one that lead us to a place of love and a place of healing, towards the end of her life. And so, it is fitting then that my other parent left this planet on Thanksgiving night, for I have a feeling both of them are wherever they are, together for a moment giggling and sipping cocktails and trading stories about how to handle the kids. Perhaps neither of them have an answer, but the debate would be one for the books
Goodbye, Florence. You gave me salvation during the war years of my spiritual discovery, and I have carried you with me for the decades; I have been allowed to run free. And you, my darling artist, were the keys to that freedom.
And I believe that as you saw our country turn towards what might be described as a dizzying rotation into a frightening future, that your signature guffaw and your deeply held belief that every American deserves equality under the law was ignited and instilled in a brand new queer generation. And we hear you, Florence, and I am changed because of you. Your life profoundly moved me into the center of my own.
And that is, most likely, the kindest thing we can do for one another.