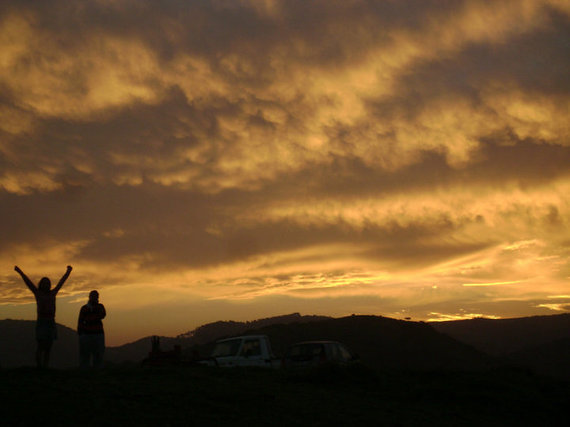 Standing on the edge of Bloukrans, the highest bridge in South Africa and highest bungee jump in the world I took a deep breath and stepped off into nothing. I screamed all the way down. Even when the bungee cord snapped taut and the instructors began pulling me back up, it was the scariest thing I had ever done. It left me with an adrenaline rush and the feeling that there was no problem I couldn't conquer. It was a feeling I needed, to take my mind off the troubles of the Zulu girls who walked into the crisis center where I had an internship earlier that spring. My advisor had called it 'transference' and told me it came with the counseling job.
While my classmates were soaking up museums and red wine in Europe I had decided to spend my spring semester of my Junior year abroad working for the South African government on feminist legislation and human rights issues. With that done I was finally getting a chance to experience the sheer beauty of the country and hoping to snare some tickets to the World Cup.
It was July, and I had just come back to my hostel, reeling after a recent break up with Dane, a South African surfer. The punk Afrikaner bartender at the hostel and an American girl were chatting over a game of Scrabble. It was rare to meet an American and even rarer to meet one from the town just down the road from where I went to college. A few minutes later, she introduced me to her friend who she had been traveling with the past month. He was cute, and my ears perked up when he mentioned that they had just graduated from George Washington University in D.C. We started talking American politics and his love for the Black Keys.
We spent the evening playing Kings. While he filled me in on the pop culture I was missing in the States, I told him about living with a poor family in a township. It sounds shallow but after months of living in poverty and learning about domestic abuse, talking about the release of Lady Gaga's newest music video was a balm I desperately needed. We were standing at the edge of the rooftop bar sharing a cigarette. Gabriel, a Colombian traveler, had been watching us. Finally he'd had enough.
"Kiss ze girl!" He egged on. I looked back at this boy with a sheepish grin.
"Well, I do want to kiss you" he said.
After dating my South African, this blonde, blue-eyed American seemed stable. A safe bet. I didn't give it a second thought and I jumped.
Within the next three days we spent every day together, swimming in the Indian Ocean, sharing new bands from Discovery to Fashawn. He showed me his favorite scene from Romeo and Juliet, the one with Leonardo DiCaprio. I couldn't sleep. Although we had only just met, here was the only actual person who "got" me. We returned to the U.S. within a week of each other and committed to a long-distance relationship.
Over the next year, I went back to finish college and he went back to Washington D.C. to pursue his dream of becoming a political speechwriter. At school I was miserable and unable to relate to my peers, but when I was with him I was incredibly happy. It was almost like he had watched the movie of my life and knew how to cater to each and every one of my desires. One weekend we were both in New York. He had taken me to see a Broadway show the previous night, out to dinner at a chic Lincoln Center restaurant and we had spent the night in a hotel across the street. The next morning we walked along Central Park South. I pointed out the pond where Holden Caulfield sat and thought about the ducks. We sat on a sunny spot near the ducks, and he gazed into my eyes and whispered, "I love you" into my ear. I was walking on clouds.
Our weekends that year were split up between New York, D.C. and my off-campus apartment in the suburbs outside of Boston. I told my friends about our shared yoga classes together, how he let me show him carefully selected episodes of Sex and the City on cold winter evenings. Not only did we share dreams of public service careers, he reminded me every day of how smart and beautiful I was. No guy I had been with had ever said that to me. On my birthday card he wrote "If there is a peace that love can bring you, this is it".
Within months he had bought me an extra laundry basket and given me a set of keys. Eager to impress my parents, both die-hard Yankee fans, he took us to games with his dad's season tickets. When we were at his parents' house in New Jersey we went skinny dipping in the family pool. We sat in his elementary school playground and smoked cigarettes, listening to Fiona Apple and reminiscing about how 90's pop stars were such better role models for women. When we were in Washington we explored the city's monuments lit up at night and got stuck in the thunderstorms on the steps of the Capitol.
The following summer I graduated, packed up four years of belongings and moved into his D.C.
apartment. That's when things started going bad. I expected those magical weekends together where the whole world melted away to continue. Not knowing anyone in D.C. but his group of friends, the fearless independence and confidence I had started to wane. The woman warrior who had leapt into a seventy-story drop became skittish and shy. My two political internships led nowhere. He was now writing press releases for the Senator, which meant late nights. When he did have free time he opted to play basketball with his friends, and I was rarely invited to sit court-side.
We adopted a kitten together and moved into a one-bedroom apartment on a tree-lined street next to the National Zoo. Deciding that D.C. politics wasn't for us, we started looking for jobs that would just pay the bills and make us happy. I became more comfortable with the city and made friends of my own.
Meanwhile my life partner had doffed the suit and tie and reduced his wardrobe to one pair of jeans and a pair of hiking boots. He hated spending money on anything. He explained that the entire time he had been courting me, he had been using his dad's credit card and wanted to stop relying on his parents financially. I tried to think of new ideas where he wouldn't feel pressured to spend a lot of money: going to free concerts, museums, biking through Georgetown. But he was resistant to all of them. He joined a meditation group in D.C. and would not let me attend any of the meetings on Sunday afternoons; he explained that he would be distracted with me there.
At least we still had the movies. And books. And music. And television. Whenever we got in a tiff we would squeeze each other and say "I love you like crazzzzy" through clenched teeth. But Blue Valentine was just a movie, right?
I felt lost. If I was honest I had to admit I missed New York and the friends I'd left behind. Here I was, a year out of college with an overpriced degree and a host of international experiences, waiting tables.
Finally I had to ask myself what was I afraid of? Being alone? I packed up my things and left bike repair man behind. Two years later, I'm back in New York, working in education with my own apartment. And after everything I still believe in love, ready to jump into the void again.