In a previous Huffington Post interview with legendary music producer Shelly Liebowitz, he now shares with me an exclusive release about an organization he is part of in spreading the creative through what he calls "a revolutionary program providing funding for the arts, music, sports and after school programs without it costing taxpayers, consumers or business any money." There is a real growing concern today where there is still a need for sustainable funding sources to ensure that communities enjoy long-term benefits that youth enrichment programs bring. Paying it forward is a big solution.
Shelly is the director of music and the arts for Swipe 4 The Kids and says, "I have heard so many proposed ways to provide music education for our children, none of which worked. Swipe 4 The Kids is the answer to the loss of funding for music and arts programs and this is the first time I wanted to be involved. The ability to have local businesses assist us to fund these programs in their neighborhood without any cost to the local merchants is brilliant."
Vince Lombardi was quoted as saying for the effort, "Individual commitment to a group effort - that is what makes a team work, a company work, a society work, a civilization work." Swipe 4 The Kids sets out to create funding solutions for youth enrichment.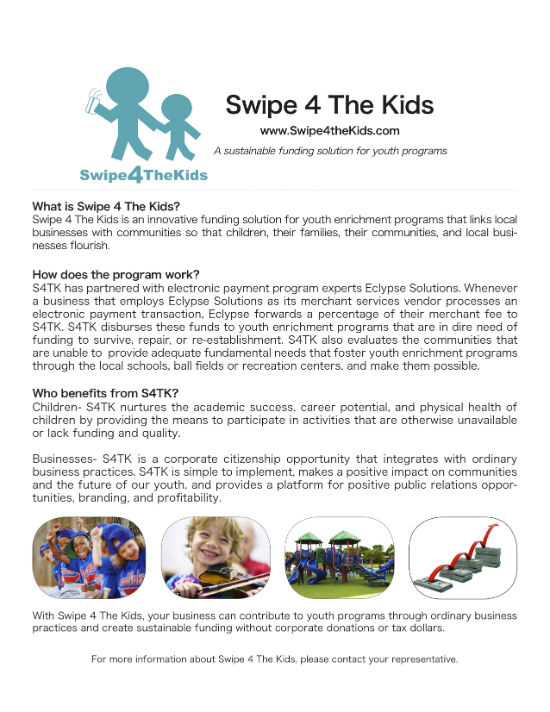 Photo courtesy and all rights reserved Shelly Liebowitz and Swipe 4 The Kids Organization.
Shelly further says, "I am involved in projects that provide funding for schools for music, arts, sports and after school programs that are very unique. It costs the taxpayers nothing, consumers nothing and business nothing. It is a very new and creative process and it solves the problem of cuts to the education budget."
Something right now our country is suffering from with educational cut backs and lack of funding with mis-management. As there are great programs out there for less privileged children, this is a new added addition to that much needed list. Shelly goes on to explain, "We have a wonderful group heading up each department. Major companies are joining the Swipe 4 The Kids program every day."
Other noted organizers for Swipe 4 The Kids are Mike Lansford, Director Of Youth Sports as he is the Rams placekicker who created a "Kick out Cancer" campaign that generated funds per each successful field goal. Now, he's associated with Pomeroy and Swipe4TheKids. Local retailers can now support local youth sports school programs by simply switching their merchant accounts.
Victoria Bradford is the director of youth enrichment who is a school board director. She says that "there is overwhelming evidence that music, the arts, and sports programs increase academic performance and reduce drop-out rates. Yet these are often the first programs cut when districts lose funding. It is exciting to be a part of a program that makes it easy for businesses to become part of the solution."
Al Unser, Jr. is a celebrity spokesperson/client and says, "It's exciting to be a part of the Swipe 4 The Kids Program because I know I am helping provide the opportunity for children to see the potential within themselves and strive for success."
To learn more about Swipe 4 The Kids and how you can become a part of the organization, or help spread the word, please click here.