As we have birds that are iconic for our cities, The Whaley House is symbolic of San Diego, California. The house says it is "Saving San Diego's Past For The Future" indicating to passerby's and residents alike that this organization is an intricate part of history and must be maintained.
I asked the house representative, administrative manager, Dean Glass, how this has come to be the case.
"We see our stewardship of the Whaley House as many things, one of which is to accurately display the property in its historic period, both as an example and as a duty to the community," Dean says. "We also see our success here as a positive business model showing that historic preservation is an economically feasible option and serves our further mission of education as an example of how to restore a historic home."
He pours out a rich past, exciting present and fruitful future working with SOHO (Save Our Heritage Organization) to where The Whaley House has a plentitude of offerings. The doors are open, welcome and come inside for a tour:
DG: The Whaley House is one of the most historically significant houses in San Diego. Not only was it the home of a prominent pioneer family, the Whaleys, and a hub social activity for nineteenth century San Diegans, it has also served as the San Diego County Courthouse, San Diego's first commercial theater, a ball room, billiard hall, kindergarten and Sunday school, polling place, meeting space for the San Diego County Board of Supervisors and the San Diego City Council and Whaley's general store (in partnership with Philip Crosthwaite).
According to former California State Senator James Mills, the Whaley House "has sheltered more history than any other building in the city." Although on the small side by today's standards, the Whaley House was considered a mansion when it was completed in 1857, when most San Diegans resided in small adobe houses.
Designed by Thomas Whaley himself based on structures he admired New York, it is as fine an example of Greek Revival architecture as one can find. It was also the first brick home built in San Diego and is believed to be the oldest two-story brick structure in the county. With most of San Diego's earliest buildings long gone, the Whaley House's ability to illustrate how San Diegans lived in the 19th century, as well as its being a tangible piece of early San Diego history, makes it one of the most interesting, important and historically valuable structures in the city.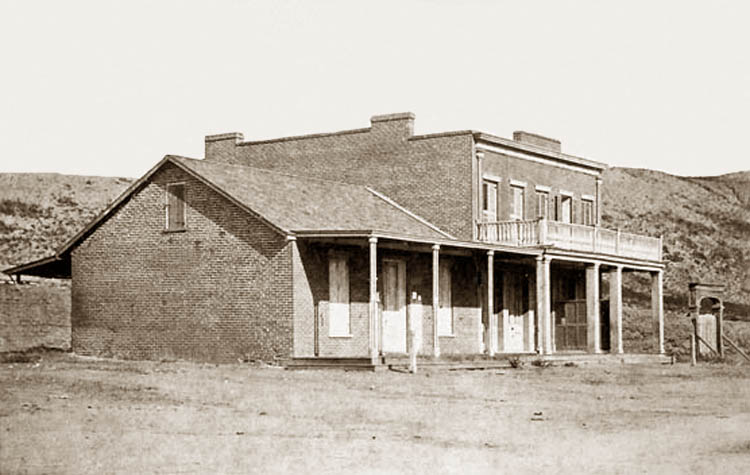 Front view circa 1874. Photo courtesy of the County of San Diego.
Dean goes on to say that "SOHO's mission is to preserve, promote and support preservation of the architectural, cultural and historical links and landmarks that contribute to the community identity, depth and character of our region. As such, when the County of San Diego became dissatisfied with the manner in which the museum was being managed by the previous operators and issued a Request for Proposals (RFP) seeking new operators, SOHO recognized its ability to successfully manage the property. SOHO's proposal was accepted, and the museum has been operated by SOHO since 2000."
DG: In its first decade operating the Whaley House, SOHO has overseen much needed restoration work. Doors and windows that had been painted shut have been opened, and many of the partitions, light boxes and electrical fittings that were put in place in the 1960s removed.
The Theater, originally installed for the Tanner Troupe in 1868 has been restored to its historic site, previously displayed as a bedroom/sitting room suite; the lean-to board-and-batten kitchen has been reconstructed, and the Whaleys' dining room, displayed for years as the kitchen, has been returned to its original purpose and a non-historic flight of exterior stairs removed at the same time. The historically inaccurate c.1960 front porch has been replaced with a replica of the original porch of 1857, using historic photos and evidence found in, on, and around the building. Period decorative treatments such as wallpapers, carpets, drapes, lighting and faux-grained oak woodwork have been introduced to give the house its 19th-century look and feel, missing from the previous interpretation with everything white-on-white.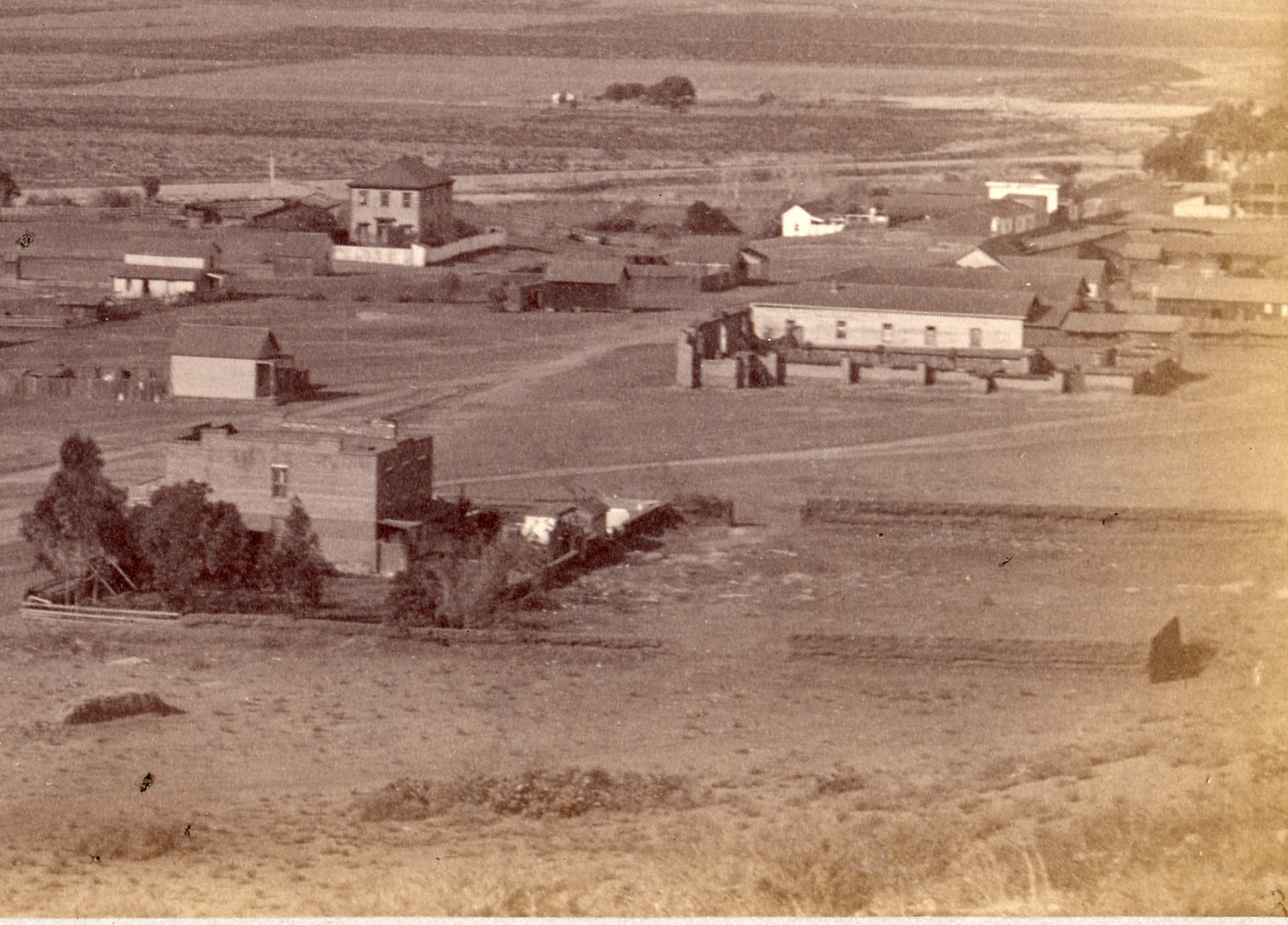 Historical photo showing side view of the corral and other parts of the Old Town circa 1880. Photo courtesy of the Coons Collection.
AH: What was it like when my father, the late Professor Dr. Hans Holzer visited the House with Regis Philbin? Did they stir up the joint and the ghosts habituating there? This was at a time where Paranormal Research was held in high court with respect and integrity as my father wrote about this facility and backstory being the history buff that he was first and foremost.
DG: These days there are countless books on the paranormal with chapters or mentions of the Whaley House, but I can remember as a child, when I first became a Whaley House enthusiast, your father's book Ghosts of the Golden West was virtually the only one. I read my copy until it fell apart.
Although the book is now long out-of-print, the chapter is reproduced in Dr. Holzer's book GHOSTS, which has always been and continues to be a best seller at our museum shop. I think Dr. Holzer's name is still very well respected by people interested in the paranormal, and for that reason his visit to the Whaley House (as well as those of Regis Philbin, both with and without Dr. Holzer) are still inquired about by guests 45 years later.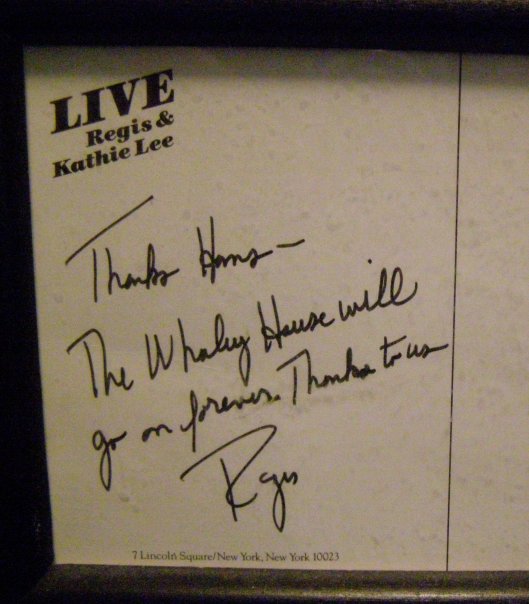 A post card from Regis Philbin to Dr. Holzer about their adventure in California at the famously haunted Whaley House. Photo courtesy Alexandra Holzer.
Dr. Holzer used traditional methods, such a table knocking and a good, old-fashioned séance with Sybil Leek, and I believe that is why he had so much success in "contacting the other side." You can also glean from Dr. Holzer's writing that he had great respect for the history of the sites he investigated as well as the individuals who had inhabited them and now haunt them. I suspect his investigations were carried out with that same respect, and that the spirits appreciated it and were more amenable to making their presence known.
Respect indeed Dean and thank you for the portrayal of father. A well-known medium and author who worked alongside my father on numerous cases, Psychic Sybil Leek, visited the house in the '60s stating the presence reported by visitors of a young girl, usually found in the dining room was around. Sybil encountered this spirit describing, "It was a long-haired girl," and that "She was very quick, you know, in a longish dress. She went to the table in this room and I went to the chair."
There's talk of an urban legend that this is the ghost of a playmate of the Whaley children who accidentally broke her neck on a low-hanging clothesline in the backyard, and whose name was either Annabel or Carrie Washburn. There are no historic records of any child dying this way at the Whaley House; nor is there record of any family named Washburn residing in San Diego at the time. It is believed that the legend was started by a one-time employee of the Whaley House, in an effort to add to the house's mystique. I'd like to find out more of this child... Wouldn't you?

To find the house online please go to: www.sohosandiego.org and www.whaleyhouse.org as well as SOHO on Facebook.