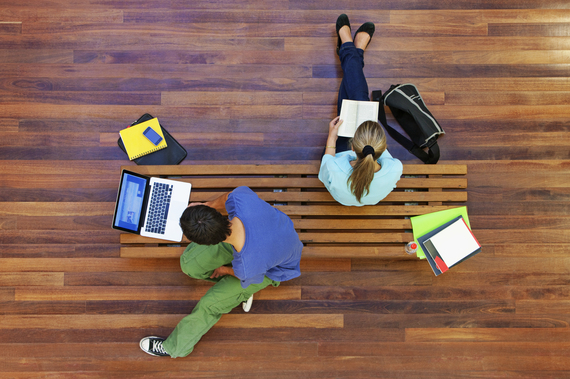 Americans collectively have more than $1.2 trillion in student loan debt, an amount that may cause prospective students to wonder whether college is worth the cost. Regardless of debt levels, it's still statistically more beneficial to hold a college degree.
When is comes to salaries, millennial college graduates by and large make $17,500 more annually than their peers without degrees. But aside from pay, there are a host of other reasons to get a degree. Here are 10 unexpected reasons you should go to college.
Even if student debt may seem daunting, the benefits of going to college outweigh what you miss by not attending. Pew Research Center found about nine in 10 college grads from all generations said college is worth the investment.
1. Entrepreneurship Possibilities
Students go to college to learn and hopefully get a job in their chosen field after graduation. However, some create businesses and other entrepreneurial ventures right on campus. It's not just the Mark Zuckerbergs of the world who create these start-ups, either.
"I teach in the business school, so most of the kids I see are focused on their first job, but I think unusual reasons they probably haven't thought of are gathering information in areas they may be interested in and that they could then leverage into a career," says John Highbarger, a marketing professor at the University of Texas McCombs School of Business and a former global managing partner at Accenture. Highbarger teaches a class called "Marketing for Entrepreneurs" that has produced 24 businesses.
He adds, "We have brilliant students, and the only thing they have going against them is that they're young and they don't have much experience, so we try to give them that experience."

2. Dating
When you're single, college is like a big pond with lots of fish, says Pamela Mennechey, associate vice president of student recruitment and enrollment at Seminole State College of Florida.
"Although the days of women going to college to find a husband are long over, there is still strong data that suggests that people are meeting their future partners in college," she added. About 28 percent of married graduates attended the same college as their spouse, according to a 2013 Facebook Data Sciences study.
Colleges and universities put thousands of young students in the same place at the same time. Mutual attraction is likely to form between people who share interests and are living, studying and socializing in the same area.

3. Health Benefits
College graduates tend to reap more health benefits than those without higher education. In 2011, employers provided health insurance to 69 percent of those with bachelor's degrees and 73 percent of those with advanced degrees, as opposed to just 55 percent of full-time workers with high school diplomas, according to a 2013 study by the College Board. In addition, the study found college graduates generally smoke less, enjoy higher exercise rates and have lower obesity rates than those without a bachelor's degree.

4. Economic Security
Higher salaries are not the only advantage college graduates have over their high school graduates. Those with bachelor's degrees tend to have poverty rates about one-third lower than high school graduates, according to the same College Board study. The unemployment rate among four-year college graduates ages 25 to 34 was nearly one-third that of high school graduates in the same age group in 2012.
Millennials with bachelor's degrees are also more likely to be married and less likely than their less-educated peers to be living in their parents' home, according to a 2014 study by the Pew Research Center. About 12 percent of those with bachelor's degrees live at home compared to 18 percent of high school grads. Bachelor's degree holders are more likely to be married than their high school graduate counterparts by 5 percentage points.

5. Discounts
College IDs can get you student discounts at restaurants, movie theaters, local attractions and museums, and for gym memberships, shipping, travel and newspaper subscriptions. A variety of retailers offer online and in-store discounts for students including Apple, Amazon.com, Banana Republic, Toms, Club Monaco, Madewell, Kate Spade and more. Insurance companies also often offer discounts to student drivers who get good grades.
"After college you have to wait until you're 50 to reap those benefits again!" says Mennechey. "We always encourage Seminole State College of Florida students to ask for a student discount."

6. Expanding Your Awareness
Students on a college campus are exposed to peers from different backgrounds and experiences, says Jed Smith, chief development officer for The Bottom Line, a non-profit organization that helps low-income and first-generation students go to college and succeed once they are there.
"It provides some relief from their regular day," says Smith of first-time college students. He adds that college provides the opportunity to be exposed to experiences that may make students uncomfortable, socially, physically and emotionally. This new exposure leads to an expanded awareness of self and the world beyond what a student grew up with.
"The world in which you live is the world of which you are aware," says Anthony Armstrong, a professor of political science at Wesley College in Delaware. "College expands your awareness of the world, your awareness of the human condition, your awareness of human aspirations, and your awareness of your own deepest aspiration."
7. Creative Solutions
No matter what college you attend, living spaces can be small, dining halls may be far and budgets may be nil. College forces you to get creative with how you live. Being able to adapt to new situations is a skill you will carry into adulthood.
Highbarger says college is a great time for students to experiment, try new things and be "sort of an adult." One of the greatest benefits of college is it can be a "good time to make mistakes in a controlled environment," he adds.

8. Travel Opportunities
From study abroad to internships, class trips and volunteering, college offers students travel opportunities they may otherwise not have. Smith finds travel, domestic and international, invaluable for students. The exposure to places outside of students' comfort zones can help them expand their views, meet new people and find their passion. Many colleges even have branch campuses in other countries that make it easier for students to stay on track with their studies while opening their minds.
9. Networking Resources
Your sophomore-year roommate may stay up until all hours of the night partying on the weekend, but in 10 years, she may be the lawyer you go to for advice. Your freshman study group may turn out doctors, financial advisors, engineers, web designers and other professionals.
The network you make in college can help you build a well of great financial and life resources you can use for years to come. The friends you make in your teens and early 20s can impart the knowledge that will help you make educated choices down the road.
10. Self-knowledge
Balancing school, work, dating, and a social life in a brand new community helps you to figure out what elements you need to lead a happy life. College is not only a place for students to learn more about a chosen field; it's also an excellent way to transition into adulthood, beginning with self-knowledge.
"College aims to empower students' minds, but it can also empower students' hearts through self-knowledge," says Armstrong. "In other words, college can bring the light of awareness, knowledge and understanding to your pursuit of happiness."
Use NerdScholar's free resources to navigate paying for college, choosing a career and managing your student loans.