I often feel like I see two distinct angles of the current generation of 20-30 year olds -- one: activist minded, diverse, outspoken, righteous; the other: success-minded, largely homogenous, apolitical. Both, riding a wave of technological advances making it easier than ever to share ideas. On Saturday, December 13, I felt the contrast in stark relief with the convergence of two cultural events: The Millions March NYC protest, and 2014 Santacon.
I'd seen some Santaconers on the train on my way down to the protest, and found it incongruous that these two events were happening on the same day. One seemed so important, the other so frivolous. The crowds emerging from the Christopher Street and West 4th St. stations looked passionate, agitated, and most strikingly, diverse in every way -- age, race, ability, socioeconomic standing -- whereas the Santaconers I saw looked carefree, tipsy, and not very diverse at all (mostly white, in their 20s). I wasn't angry so much as confused: I wondered if it had entered their minds that the protest was another option for a way to spend their Saturday. I wondered if they sensed the same irony I did.
I joined with a group of friends from college, and we marched with the tens of thousands who protested the non-indictment of Darren Wilson and Daniel Palenteo. Two names that stick in my mind though I would like to forget them, to make more room for names I want to remember, to repeat, to chant out loud into the silence: Eric Garner, Michael Brown, Akai Gurley, John Crawford, Tamir Rice. (How much more room will we have to make in our collective memory for slain black men and women? How many gigabytes can hold their piled up bodies?)
But I didn't forget the officers' names. In a way, the march was just as much about the symbol of Darren and Daniel as it was about the faces of Eric and Michael. Because it was a day of solidarity, but it was also a day of anger. Against police brutality, and the wider socio-economic-cultural diseases it is bred from -- the ideology of white supremacy; the massive industry that profits from the criminalization and demonization of black people. (For a more in-depth analysis of the ways police brutality, the prison industrial complex, and constructions of criminality intersect, read the Guardian's recent interview with Angela Davis, or check out Tricia Rose's teach-in at Brown University).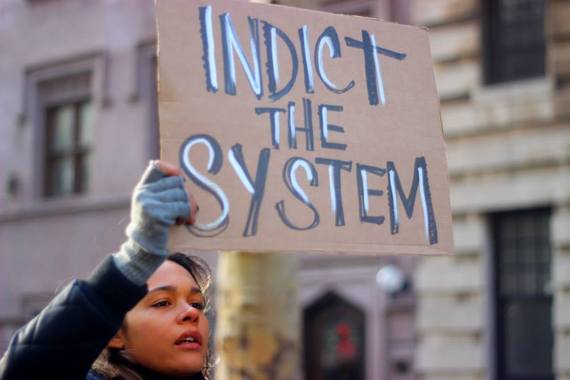 image via DJ Chin
The urgency and pain in the crowd was tangible. I had never been a part of a demonstration so massive before, and I can bet that most of my generation never has and never will have another similar chance to be a body among tens of thousands of protesting bodies -- a powerful gesture of solidarity; the will to stand and speak for a better future, safer communities, a more just society.
We marched in the cold, fighting against the freezing wind rushing down 5th Avenue, looking up at buildings with people gawking out of them, or hanging signs from them (the New School had a giant "Black Lives Matter" posted in its glass windows). We marched through some bouts of impatience, as the crowd got held up and we couldn't see what was causing the jam. We marched through guilty desires to turn into a Dunkin Donuts for a warm beverage. The urgency and pain in the crowd was tangible.
I saw one protester marching on crutches. I saw an old white man standing in his window, watching and clapping. I saw a group of socialist activists with a bullhorn whose carefully crafted chants included a rant about the revolution of the working class. I saw a banner with photos of black women killed by police. I saw many photos of Michael Brown and Eric Garner. I saw the line of people holding up images that, when viewed together, showed Eric Garner's eyes.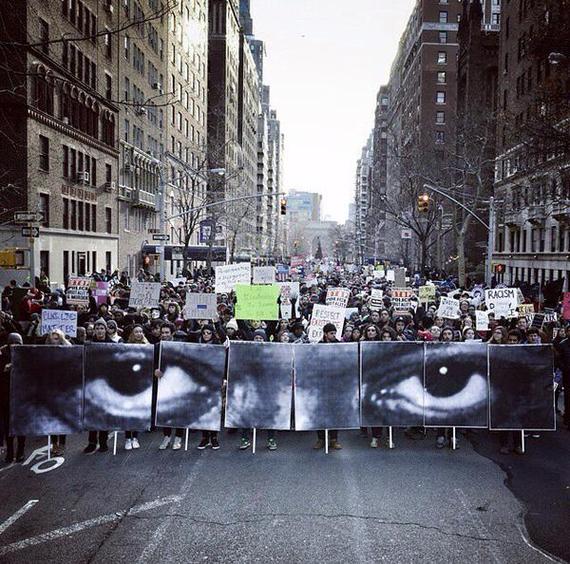 image via JRart on Twitter
I heard a chorus of chants that the crowd quickly picked up on (if they hadn't already become familiar with them from earlier protests):
Indict, convict, send those killer cops to jail - the whole damn system is guilty as hell!
How do you spell racist? NYPD.
No justice, no peace - no racist police!
The most common chants, the ones the most people joined in on, were inspired by the last words of Michael Brown and Eric Garner, unwilling martyrs. "Hands up, don't shoot!" and "I can't breathe" -- fitting rallying cries for a movement.
When we reached the Herald Square area, where the street was blocked off and the protestors were turning around, as previously planned, another symbol of my generation came into focus -- Santacon.
Santacon, "a charitable, non-commercial, non-political, nonsensicle Santa Claus convention that happens once a year for absolutely no reason," according to nycsantacon.com. Better known to most New Yorkers as the day when drunk Santas and elves flood the subways all day. I've never done Santacon, but I have celebrated St. Patrick's Day in New York, so I can imagine the appeal.
As groups of Santacon revelers began to stumble across the protest, the dichotomy became even clearer. In most cases, they wanted to get across the street as quickly as they could without acknowledging the protest, as if they were simply bustling along in a holiday-shopping Herald Square crowd. In some cases, I sensed antagonism. One guy wearing a Santa hat screamed, "Get a job!" as he passed through the protest. Again, I wondered if he had any sense of irony -- he was presumably going to get drunk all day (never mind that people who were at work at various businesses along our route took the time to express solidarity through their glass storefronts).
Later, on Deadspin, I watched this video of a "bro" in a santa hat holding up his hands in the now-ubiquitous posture of protesters, heckling the crowd with suggestions to, "Put your hands up and listen to the officers" -- implying the ignorant but all-too-common assumption that being a law-abiding citizen precludes police violence.
I can't say that these two men are representative of all the participants of Santacon. I have friends who did Santacon who are people I respect, people who care about social justice and believe that there are more effective ways to speak out for it than protesting. I don't resent their choice. Moreover, I got the sense that many of the protesters on Saturday were there more to be a part of something big than because they were passionate about the issues at hand. There were many people who stood along the sidelines of the protest documenting it with phones and cameras, and I wondered whether they had projects in mind, or just wanted to be among the thousands posting photos to Instagram with #ICantBreathe and #MillionsMarchNYC and #BlackLivesMatter hashtags.
But in the midst of an emotional crowd whose concerns are a matter of life or death, the idea that Santaconers represented frivolous frolicking evolved into anger for some. I heard a few protestors boo at Santas, and even heard a loud "Fuck Santa!" directed towards a group.
When we turned around and began marching back south down Broadway, I saw one group of Santas and elves on the corner, holding signs. I craned my neck over the crowds to see them. The sign I saw said in giant letters "HO HO HO" and in smaller letters, next to the third "HO," the words "Hold the police accountable." It took me a while to process why I found it so incredible.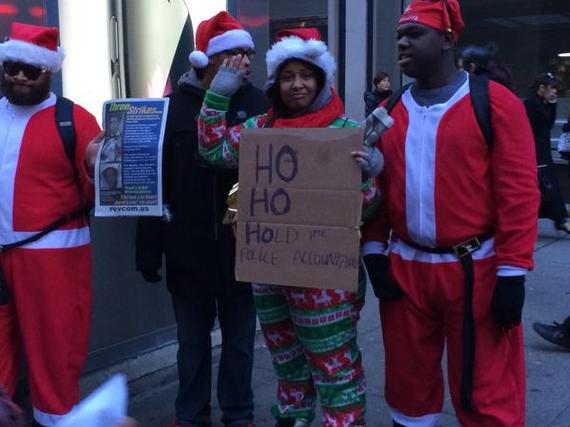 image via ChristRobbins on Twitter
No arrests were made during Santacon, according to the NYPD. Remarkably, few were made during the Millions March NYC protest, though police attention was clearly on the protesters more than the revelers. When talking to a friend who does Santacon every year including this one, she said, "usually the cops are after us, usually we're the ones making the ruckus. But today they weren't bothering us at all. We were the good ones." While my friend is not white, her acknowledgment of the disproportionate response of police to certain demographics reminded me of the ironic hashtag "Criming While White."
Later on that evening, on the Lower East Side, I saw a Santa stumbling in and out of the street. I saw girls in Santa skirts and spaghetti strap shirts with nothing covering their legs, holding each other not to fall. I wondered about the image of criminality, and who was more of a danger to themselves and others, the protesters carrying signs bearing the eyes of Eric Garner or drunken Santas blocking traffic, later vomiting in their hands in the back seat of taxis.
That night, I went to bartend a private holiday party for a pair of Millennial roommates right near Washington Square Park. I had marched by their building only hours earlier. When I arrived, I mentioned that they were right above the protest, and they nodded blankly. The protest didn't concern them -- even four stories away, they were at a comfortable distance. Many of the guests at their party had gone to Santacon rather than the protest, and arrived at the party wearing reindeer ears and Santa hats and bragging about how many hours of the day they'd spent drunk. "I was wasted at 9 a.m.," one bleary-eyed guy said.
The parties I bartend for are not frequently diverse, and I often have anxiety that someone will say something ignorant in front of me. Although I am biracial, I am relatively fair-skinned and my features are not markedly "black." Given my "ethnically ambiguous" appearance, I often overhear statements the offender probably wouldn't have made if he knew he was in mixed company. My choices will be limited -- speak out and risk my reputation of professionalism, and the money I need; or turn away and remain silent, risking complicity. I try to choose my battles.
That night, I listened to a guest marvel over an experience he'd had earlier in the week -- a group of "ghetto-looking" black kids had approached him when he was walking his dog, and commented on the rare breed of the dog. "Why is that so surprising?" I asked, smiling, giving him the chance to correct himself. "I thought they might be... you know... trying to steal my dog." Nope. I chalked him up to a lost cause, not worth pulling towards the light.
Later, I was talking to one of the hosts about the punch she'd made. She said she needed to get rid of a bottle of Hennessy she'd been gifted. I mentioned that Hennessy was one of those things that some people drink exclusively, but not everyone has the taste for. She shrugged. "It's good for an urban market," she said. "It's all my grandmother drinks," I said. The doorbell rang, and she went to get it.
Later, I told the "wasted since 9 a.m." guy that the best thing I'd seen all day was a group of protesters wearing Santa gear holding signs that said "ho ho hold the police accountable." He said that if he'd seen that, he would have stopped drinking and gone home because his day would have been complete. I nod. "This Santa gets it," I think. I join him for a shot.
As I went home tired and yes, well tipped, I saw very few Santas -- I guess they had all had it for the day. One thing stuck with me: those few people who managed to merge celebration and enjoyment with solidarity and protest -- the Santa-protestors. If the wave of public opinion shifting towards justice is going to continue, we'll have to find creative ways to engage well-intentioned Millennials who would rather be apolitical than dwell on the plight of others, and effective ways to balance enjoying ourselves with civic involvement.
The most recent issue of Apogee Journal features a prose poem by Victoria Matsui about the connection the speaker experiences with the woman who threads her eyebrows. The last line spoke to me as a mantra, a philosophy we might embrace to make our world more livable: "'love and exploitation are not mutually exclusive' and strategies of resistance are everywhere."