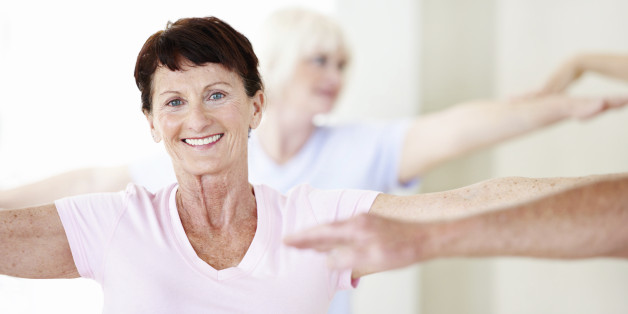 Getting into the groove to exercise is tough, but what if you had a gadget that held you accountable while instantaneously making the experience more fun (ok that may be pushing it...)? Whether your idea of a fitness program is walking around your neighborhood, exercising in your basement or working out at the gym, new high-tech gadgets and smart phone apps make it possible for you to design, follow and track your progress while completing an exercise program designed to meet your specific needs.
Key indicators like bone mass, range of motion and cardiovascular fitness can now be easily measured without ever visiting your physician (although I do suggest you talk to your doctor before starting any new workout regime!). Devices on the market now take into account just about any health problems that could limit certain types or intensity levels of exercise. One interesting device, the Larklife fitness tracker, can even sense if you've had a good night's sleep and recommends ways to "up your energy level once you're awake." Easy accessibility to these products allows you to create your own personal training program on the fly -- even when you're on the road. There are 'smart' headphones that give you biometric measurements, wristbands that monitor your heart rate and even an HD camera built into your ski goggles (just in case you want relive that black diamond experience to prep for the next run!).
Clearly, tracking your health and wellness progress has never been easier and it's most definitely very 'in vogue' these days due to the increasingly athletic baby boomer environment. One example of innovative advancements in fitness is showcased via "smart card" technology -- it supplies a gym member with a specific exercise regimen that is programmed into the card. Here's how it works... when the card is swiped on a specially equipped piece of exercise equipment, the machine remembers the member's last workout. The device's memory includes personal settings - such as weight, age and gender -- it also adjusts factors for the speed, resistance and number of reps. The assumption is that healthcare insurers will potentially utilize the "smart card" concept to track whether people are following a prescribed exercise program and possibly penalize them if they're not. Hopefully, insurers will also be kind enough to use it to reward people who do exercise regularly (so get off the couch!).
Here are a few more innovative (and practical) gadgets to help you add a little fun to your workout:
• Fitbit's Aria scale doesn't just measure your weight (which isn't the truest measure of health) - it also measures body mass index and body fat, which are more revealing. The information is transmitted wirelessly to your computer and assists in making sure you are on track to reach your goals.
• The Strivv pedometer not only counts your daily walking steps, it sets up challenges for your daily routine and lets you earn points for your achievements. The folks at Strivv design personalized challenges tailored to your activity levels and they turn 10,000 steps a day into playing a game, donating to charity, and competing with friends.
• Tired? The Adidas Energy Boost running shoes claim micro cells embedded in the sole return energy to each step you take, taking the term "an extra pep in your step" quite literally. Runners' World magazine reviewed the shoe with high marks.
• Creativity keeps things interesting with the Zombies, Run! smartphone app. As you run or walk, the narrator gives instructions to dodge zombies and other threats. Novelist Naomi Alderman provides the storyline here - their website says "you will go on an epic adventure that motivates you to run further and faster than ever before."
• For a more serene experience, try Pocket Yoga - it's a relaxing app that lets you follow yoga routines from anywhere. They also have an extensive library so you can learn anything from downward dog to warrior. The nice thing about the app is that it allows you to create your own yoga routine rather than having to adhere to an instructors "most liked" poses!
• Swimming is one of the best activities you can do for your body! It's easy on the joints and works nearly every muscle as well as taxing your heart and lungs. And there's a meditative rhythm to swimming steady laps. But sometimes it does get boring. Thankfully, there are the fully submersible FiNIS SwiMP3 headphones that apparently transmit music through your cheekbones.
For many folks exercising sporadically isn't cutting it in terms of helping maintain healthy body mass index or a strong heart and lungs. These are the 30 Bonus Years. Let's use technology to keep our bodies in sound working condition so we can rise to the physical challenges that potentially await us later in life. If you're healthy it shows and that extra dose of confidence will make every single day better (and more fun!)!
Follow Alexis Abramson, PhD:
Facebook
Website
LinkedIn
Twitter
info@abramson.com
Disclaimer: Content and suggestions provided within should not be construed as a formal recommendation and AJA Associates, LLC makes no representations, endorsements or warranties relating to the accuracy, use or completeness of the information
Earlier on Huff/Post50:
PHOTO GALLERY
13 Resources For Caregivers