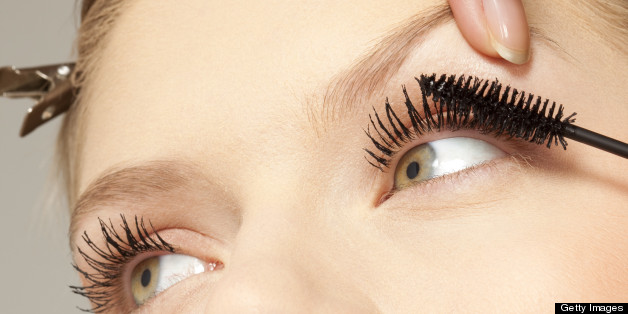 A lash perfectionist demystifies the art of achieving ideally lush lashes -- sans falsies
"Fluttery, full and beautiful" -- three words that describe the most ideal lash situation to celebrity makeup artist Kirin Bhatty. Also, "inky black, thick and curled." She describes what many of us hope for each morning when we clamp down with that curler and slick on the stuff Maybelline made famous decades ago -- but not so much what we always get. Well, prepare to get schooled. According to the LA expert, "if you have the right mascara and you apply it correctly there's no need for a fake lash."
First off, a few things to know. "A common mistake that's made when applying mascara is having too much product on your brush. I see girls pumping the wand in and out of the tube before putting it on, and all that does is trap air inside the tube, causing it to dry out faster." Instead, says Bhatty, wipe the wand off with a clean tissue every so often to ensure an even, clump-free coat. Most women also hold onto their mascara too long. "Six to eight weeks and you should be onto your next tube!" And lash health is key. Bhatty swears by Kate Somerville's True Lash strengthening and conditioning eye makeup remover.
A good lash curler, especially Shu Uemura's cult fave, is an essential for every woman according to Bhatty -- as is using it correctly. "Curling your lashes is an easy way to make your eyes look bigger, more open and more awake," she says. "I see a lot of women who clamp down so hard they make that poor curler look like a torture device. [Instead], the pressure you apply with a lash curler should be light." The method behind the ultimate crimp: start by curling the base of the lash before moving to the middle for a quick squeeze and then the tips to finish the curl.
Next up, the actual mascara. With seemingly infinite choices, it's overwhelming. To Bhatty, "the brush is the most important part. I love a big full brush that allows me to get really close to the base of the lashes and work outward." She also veers toward thickening and volumizing formulas that will open the eye. Her perennial favorites are Smashbox Full Exposure ("the brush is perfection, the formula is gorgeous and it's moisturizing") and DiorShow (for its unique formula, inky black color and curl-enhancing brush). Bhatty also loves Chanel's new vibrantly colored mascaras -- "so chic." Another application option for those who have trouble coating every lash: "cover a small fan brush with mascara and paint onto the lashes you missed."
After pulling the wand out of the tube -- and not pumping! -- she recommends starting at the very base of the lash and combing through the lash while wiggling the brush back and forth. Then, "I take a clean mascara wand and lightly comb through the lash to pick up any excess product and separate the lashes." Repeat this process two to three times, depending on the amount of drama you're going for. Adds Bhatty, "when you comb through the lash between applications it creates a cleaner space to build product on, bringing your lashes to their full potential." And don't forget the bottom lashes (Try Clinique's "genius" Bottom Lash Mascara). According to her, "they always need mascara. It ties the look together."
This post was originally published on Beauty Bender.