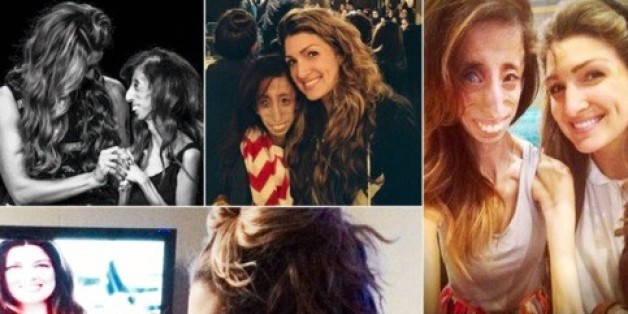 When I stepped out of the day to day of 'I Am That Girl' (totally biased, but a badass non-profit I founded with my best friend), it was because I was excited to get back to my passion for telling stories that I truly believe can change the world (such a millennial thing to say). It's as if my fairy godmother pranced by and smacked me across the face with an inspirational 2x4 because I'm now getting to make a documentary about one of the most inspiring stories I have ever heard.
Her name is Lizzie Valasquez. She spoke at the TEDxAustinWomen event I organized with Texas natives Sara Bordo and Elizabeth Gore. Lizzie has a rare syndrome that only two other people in the world are known to have have, which doesn't allow her to gain weight (I know what you're thinking -- "sounds awesome!"). She's 25 years old and has never weighed more than 64 pounds. As you can imagine, she was severely bullied growing up and, at 17, she found an eight second video of herself posted online (with over four million views) calling her, "the world's ugliest woman."
However, despite the thousands of inhumane comments posted in response to the video suggesting that she "should do the world a favor, put a gun to her head and kill herself," much less the medical conditions that accompany her syndrome, she refuses to allow her life's challenges or mean-spirited people to define her. In the face of such heinous human behavior, she is compassionate, kind, loving and always takes the high road.
I don't know a single person who hasn't experienced mean people or bullying at some point in their lives and it's only gotten worse with the internet, which as we know is terrifying for parents. This isn't an isolated problem, it's a global epidemic and we believe Lizzie's story will be a conduit for that conversation and for real change. Knowing how much the world needs to hear this story, I've teamed up with my best friend again, Sara Bordo, to make a documentary on Lizzie's life. We have a Kickstarter campaign to help raise money for the film and have raised $110K as of now, but have another $70K to go. Per Kickstarter rules, our campaign runs until May 31st at midnight and, unless we reach our mark of $180K total, we don't get any of what was graciously donated by now more than 1,606 supporters . This is where were need you.
We're building an army of dreamers audacious enough to believe that we can ignite change that positively affects our children and their children and theirs. Help us tell a story about the indomitable strength of the human spirit, discovering your unique voice in a sea of constant distraction and being on the other side of your life's worst storm. We simply can't afford to have another bright light be dimmed due to losing hope against the bullies. This is a human movement, inspiring us to be more compassionate to one another and I need you (yes the one still reading this blog) because, quite frankly, we are here to move mountains and mountains are very heavy.
History will recall a Kickstarter campaign, where a bunch of strangers came together from far off places, who lent their money, but more so their hearts, to tell a story that brought light and grace back to a dark place and the world was never again the same. So join me and the little engine that could, oh yeah and a couple other fancy faces like Hilary Duff, Kristen Bell, Jason Collins, Katie Couric, Bill and Giuliana Rancic and America Ferrera and other not so fancy faces (like the donation my fiancé made in the name of his childhood dog -- don't ask). Point being, jump on our train, the adventure of our lives is about to unfold and I'm pretty sure we could all use a kickass adventure ... so, are you game? #ImWithLizzie. Are you?