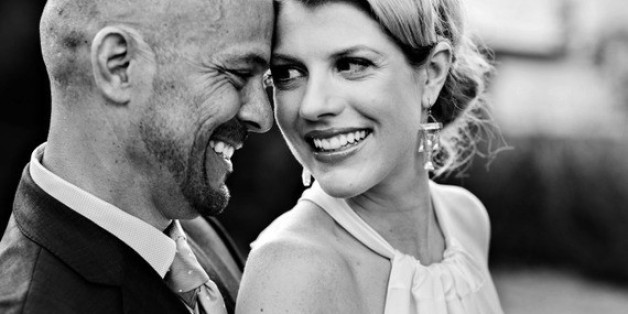 My husband Peter and I got married on the Greek island of Evvia about two months ago.
We rented a villa off of AirBNB and had about 25 of our closest friends and immediate family stay with us. We knew that the villa would be remote, but even we were shocked by how remote and rustic it truly was.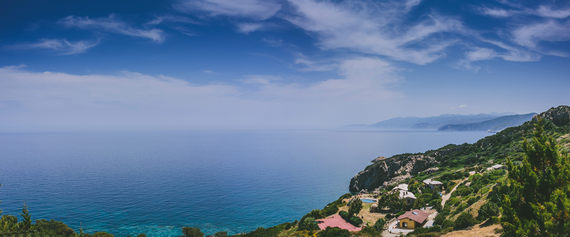 It's raw beauty was amazing and we were beyond honored and grateful to have so many wonderful friends make the trip.
Each day we snacked on fresh olives, bread, feta and tomatoes while we lounged around the pool, jumped off huge rocks into the Aegean Sea and spent time together.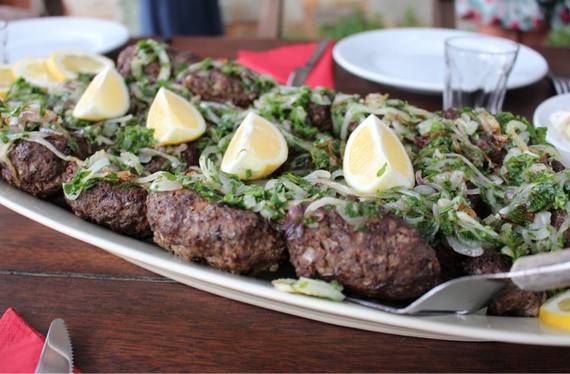 Each night we gathered around the large wooden outdoor table for nightly dinners loaded with freshly grilled seafood, salads, delicious bread, cheese, wine and of course lots of ouzo flowing! What made these dinners special was the lack of modern day distractions we've become so accustomed to.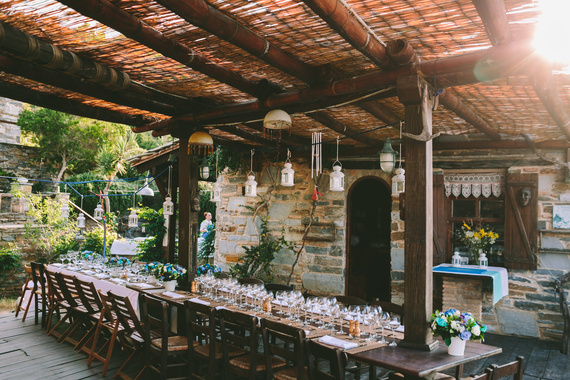 We just had each other, conversation and laughter for entertainment.
I laughed nonstop with my girlfriends about old stories from childhood and college. We all got chased by the aggressive but entertaining resident parrot, Tardu, and screamed when we found giant spiders dangling above our beds.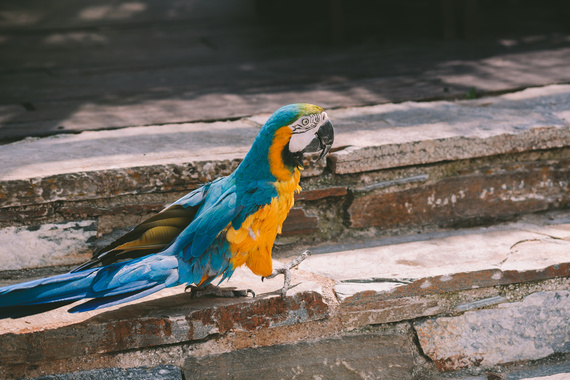 The villa itself was like a rustic grown-up Disneyland.
The owner's father had built it from scratch. Being a world traveler, there were gems tucked around the villa that he brought back with him from all over the world. Bookcases were actually secret passageways, the rooms had lofted beds complete with fire poles and ropes to swing down, an outdoor Turkish steam room made from brick, a saltwater pool and massage bed.
It was nothing short of magical.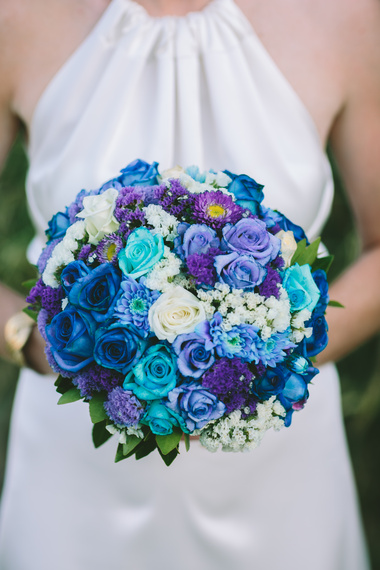 We arrived on a Friday and got married on a Tuesday. It was hard to imagine after so many wonderful days our wedding could be even better.
Peter and I had been planning for well over a year, but having never seen the villa or met any of our wedding vendors, we went into it with a lot of faith, hope, trust and few expectations.
The wedding day itself couldn't have been more perfect. We had 75 degree sunny weather, the vendors (hair and makeup, photographer and caterer) all arrived safely and were the most friendly, talented people.
I got dressed out in the barn with my mother, sister and girlfriends. I felt like a princess although my stomach was twisted in knots.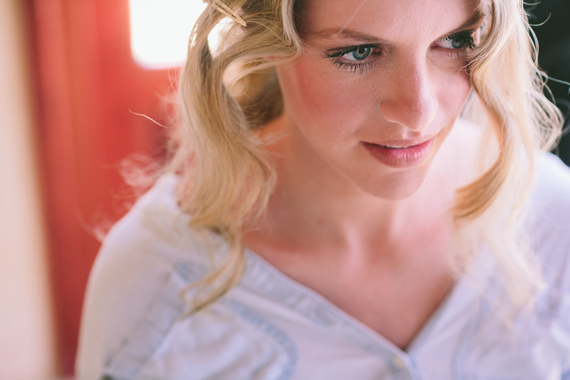 Peter had his own getting ready to do with the guys.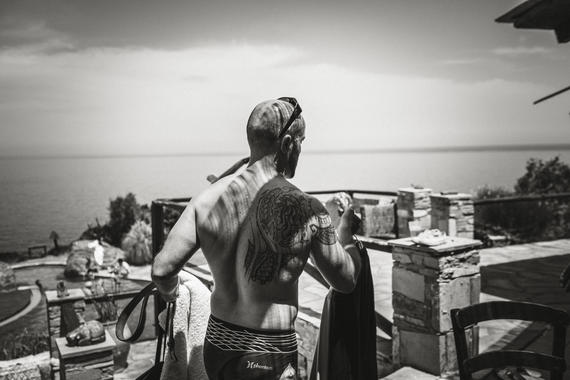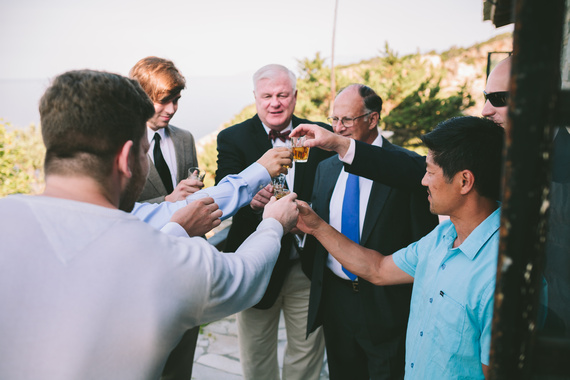 When the time came, I met my father in the kitchen who was then going to walk me down the aisle. Literally, as soon as I saw him and he told me I looked beautiful, I burst into tears.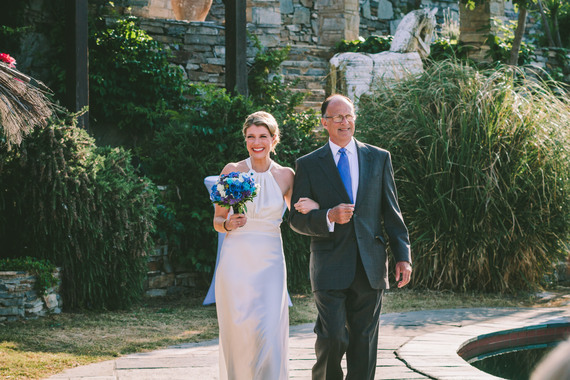 I thought I could at LEAST hold off until I had to read my vows! Nope...I was a mess.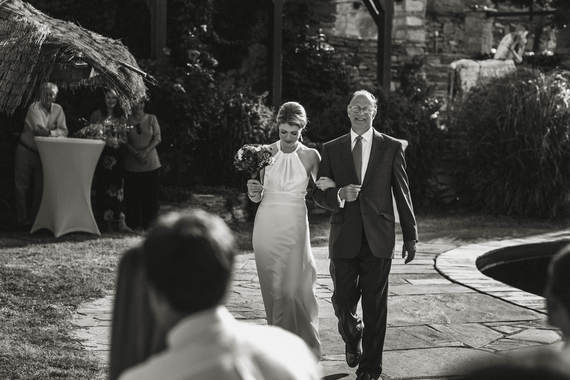 It didn't help that my two bridesmaids were crying through the whole ceremony, too. My sister did a wonderful job officiating the ceremony, our mothers each did a reading, and Peter and I read the vows we wrote to one another.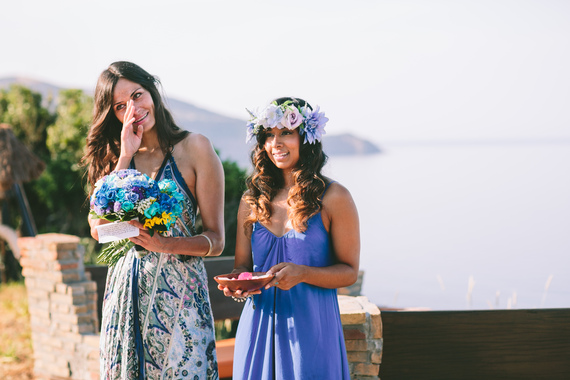 I told Peter of my need for freedom, and how I found within him the ability to be in love and still be free. He spoke of the challenging beginning to our relationship and the trials we've overcome together.
By the power of the great big Greek sea, we said I do, kissed and then I jumped onto his back and was carried through our reception exit as rose petals showered upon us!
The biggest blessing of the entire day was right after the ceremony when a pod of dolphins swam by. The sun was setting and the sky was a gorgeous pink, which we hadn't seen the entire week.
Bette, one of the cooks who spoke mostly Greek, ushered us over to excitedly show us the dolphins swimming by! She said it's extremely rare and that it means good luck.
I'm convinced that the dolphins were a wedding gift from Peter's father (Hawaiian) who passed away 13 years ago.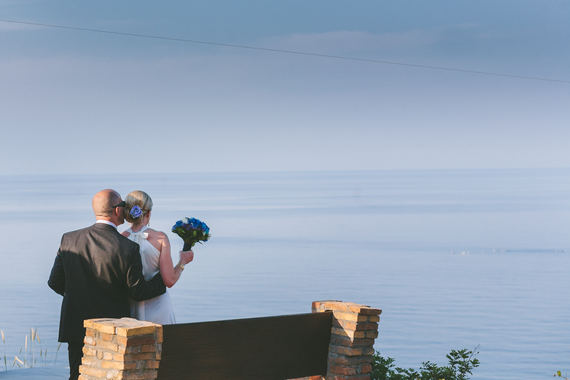 After drinks and photos we all sat down to the most gorgeous dinner table I've ever seen. The food was ridiculously good.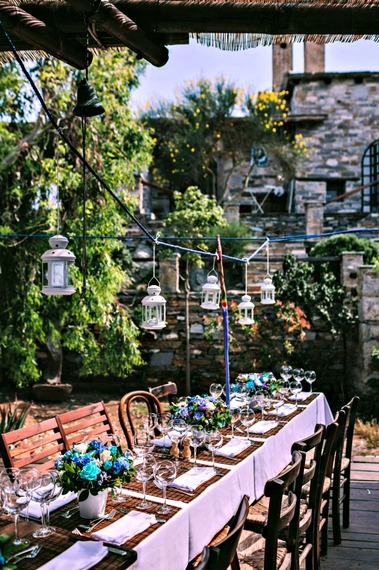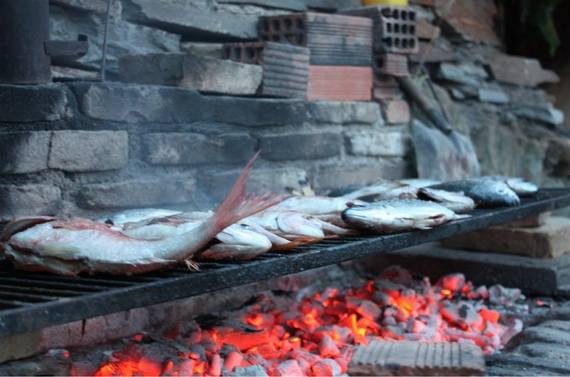 For never having met the caterer or even tasted the food before we were blown away.
Fresh fish, lamb, kebabs, salads, rice, cheeses and the most delicious wedding cake I've ever had.
Midway through dinner we did toasts.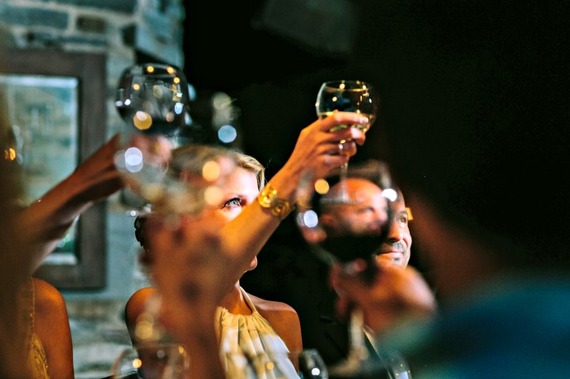 I pretty much bawled my way through my father, sister and mother's toasts. My sister spoke of quantum physics and how when two hearts come together they put off an energy ten times greater than any other organ in the body. Powerful stuff!
Below is a photo with my mom recounting stories of my childhood. Catching tadpoles in the stream, 24 years of playing violin, my terrible ability at the balance beam in gymnastics...
A few of my girlfriends also gave toasts, which were half tears and half stomach wrenching laughter.
All in all, it was the most special, magical, beautiful wedding either of us could have dreamed of.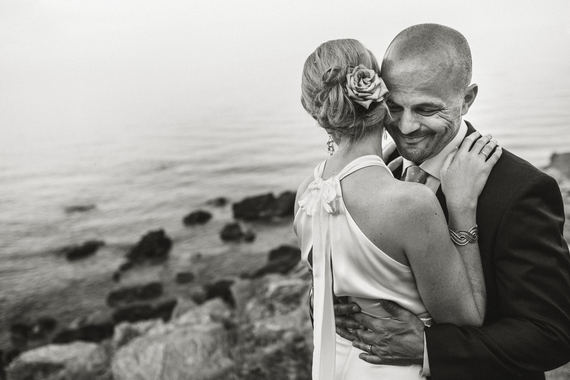 When everyone parted ways at the end of the week I knew we created something special. People who had never met before were now close friends.
Everyone told us how grateful they were and how special they felt our love was - which of course in turn we felt blessed and grateful to have such amazing family and friends.
I'll remember that week for the rest of my life, and I'm sure others will as well. Leaving felt like the last day of summer camp as a child.
It reminded me of the importance of community, and I hope one day to create more gatherings, experiences and retreats that bring people together like our wedding did.
Like this post? Click here to receive your FREE copy of Alexis's Digital Book!