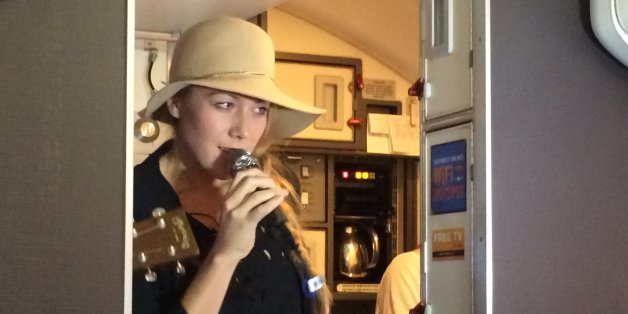 Imagine wiling away your time on your Southwest flight back home, snacking on peanuts, watching the clouds whiz by, listening to the ding of the seatbelt sign and the whirring of the plane engines, and suddenly, there's an announcement overhead that two-time Grammy-award winning musician Colbie Caillat is -- surprise! -- on board and going to serenade you.
This is just what happened yesterday on Southwest flight 4137 from Denver to Burbank, thanks to the unique partnership between Live in the Vineyard and Southwest. Delighting 200 something unsuspecting passengers, Live@35 occasionally brings live music to the air -- to 35,000 feet above air. I got to tag along with Colbie, music promoter Bobbii Hatch Jacobs, and Southwest marketing creative Tena Griffith to witness the magic.
Beyond the glowing smiles of excited passengers, the best part of yesterday's performance was Colbie's new song, Try.
Try isn't just any other love song. It's an anthem of self-love and acceptance for women around the world. Inspired by Colbie's recent experience -- a push to get more sexed up for her next album -- it's a song that tells girls, "You don't have to try so hard, you don't have to give it all away... you don't have to change a single thing."
Having always been self-conscious -- about weight, makeup, hair, nails -- all of the external features we so often pick apart about ourselves -- Colbie found herself swept up by publicists and stylists looking to change her as her career skyrocketed. Soon she wasn't truly herself anymore -- offering stunted interview questions for fear she'd answer incorrectly or give something away, wearing more makeup and dressing up beyond her usual flip flops and jeans (she's a self-proclaimed California girl).
Colbie decided it was time to reassert her authentic self and stand bravely for others to do the same.
"It'll be a lot easier if we all stand together, if we all do this together," Colbie said of trying not to try. Like not wearing makeup (or at least so much of it) -- which is at the heart of her "Try" campaign.
In fact, she invites fans and fellow celebs to do just that and submit their beautiful bare faces to her "Try" lyric video. Many of the celebs still wore makeup, Colbie told me, despite the specific directive not to do so. "It's hard when you're in the public eye," she said. But daring friend Sara Bareilles submitted a shot directing viewers to a blemish on her face.
I watched as young girls -- 12 and 13 years old -- came running to Colbie's side for pictures and autographs after her in-flight performance and felt so grateful that no matter how bombarded we are with unrealistic magazine images, commercials and the ever growing retail machines telling us that we need to buy and do more to look pretty, there are inspired people like Colbie in the spotlight reminding girls to just be themselves,and love themselves exactly as they are.
One of Colbie's old stage coaches told her to look in the mirror before a performance and say five nice things to herself about herself. What if we all took the time to not only accept ourselves but praise ourselves, too?
I see a world full of strong, confident women growing. And thanks to women like Colbie for standing up to remind us to be comfortable in our own skin, just as we are. (And that some beautiful music mid-flight can make a begrudged day of travel a day of delight).
Watch Colbie live as she closes out The Robert Mondavi Winery Summer Concert Series on Saturday July 19th in Napa, CA.
And right now you can download Colbie's new song, Try, for free on iTunes!
For more women's inspiration and empowerment from Alexis, check out ElevateGenY and like ElevateGenY on Facebook.