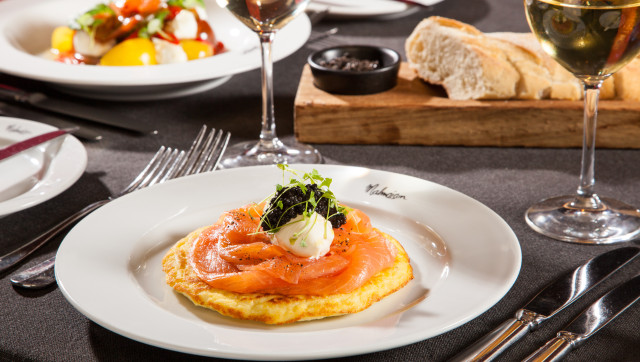 "Entertaining is my main pleasure, my forte; and beyond that it is essential to my livelihood."
- James A. Beard in James Beard's Menus For Entertaining

Like the late James Beard, I love to entertain. Almost every week I am hosting some sort of gathering at my Manhattan apartment or my Connecticut home. And this week, I've been honored to entertain the guests of The James Beard Foundation's Annual Silver Anniversary Gala.
I've been asked to serve as host chef for the event, which celebrates the JBF foundation's annual Outstanding Chef award, which I won in 2006. In order to create a fabulous event, I've brought together fellow Outstanding Chef award winners Tom Colicchio (Craft) David Bouley (Bouley Restaurant), Daniel Humm (Eleven Madison Park) and Michel Richard (Citronelle) to assist me in planning the ultimate dinner party as the late Jim Beard would see fit.
In order to do so, I mailed each chef a copy of James Beard's 1965, James Beard's Menus for Entertaining, and asked them to use his vision as inspiration in planning the evening's menu. In the book, James Beard provides over 600 recipes for anything from brunch to a "ladies only" luncheon to a formal dinner to a roadside picnic. James Beard offered one key piece of advice in his book too and that is to plan in advance. "Whether you are entertaining at breakfast, luncheon, cocktails or dinner, you must plan carefully and make sure that most elementary chores are done in advance," wrote Beard.
And Jim is right. A well-planned party leaves little room for error and means that you actually get to enjoy the company of your guests instead of hovering over a sweltering oven while they sip on martinis. Here are three of my favorite ideas to help you plan your next at-home fete:
- Large Format Bottles--champagne or other wine--are bound to impress. Just pre-order from your local wine store.
- Create your own blini bar. Maybe it's the educator in me, or maybe it's just my love of a good time, but I love the idea of creating a hands-on blini bar for guests to get in on the cooking. Simply set up an electric griddle. Arrange the accompaniments for the blinis--caviar, golden trout roe, salmon roe, creme fraiche, butter, minced onions, white and yellow hard boiled eggs around the griddle and make your blinis right there using a simple batter of buckwheat, flour, egg and milk that you can make ahead of time. The blinis cook in just 60 seconds and everyone can get involved in the fun.
- Always have a charcuterie offering. As James wrote,"A sensible way to save yourself headaches in planning your menu is to take advantage of fine prepared foods available." While I often make my own charcuterie, there are plenty of stores that offer a fine spread for you to choose from. Start with a beautiful cutting board. Add good dried charcuterie--salami, soppressata, copa, slice most, but leave some pieces whole on the board; add pickled vegetables (cherry peppers, cornichons, etc.) and a selection of fine mustards. Depending on the size of your party, you can add cheese and bread/toasts.