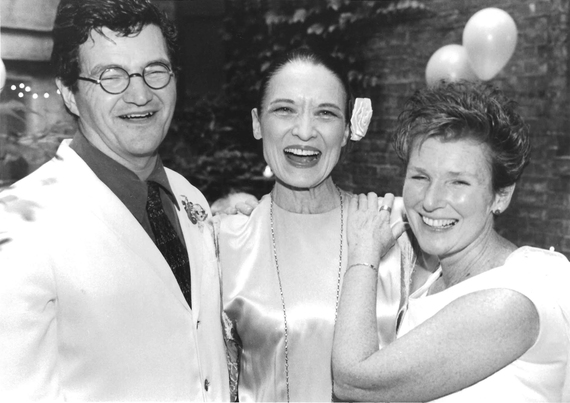 What makes chanteuse extraordinaire Julie Wilson's recent death particularly poignant for me is that she sang at my wedding. I didn't know her well. I just loved her. But loving isn't knowing. That was yet to come.
I spied her surrounded by admirers in the lobby of Carnegie Hall. I was with my pal Lou, who knew her. And so we joined the throng taking our turn to bask in the presence of a woman I had elevated to goddess.
When Lou introduced me I blurted out a string of not-so-unique praise that she undoubtedly had heard before. I then babbled on about how Steven Sondheim's "With So Little To Be Sure Of", from his musical, Anyone Can Whistle, was my favorite song and her rendition brilliant.

Forsaking the others, Julie Wilson grabbed my hand and said what 'got' her with the song was the sentence, "Crazy business this, this life we live in - can't complain about the time we're given!" She went on to say that Sondheim using "this" twice in "this, this life we live in" gave her goose bumps. Me, too.
Intermission was nearly over, yet Julie Wilson and I stayed put reciting Sondheim's lines sotto voce to each other with a sincerity that emboldened me to ask if she would sing the song at my upcoming wedding. Without a pause she said yes.

This was the early nineties when thousands of gay men were dying from AIDS. Men who keenly felt the power behind "crazy business this, this life we live in." I, too, was ill, having contracted a mysterious, potentially fatal blood disease that visually mimicked the symptoms of AIDS.
With such sadness whirling around in the zeitgeist, friends had suggested I marry my life companion, Geoffrey Knox in case "anything should happen." But marriage was not my thing. As Sondheim wrote in the same song: "All I'll ever be I owe you, if there's anything to be. Being sure enough of you made me sure enough of me." That's what I believed in, not marriage. But AIDS and my own illness changed all that.
In the weeks leading up to a June wedding, Julie and I talked clothes and weather on the phone. Because it was to be held on Midsummer's Night Eve, she said was going to wear rose. And not just rose, but old rose. Being from Nebraska gave her a good sense of weather and she assured me not to worry. That day, 'my' day, as she reminded me, the New York weather was going to be divine.
And so it came to pass. On a lovely Tuesday evening, friends gathered at St. John's In the Village for our wedding and to hear Julie Wilson sing. Backstage - what I dubbed "the room off the altar" - where myself and the bridesmaids gathered, Julie was nervous because her longtime accompanist, Billy Roy was running late. I was nervous because I was getting married.
After much talk, prayers, tears and music, Julie rose up from her pew, looking quite like Shakespeare's Titania, complete with gardenia. Trailing her came Billy Roy, clad in a white suit and bow tie like an aging Puck. Together they proceeded to perform 'With So Little To Be Sure Of." But right at the line that she and I loved, Julie Wilson froze in a panic reserved for those who love beyond measure what they are about to do.
As she stood there, looking poignantly confused, with Billy Roy attempting to musically trigger her memory, Geoffrey quietly spoke the words to her, joined by gay friends in attendance who knew the song by heart.
I am still married and Julie Wilson is now dead. Yet what a legacy of beauty, kindness, genius and pure fun she leaves behind. I would have married without her. But having her there is what made the wedding. Not to mention her handing me her pink lipstick just as I was about to walk up the aisle.
"Here, kid," she said. "Use this."
Pink will never be the same to me again.