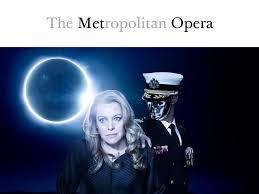 Wagner would have loved it...I hope, the great surge of humanity gathered respectfully in Times Square to see opening night of Tristan und Isolde at the Met, me among them.
Confession time: I am an unapologetic Opera Snob who loves Wagner. People get confused. What's there to love? Aren't his operas long, immoral, hard to follow and loud? They are. But these are some of the reasons I love Wagner, and keep seeing his operas over and over again.
I've seen "Tristan" (as opera snobs refer to Tristan und Isolde - please note it's "und" not "and") many times. But this Tristan was different. This Tristan was to be broadcast "Live from the Met" in the heart of New York. There were even free programs!
Which brings me to why I, who hate crowds, was there. I had time on my hands before going uptown to see the first Presidential debate. It was a glorious early autumn evening. And, most importantly, this "Tristan" is a spanking new modern rendition of the medieval Celtic myth, with characters dressed in slick suits and smart dresses, instead of sheep's skin, helmets and gold.

What's more, this new production stars Nina Stemme, a Swedish soprano I saw 16 years ago in her Met debut as a 'mousy' Senta - the way I think Senta should be played - in Der Fliegende Hollander / "The Flying Dutchman."
So there I am trudging bravely towards Times Square at four in the afternoon, hoping to get a good seat for the five o'clock curtain, wary of being chatted up by Mickey Mouse or panhandled by those pseudo-Tibetan Monks. Yet, as I approach Broadway and 44th Street, I could see no sign of what I hoped to be chorales of "OMG, OMG I'm here to see an opera."

What I saw were mainly tourists, walking around gaping at the plethora of garish neon advertisements, wondering do they or don't they let a woman dressed as one of the girls in "Frozen" chat the them up.
After asking a few cops did they know anything about tonight's opera - they didn't - I walked a few blocks up town. Suddenly, it appeared: Orderly lines of cordoned off black chairs facing an enormous screen graced by Placido Domingo's face announcing The Met, enormous speakers and young women handing out programs just like it's done in the opera house.

To my surprise there were empty seats. I could have taken any one I wanted. So I picked one at the end of a row to exit easily after the first act, to head uptown for the debate.

I was not the only New Yorker present. There were many elderly couples most likely lucky to have seen Birgit Nilsson play Isolde at the 'old' Met. But the majority were tourists, thrilled to be in Times Square and part of the action, being photographed or even videoed as part of the opening night audience.
There was a prevailing sense of peace among the people waiting for the opera to begin, possibly the first they've even seen. But not before Sir Simon Rattle and his divinely hippie curls took to the podium to lead the Met audience and the street audience in a rousing rendition of our National Anthem.
Having confessed I am an Opera Snob, I must embellish a bit more: I love overtures. Sowing their musical seeds of what's to come gets me every time. And as I sit there, perched on the edge of my seat waiting for those first mournful notes of the overture, I feel blissful. Happy to be right here in the middle of Manhattan part of a great throng, free to leave or stay, get a coffee or over hearing people on cell phones saying, "Hey, guess where I am?"
As often happens, my mind wanders freely during opera. I recall that teen in her school uniform who saw her first opera at the 'old' Met when she was sixteen, now attending opening night in Times Square. So I sit. I sit dead still, singing faux German under my breath, until the first act ends. I rise and exit quickly, glancing back at the audience wondering who will stay for Act 2 before I head uptown to see a modern opera yet to be written - "Hillary und Trump".