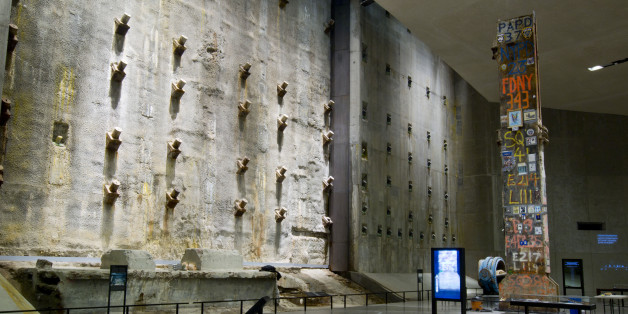 In the work to create the National September 11 Memorial Museum, we consciously applied the idea that an emotionally safe encounter with difficult history, experienced through the lens of memory, can inspire and change the way people see the world and the possibility of their own lives.
Not all history museums are situated at the very site where history was made. The specificity of our location requires that we focus intently on what happened here. And so, our primary obligation is to tell the story of what happened on September 11 here in lower Manhattan -- and also at the Pentagon, in the sky above us, and in Somerset County, Pennsylvania. We examine the historical context that led up to the attacks, including the bombing of the World Trade Center (WTC) eight years earlier here at this site. We chronicle the days, weeks, and months that followed in the wake of the 9/11 attacks in an effort to place those events in both an American and a global historical narrative, and to try to understand their ongoing legacy.
At the heart of our program, we remember those who were killed at the WTC site both in 2001 and in February 1993, as well as those who perished at the Pentagon and near Shanksville, Pennsylvania on 9/11.
But we also focus on the extraordinary response to these events -- by uniformed rescue personnel, New Yorkers, Americans from every state, and indeed the world community.
We do all of this inside a space that is an archaeological site. Set within the remnant foundations of the World Trade Center, this is a museum containing artifacts that is itself housed within an artifact. And so, the experience of the September 11 Memorial Museum is multi-dimensional: a place of learning, commemoration, and reflection set within a space of palpable authenticity.
These multiple functions -- commemoration, education, and inspiration -- have defined the work of creating the National September 11 Memorial Museum.
In telling our story, our charge was to provide a sense of historical context. This tragedy was not the result of a natural disaster; 9/11 was planned and perpetrated by human beings. In the effort to address who did this and why, we consulted scholars, historians, and experts in various fields to locate the artifacts, images, and content that could most effectively and accurately tell this story.
As an educational institution, our commitment is to the narration of fact-based history. This museum strives to establish a level of literacy about the historical context for the events of September 11, the nature of the world in which we live, the reality of terrorism, and the often incompatible political forces that remain in tension with one another. We also acknowledge that this story is not over yet -- that our collective understanding of the long-term impact of 9/11 will continue to evolve.
But the September 11 Memorial Museum isn't only about documenting history. It is about understanding our humanity. In so many ways, the Museum is as much about 9/12 as it is about 9/11.
We tell stories of people who acted with extraordinary kindness and compassion: helping strangers evacuate; refusing to leave colleagues behind, even if doing so meant certain death; running into danger, selflessly, so others could live; volunteering at Ground Zero, doing whatever one could.
We understand that a significant percentage of our visitors will be coming here -- to this site, to this memorial museum -- as a kind of pilgrimage, in an act of bearing witness. And so, our focus is on the very real impact of this particular act of terrorism on the lives of very real people, and their families, friends, colleagues and communities.
In the end, the story we tell is about the people affected by this event. This is a story about people like us -- who got up in the morning and went to work or boarded a plane, and got caught in the vortex of global events. In our memorial exhibition, In Memoriam, you meet these people.
With reverence, care, and dedication, our staff has worked with families and friends of the victims as well as partners like the Voices of September 11th, StoryCorps and the 9/11 Tribute Center to compile portraits and to secure as much documentary material as possible about every individual killed as a result of the 9/11 and 1993 attacks. Where family members, friends, former colleagues, and others have left us recorded remembrances of their loved ones, we have excerpted brief audio clips so that we can be introduced to these people by those who knew them best.
In the space of this Museum, the number 2,983 is not an abstraction. Here is a cross-section of humanity: ages two-and-a-half to 85, people from over 90 nations, workers in every sector of the economy. In the memorial exhibition, we remember people for how they lived, rather than how they died.
At the heart of this Museum is a fundamental conviction: that bearing witness to the unimaginable is the only way to imagine a way beyond it.
Ultimately, the September 11 Memorial Museum is a place for understanding ourselves and the world in which we live. It is place for all of us, set within the foundations of the World Trade Center -- at the epicenter of Ground Zero -- to begin to imagine together the kind of world we want to build for the generations that will follow us.