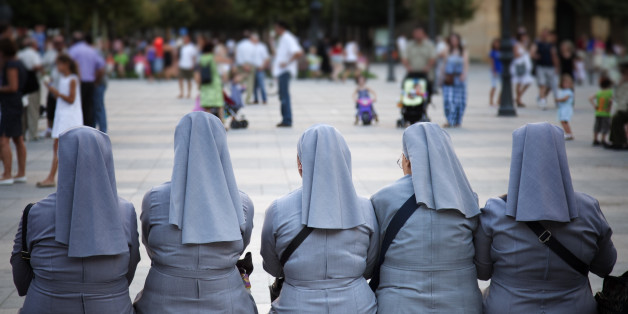 Religion has never been my thing.
When I was nine, I was kicked out of CCD for defending gay rights. I vividly remember sitting outside the classroom leaning up against a hideous yellow wall waiting for my mom to pick me up. When she finally arrived with a big smile she said, "Mommy's proud of you. Don't tell these people though."
When I was 16, I got kicked out of my Christian Lifestyles class at my Catholic high school. (It had a great theater program so my parents took the risk that my older sister and I might end up Republican zealots and sent us there.) Once again, it was the gay issue and at least once a week I was asked to "go get a muffin."
While the gay issue was probably my biggest grievance with the church, I had plenty. Really, any organized religion. So I was dubious when my older sister came home from school and announced her favorite faculty member was an awesome nun named Sister Pat. Clearly, my sister had drunk the juice.
Then my parents, neither of whom are too religious (though more so than their atheist daughters), came home from parent/teacher conferences completely captivated with this "Sister Pat." My mom spoke of her with adoration usually reserved for Julie Andrews.
Four years later, when I started at the school I was still unconvinced. I never had her in class so she remained elusive to me. Besides, she was a nun after all. The first time I decided I loved her was sophomore year. (This probably speaks more to the superficial mind of a 15 year old than the wonderfulness of this woman, but I will go on.) I came back from summer vacation having dyed my long dark hair very very blonde from a box. I looked ridiculous. I know. I've seen pictures.
Sister Pat immediately stopped me in the hallway. (Now remember, she only had my sister in class. Four years prior. Never even had a reason to learn this Britney-Spears-wannabe's name.)
"Is that you, Alicia MacManus, or a supermodel off the cover of Seventeen magazine?? Your hair looks fabulous."
Okay, Sister Pat was cool.
She was a presence at my high school that is hard to describe. Ever present, enthusiastic and accepting. Everyone was okay in Sister Pat's book.
Sister Pat passed away over the weekend. I hadn't seen her in 10 years. However, one story has kept coming back to me since I heard the news. It occurred on one of my last days on that campus. My best friend, Jess, and I were -- literally -- running to our religion final exam. We were already about four minutes late and discussing if we could still go to college if we failed whatever bogus religion class we were currently missing the exam of.
Sister Pat stopped us at the doorway. I can picture it perfectly. Jess and I wearing our uniform plaid skirts with (very non-uniform) sweatpants underneath while we tried to catch our breath. Sister Pat looking impeccable and serene.
"Girls! How delightful to see you! Where will you be attending college?"
"Sister, we are so late for our final final!"
"Oh for Mrs. Tirrell? She will understand. I will talk to her."
"Uh... okay. I'm going to UMass Amherst."
Her eyes lit up.
"What a lovely campus! Let me tell you about my recent visit there. Do you remember (some girl's name) who graduated a couple years ago?"
"Not really...." I said.
We both looked over Sister Pat's shoulder into the door where our exam was being administered. At all the students who were actually going to graduate.
"Well!! She was one of my favorite students! Anyway, about a year into her time at UMass she began to have romantic feelings for other girls."
Okay, now she had our attention. We didn't need to graduate.
"So I hopped in my car and I drove the two hours to Amherst. I parked my car in this massive parking lot. I took her out to lunch and I said to her: 'Honey, you love who ya love. God loves you know matter what. And so do I.'"
Jess and I both looked at her wide-eyed. In recent years, Jess had joined my gay-rights-movement-of-one at the conservative high school and we couldn't believe what we were hearing. Sister Pat continued. Completely unaware that she had just blown our minds.
"So anyway! We finish lunch and I start to go back to my car. And I couldn't find it anywhere! That campus is huge. So the reason I'm telling you this is so you'll remember where you park your car. It's so confusing!"
I thought of Sister Pat whenever I couldn't find my car at UMass. And whenever someone needed to be reminded to "love who ya love."
I'm still an atheist. But Sister Pat wouldn't have minded. She taught me that not only is it okay for me to not believe in God, but also that it's okay for other people to believe in God. And more importantly, to never assume you know someone's beliefs just because you know which religion they belong to.
Ironically, she also taught me to have faith. Not in God, but in people. Because there are people out there who are just amazing through and through. Who do good everyday for all the right reasons. And for me, that's even more impressive than an all-powerful being.
Sister Pat herself was a beacon of light and hope -- but one that you could touch and hug.
She will be missed.