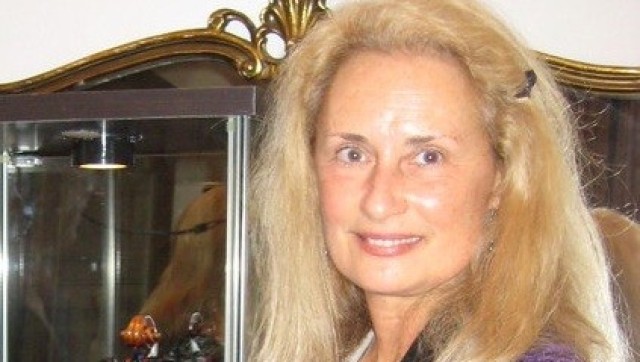 When velvet and lace are the only two fabrics in your closet you're bound to look like a Christmas stocking, or, as my mother-in-law describes her wardrobe as full of "gypsy clothes." For as long as she can remember, and for as long as photos of her date back, Becky has worn various oversized, long flowing skirts with a matching vest or ruffled blouse, lots of jewelry and funny little shoes made in Sweden.
Becky's closet is filled to the brim with skirt-and-shirt ensembles, many of which are the same fabric and pattern, just in different colors. Becky shops anywhere she sees something she likes, which is usually random boutiques in Europe where she lives part-time. In her defense, she's an incredibly talented concert violinist and violist and from day one has been surrounded by the less-than-fashionable classical music crowd. I mean, when's the last time you went to a philharmonic and thought "Gee, that cellist has some seriously enviable style?" That's right, never. Becky, unlike many of her cronies, is very self-deprecating when it comes to her clothes and admittedly says she doesn't know how to wear anything else. She attributes years of dark concert-style clothing to her everyday habit of dressing like she's ready to sit on stage in the strings section. You can't blame her: She eats, sleeps, and breathes the violin the way some people worship Vogue magazine.
Underneath the skirts (don't worry, I'm not going where you think I am) she's always got tights or leggings on, regardless of the weather. Becky believes in layering, and usually leaves the house in no less than five garments, all of which are obviously inclusive of velvet and/or lace. She always looks presentable and somewhat dressed-up, but that doesn't stop her close friends and family from teasing her about her drapey duds.
When it came time for her to find a dress for our wedding, my husband strictly forbade her from buying some sort of new gypsy frock and sent me out to shop with her. After numerous outings and fitting room frenzies, we found a winner. Though she felt like a fish out of water, she looked incredible (and modern!) for our nuptials. It goes without saying that the Adrianna Papell tiered dress she bought for the occasion has since remained on its hanger, hidden in the back of her closet fiercely outnumbered by crushed velvet capes.
PHOTO GALLERY
My Mother-In-Law's Big, Fat Gypsy-ish Wardrobe
Want more? Be sure to check out HuffPost Style on Twitter, Facebook, Tumblr, Pinterest and Instagram at @HuffPostStyle.