Wearing a red t-shirt, kaffiyah and several new Palestinian flag-colored bracelets around her wrist, a twenty-four year old activist from London passionately spoke about her experience as an occupation tourist at a weekly protest of the wall in the West Bank village of Nil'in. In addition to being detained at the airport, she had been arrested at her first demonstration just a week ago, and held by the Israeli police for several hours. At the police station, she moved about freely, blowing smoke in the faces of soldiers, handing out cigarettes to Palestinian prisoners and singing Bob Marley songs. "Some of the soldiers even hit on me," she said. "It was like a movie."
Every summer, hundreds of young international activists travel to Israel and Occupied Territories to stand in solidarity with Palestinians against the Israeli occupation. For the past ten years, the presence of international pro-Palestinian activists has been fairly constant. Since most international activists have no national or religious ties to Israel or Palestine, and stay for relatively short periods of time, some of the more seasoned activists question whether their activism is effective, or functions more like occupation tourism.
To serve the demand of international activists to visit the Occupied Territories, several organizations have emerged to provide travel information, accommodations and training for activists during their stays. While some organizations, like Christians for Peace, focus on several conflicts around the world, other organizations, like the International Solidarity Movement are specifically focused on the Israeli-Palestinian conflict.
The ISM, which has support groups around the world, provides participants with lodging and a two day training program. After the training, ISM participants spend their week monitoring checkpoints, Palestinian homes and participating in weekly Palestinian-led demonstrations, where participants regularly come into conflict with the Israeli Defense Forces and some have even lost their lives.
The twenty-four-year old activist, who in accordance with ISM protocol had taken an ISM name, Zorro, in order to protect herself from being targeted by Israeli police, dreamed of coming to the Occupied Territories for years. Like most international activists, she was tired of people at home telling her that reading books wasn't enough to have an opinion -- she needed to see and experience the conflict for herself.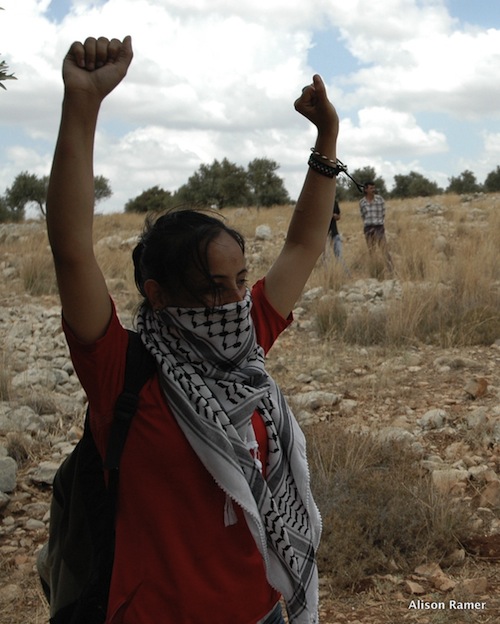 Zorro rooting on Palestinians
"I've been a Palestinian activist for nearly ten years. One day, when I was fourteen-years-old, and feeling really disempowered, my sister invited me to this Palestinian protest, and it was the most empowering experience I ever had." Now, two weeks into her trip, Zorro was leading an even fresher ISM participant about the conflict zone.
The London based communications consultant of Muslim descent came to the Occupied Territories to see the conflict for himself. Along with other ISM participants, he ooed and aawed at the IDF's tear gas grenades as they spun across the olive grove towards demonstrators, took pictures of Palestinians throwing rocks with homemade slingshots, and laughed uncomfortably alongside Zorro, who rooted the Palestinians on in a sports match-like style.
At one point, an ISM participant from Italy, the quietest member of the group, gave a Palestinian demonstrator, inundated with tear gas, makeshift medical supplies -- an onion -- which is supposed to soothe the pain. When the Israeli Defense Forces entered the olive grove, Israeli and Palestinian demonstrators started running across the field to escape arrest. Trailing behind, one of the fresh ISM participants said, "Wow, it's like Lord of the Rings out here."
While Palestinian and Israeli activists appreciate international activists' bravery, for some their lack of connection to the conflict and the short amount of time that they spend in the Occupied Territories raises questions about how effective their trips are.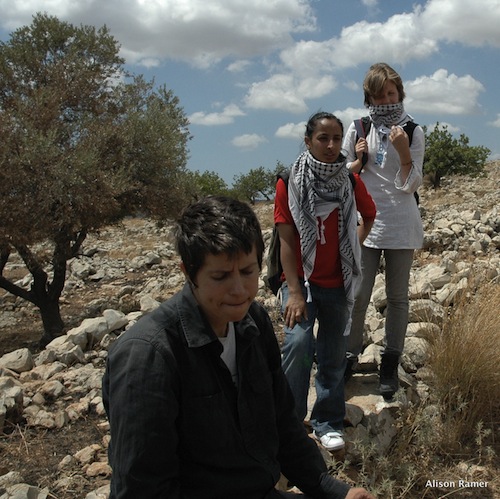 Israeli activist vs. international activists
When asked if international activists are a part of occupation tourism, Joseph Dana, an Israeli-American journalist who has been documenting demonstrations in the Occupied Territories for the past two years said, "I think it's fairly on point."
To illustrate the difference between Palestinian and Israeli activists verses international activists, Dana recalled a recent protest where Palestinian and Israeli activists sat in the shade at the back of the demonstration while international activists passionately protested at the front lines. "I have to ask, 'What are you so angry about? What did these people do to you?" he said. "No offense to the activists -- they are very brave... but they need to remember that the Palestinians are the one's who are protesting, and that they are coming here to support the Palestinians, not to be Palestinians."
Similar to Dana, Bassam Tamini, a Palestinian and leader of the popular resistance in Nebi Saleh, stressed the importance that activists come to support the Palestinians and follow their lead. "Everyone that comes must be able to come without their agenda and accept our decision about which tactics to use -- popular resistance verses a nonviolent resistance -- they must come to support us, not to change us."
However, for Tamini, activists play an essential role in ending the occupation because of the power they have to change the perception of Palestinians abroad. "We believe, that solidarity comes from every place on earth -- we can take it from there and they can send it to us here--because we are asking for peace, not war."
For Tamini, the most important participants at demonstrations are the Israelis. "When the Israelis come they remove the occupation from their thoughts, their mentality -- and this is the most effective. They give us the most power to change."
For Kobi Snitz, a 38-year-old Israeli activist with Anarchists Against the Wall, it's crucial that internationals come and support the popular movement, even if just for a short time. In fact, Kobi credited international activists and the ISM for "leading the Israelis" to join the Palestinian popular movement.
Even though most international activists come for less than a month, a few activists -- like Robin Brown, a 24-year-old climate change activist from London -- stay for several months to gain a more in-depth understanding of the occupation. He had been a member of the ISM in London prior to coming on the trip. "You are more useful when you go back home if you've been here. I don't want anyone to be able to tell me I am a liar or misinformed -- now I'll be able to say I saw myself what was going on here."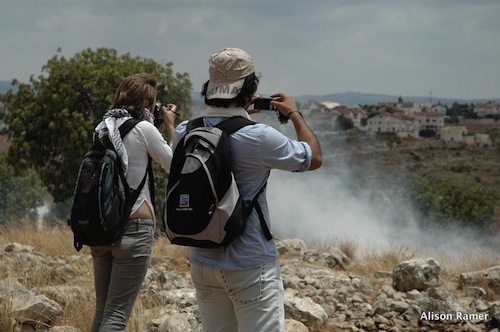 International activists shoot conflict zone
According to Brown, the ISM has a very strict focus on not being a neo-colonial movement. "It's the community and the Palestinians that are likely to suffer so it has to be led by them."
However, he also admitted that it's hard to feel that he's contributing. "You want to be useful, but you realize that you're most useful at home." At five months, Brown is currently the ISM's longest staying participant. He plans to return home shortly.
Like Tamini, for Snitz it's important that international activists return to their home countries more informed.
"It's kind of like Birthright, except the big difference is that people who come are motivated by a lot more than a free ticket. They are paying to risk their lives for a cause that many of them have been committed to for years." he said. "Even if someone only comes once, it's a kind of support that will remain on the ground."