WildCare's Wildlife Hospital treats nearly 4,000 ill, injured and orphaned wild animal patients from over 200 species every year. This is one patient's story.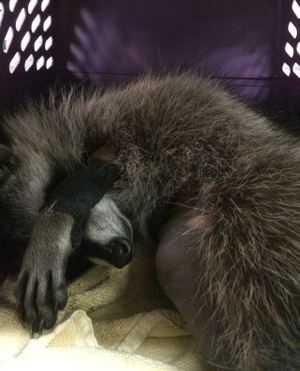 This little raccoon, still a youngster in her mother's care, almost made it across one half of a busy street, but a passing fender caught her back leg just as she hopped onto the median, sending her sprawling with a severely broken femur.
Thank goodness for several caring people who slowed traffic and kept the injured animal contained on the median to await transport by a Humane Society officer to WildCare's Wildlife Hospital.
And thank goodness for the dedication of a volunteer veterinarian who agreed to do a complex orthopedic bone-plating surgery in the very constrained confines of WildCare's Medical Room.
Less than 24 hours after the raccoon was admitted to WildCare, the surgery was scheduled. It was Saturday morning of Labor Day weekend, and the vet delayed his family's plans for the long weekend to come to WildCare to help this young raccoon. WildCare RVT Nat Smith helped the doctor create a sterile surgical environment for the procedure in the cramped, cluttered and chaotic Medical Room that is the nexus of our Wildlife Hospital. Nat also performed anesthesia during the operation.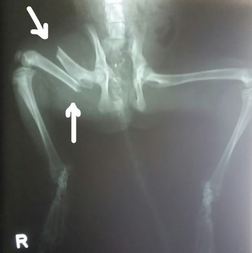 Including anesthesia and recovery, the surgery took about three hours. It consisted of the veterinarian incising through the top three layers of tissue (skin and then fascia) and parting two muscles (vets don't cut through muscle if they can help it, they rely on the natural separations between different muscle groups to access the bone), and then pushing and pulling the bones to get them seated together.
Leg muscles are very strong, so when a femur is broken in half, they can pull the broken bone out of alignment. The strength of the muscles can even allow the animal to walk a little bit as she overcompensates for the lack of bony support, but this would mean the bone would ultimately heal incorrectly, if at all. An incorrectly healed fracture would be a death sentence for an animal like this one that needs strong healthy legs to climb and run, so the surgery we were able to give her saved this young raccoon's life.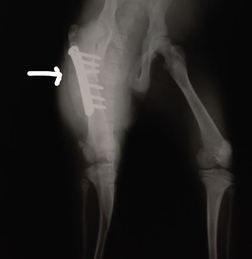 Once the bones were seated, the doctor placed a specialized plate over the fracture site and screwed six screws though holes in the plate to secure it. The plate will stay in for the rest of the raccoon's life. The doctor sutured the two deep layers of tissue, but then used surgical glue to close the outermost skin in order to stop the healing raccoon from pulling at any sutures and causing infection and/or more trauma.
Before bringing the raccoon out of anesthesia we took radiographs (x-rays) to insure that the plate was seated correctly and that the screws were all the way through the bone.
The total cost for this raccoon's surgery would have been around $2,000, both for labor and parts. We are so grateful to our wonderful volunteer veterinarian for taking time on his holiday weekend to operate on this little patient.
Excellent prognosis
Domestic animal vets are always surprised at how quickly our wild animal patients heal, and this little raccoon is no exception. If this raccoon had been a domestic dog, she would have been put on limited activity for at least six weeks. However, the very next morning this baby was using the leg to climb and move around her cage. We had to keep her in a small enclosure for a few days to be able to medicate her for pain and to limit the risk of her falling and re-damaging the leg, but due to her activity level, confidence and strength, we knew she needed more leg room in a larger enclosure.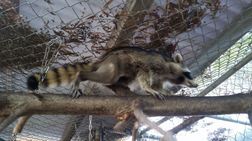 This was also for her mental health, as a juvenile raccoon is stressed by captivity. These social creatures need the company of other raccoons to feel comfortable during recovery, so it was important to get this little girl out with other raccoons in our care. See her in the video below using the repaired leg (still shaved post-surgery) to balance on a log and meet a fellow WildCare patient. We anticipate she will make a full recovery and return healthy and fit back to the wild.
WildCare is a 501(c)3 nonprofit organization supported almost entirely by private donations and individual memberships. Visit us online at wildcarebayarea.org.