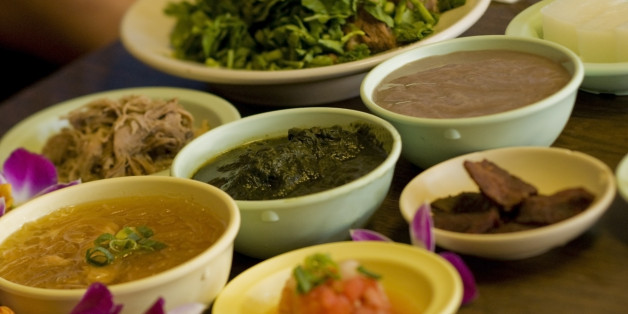 Maybe it's because the Huffington Post is launching HuffPost Hawaii this fall, or maybe it's my craving for all things tropical once the summer heat sets in, but I've been thinking a lot about Hawaiian food lately: What is it and why is it so hard to find in New York City, home to every kind of food imaginable?
Craving Ukrainian soul food? In New York, you've got it at any hour. Momos? You can find these Tibetan dumplings from the East Village to Jackson Heights. Scandinavian food? Whether you want Smørrebrød or gravlax, you can find it all in restaurants from Tribeca to Midtown to Williamsburg. The sheer variety of food in New York makes this city what it is.
It's noticeable, then, when a certain cuisine is missing. As of yet, Hawaiian food hasn't hit big in New York City. But is it the city's next big cuisine?
Two leaders in the New York City food world -- one a restaurant, one a non-profit radio station -- held Hawaiian BBQs this summer. Peter Meehan, editor Lucky Peach magazine, traveled to Hawaii with Momofuko Milk Bar's Christina Tosi and L.A.'s famed Korean taco truck king Roy Choi to explore the food and find the "aloha spirit," and Hawaiian-inspired dishes are popping up on menus throughout the city. Are we warming up to a food stall at Smorgasburg, a twitter-stalked food truck, or a hit new restaurant singularly dedicated to Hawaiian cuisine (as of yet they seem to be few and far between)?
Andrew Carmellini's restaurant The Dutch -- popularly regarded as one of the best new restaurants of 2011 -- threw a Hawaiian Luau over Memorial Day weekend to kick off the summer. The Dutch is all about saluting Americana with seasonal ingredients, and chef de cuisine Jason Hua and sous chef Emily Iguchi did just that with their Hawaiian bash. Both chefs are still looking for good Hawaiian food in New York, so they decided to bring the cuisine to The Dutch for a day. Do Hua and Iguchi think Hawaiian food will have its day in New York City any time soon? "As New Yorkers we love our ethnic foods," they say. "We travel an hour to Queens for Thai, Brighton Beach for Russian and the far reaches of Bushwick for pizza, and now fine dining. The flavors of the South Pacific are bound to have their moment here." Time will tell. But they weren't the only people throwing a luau this summer.
On August 11, Heritage Network Radio hosted a family-style feast to transport New Yorkers "from the big city to the Big Island." The impressive roster of chefs cooking for the party included Daniel Delaney of Delaney BBQ, who manned the "Kalua-style" pig roast; Chris Bradley of Untitled at the Whitney, who made an "Island Style" fried rice; and Kyle Knall of Maysville and the team from Court Street Grocers, who were in charge of the sides. The crew at Roberta's, Heritage's neighbors, served Hawaiian pizza, because, why not? Following Heritage's mission to bring together people and groups doing good work, they also brought in Brooklyn Grange, a leader in the urban farming movement, to provide greens for the party, as well as La Newyorkina, which was hit hard by Hurricane Sandy, to serve popsicles. Erin Fairbanks, Heritage Network Radio's Executive Director, wonders if the lack of Hawaiian transplants in New York explains the dearth of the cuisine in the city. She cites the geographical distance, and reasons, "leaving the Big Island for the Big Apple seems like a tough sell." She may have a point... But in a town that never sleeps and never stops consuming, big feasts and parties like a luau fit right in.
As Hawaii continues to develop its own dining scene, I think New York is sure to see more of its exports. Local chefs in Hawaii are getting back to their roots, creating ambitious but casual food -- much like the food served in today's hottest restaurants here in New York. We may well see these rising chefs expanding their reach to our city -- the badge of honor and visibility a New York outpost can offer hard to resist (think San Francisco's Mission Chinese exploding on the Lower East Side, and Portland's Pok Pok bringing unprecedented lines to the Columbia Waterfront District in Brooklyn.)
Characteristically impatient New Yorkers aren't waiting for poke and poi to come to them, however. One of New York's -- and indeed, the country's -- most famous chefs, Christina Tosi, owner and founder of Momofuko Milk Bar, traveled to Hawaii with the Editor of Lucky Peach magazine in search of shave ice, something like a snow cone, made with a finer ice. In Hawaii, Tosi and her travel mates found plate lunches, spam musubi, pork hash, masaladas and butter mochi -- all traditional Hawaiian dishes you'd be hard-pressed to find in New York. Tosi offered up a recipe for MilkBarLasadas -- her own take on masaladas, a kind of hole-less doughnut -- in the travel issue of Lucky Peach. Might we see it on Milk Bar's menu soon?
Chefs Dale Talde is serving Hawaiian Bread Buns at his namesake restaurant Talde, and Andres Valbuena is invoking Hawaiian flavors with the Hawaiian Ceviche at his newly opened Martha.
With New York's insatiable taste for new flavors and dining experiences, the city is sure to see the deep, untapped well of Hawaiian cuisine hitting its shores in due time. Like most cuisines, Hawaiian food isn't easily defined -- international influences from Japan to Portugal meld with regional ones. Dishes like poke can be made with a variety of fish and spices, and a plate lunch, although always with a base of macaroni salad and two scoops of rice, could be served with anything from shredded chicken to seafood or kalua pig. It's this same choose-your-own-adventure variety that defines New York City's culinary landscape, so it seems only fitting that Hawaiian food, in all its magnificent variety, make it big in the Big Apple.