"What doesn't kill you will make you stronger," said our friend David Hawk when encouraging us to take advantage of Thai massages.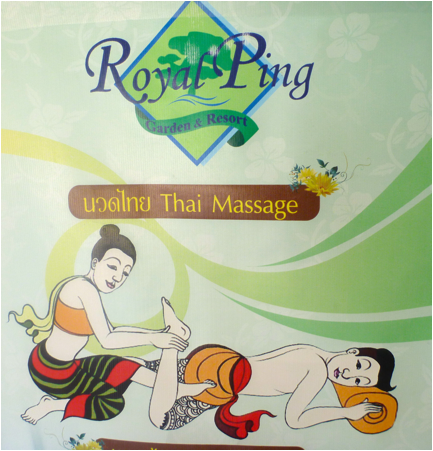 Our first massage in Thailand was in a room packed with beds pushed side by side. You lay right next to complete strangers -- all fully clothed. The kneading of all those bodies made me think we were all loaves of bread being prepared for baking.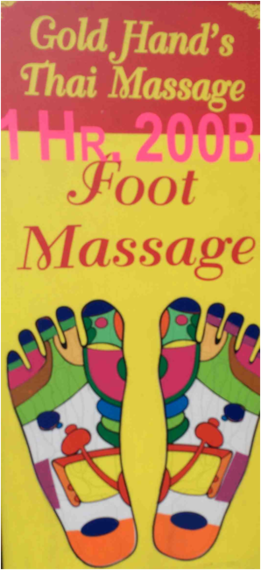 These are not your feel-good messages. They are deep muscle probes done with thumbs that could slaughter. They bring tears to your eyes. Below are two Thai gentlemen having a great belly-laugh as Sam cries out in pain.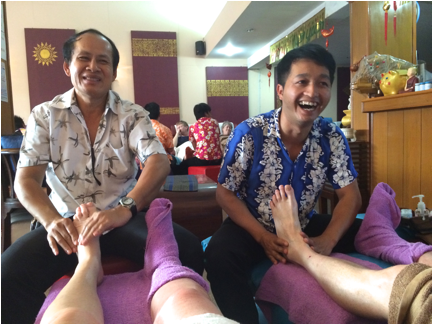 Later we had massages in the privacy of our rooms where two young, muscled women climbed on top of us in our beds -- again fully clothed (both the masseuses and us). Sam, who has never had a massage in his life, was not sure that something entirely different was about to happen.
In Cambodia and Vietnam, I had a private room where I was given paper underwear or gauzy cotton drawstring pants.
The only thing all the massages have had in common is that they have been totally respectable (though alternatives are available), occasionally quite painful and very cheap. Really, really cheap. One full-body message was thirty-five dollars including tip for a ninety-minute session. A $5 manicure came with a heavenly arm, neck and shoulder rub. And they all come with tea.
The bottom line is the massages are effective. We are walking around like loose noodles with the flexibility of nine-year-olds. For sure we are converts.
Except maybe for this one where fish bite the dead skin off your feet. (The fish are larger than those pictured.) You are encouraged to have a beer or two while having the treatment. Duh...