By Alison van Diggelen, host of Fresh Dialogues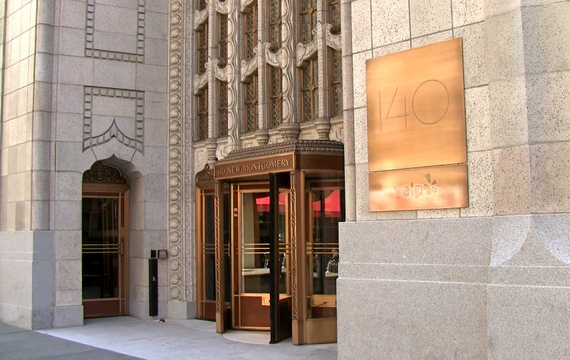 Built in the "Great Gatsby era," this remarkable Art Deco building was the tallest tower in San Francisco for almost 40 years. Today, 140 New Montgomery may be only 33rd in height, but it's still the talk of the town, from NPR's KQED Radio in San Francisco to The Atlantic in D.C. It remains a historic landmark in the booming tech city and just became the HQ of Yelp and Lumosity.
Last week, I took a closer look at its sustainable renovation with interior design expert Sara Andersen of Perkins+Will. We explored the 15th floor of the building, the home of Software AG's San Francisco team, and she explained why wellness is a key part of green building design's future. Would you believe, the building even features a "bike spa"? More on that later.
"Architecture interiors have a big impact on our environment and we need to do it responsibly," says the green-enthusiast Sara Andersen, who points to the Living Future Institute and its performance-based Living Building Challenge as her inspiration.
Here are some key design features of 140 New Montgomery:
1. The building is certified LEED Gold by the US Green Building Council and features operable windows, efficient energy and water systems.
2. The structure has a narrow floor plate, so you're never more than 25 feet from an operable window. Each of its 26 floors has its own air handling equipment and natural ventilation reduces the need for high-energy heating and cooling systems.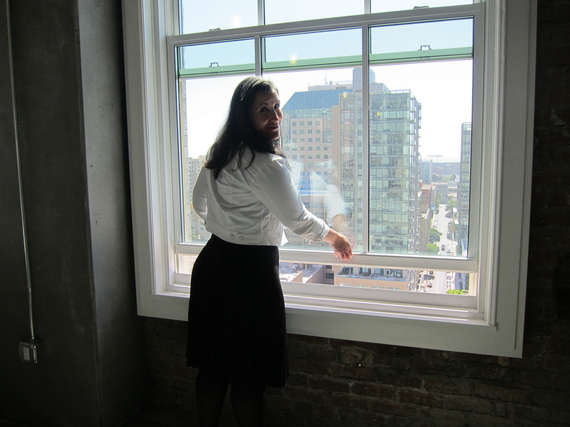 3. The large windows allow maximum use of natural light and all lights have daylight sensors, so they only go on when required.
4. The building's efficient water system includes low-flow plumbing fixtures and use of recycled (grey) water for toilets.
5. Carpets are made from recycled fishing nets created by sustainable carpet designer Interface. Check out this video for the inspiring story of a triple win: for the environment, the community and the bottom line.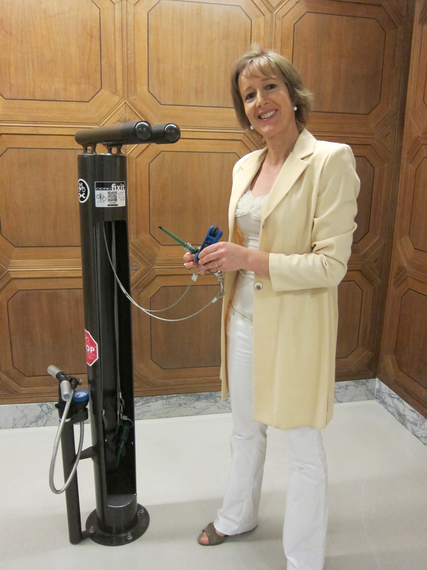 6. The building has a "bike spa" in the basement, featuring a deluxe locker room and shower suite (complete with "140 New Montgomery" branded shampoos) and the snazziest space to tune up your bike for the commute home: the re-purposed historic wood-paneled executive board room, reclaimed from the original building.
7. Most doors from the original building were also reclaimed and reused.
"It's about wellness," says Sara Andersen. "When you have healthier happier employees, there's less sick days, there's more collaboration and that leads right to the bottom line." She says that AG Software finds that the new space helps promote recruitment and retention of its tech staff. Despite its "work from home" policy option, more staff are choosing to come into the office, increasing collaboration and (presumably) creativity.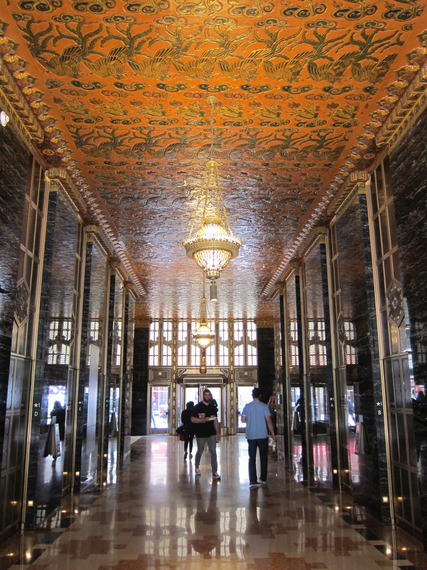 The Future
Andersen is currently working on the interior design of a 250,000 office tower in San Francisco that features a central atrium, bridges and an inviting open stair to encourage movement, interaction and collaboration between employees.
"It's about getting people to move...when you get up you change your posture, your circulation gets going, your brain is fresher," she says. "They wanted to encourage the cross pollination among their groups. It's being embraced globally."
Her team at Perkins+Will is also collaborating on active design guidelines with the City of New York.
This interview is part of a six-part video series "The Future of Green Building" sponsored by Webcor Builders.
Check out other Fresh Dialogues interviews with Tom Friedman, Robert Ballard and Paul Krugman and many more at the Fresh Dialogues Channel.