By Alison van Diggelen, host of Fresh Dialogues
Last night, I caught up with acclaimed journalist Lesley Stahl to discuss Barbara Walters' retirement. Here's Stahl's tribute to her television colleague and fellow crasher of the boys' club:
"Barbara has been a pioneer all along," Stahl says. "Even in hanging in there to the age of 84, she's still leading the way."
The 60 Minutes correspondent and former White House correspondent for the Carter, Reagan and George H. Bush administrations gives a historic perspective on Barbara Walters' groundbreaking role in TV journalism.
"When she started, when I started, it was generally assumed women couldn't last in television news beyond the age of 40," Stahl says. "Then it was 50, then Barbara reached 60... Barbara is 84, it's fabulous!"
At 72, the vivacious Lesley Stahl continues to report news-making reports for 60 Minutes as well as Years of Living Dangerously. In her early days, her producers told her to ''never, ever, ever smile.'' She famously wrote in her biography, Reporting Live, that when she started work at 60 Minutes in 1991, joining septuagenarian colleagues like Morley Safer, she felt younger, "There simply is not a better job or a better shop in all of television news -- possibly in all of journalism."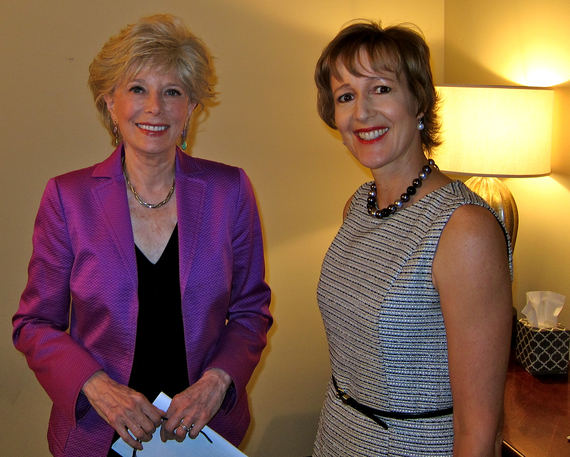 The interview was recorded backstage at the Flint Center in Cupertino, minutes before Lesley Stahl took the stage with her 60 Minutes colleague Bob Simon, for Foothill College's Celebrity Forum Series. Special thanks to host Dick Henning and Foothill College President Judy Miner for their warm welcome.
Check back soon at Fresh Dialogues for Part 2 of my interview with Lesley Stahl about climate change and her eye witness account of the dramatic Arctic ice melt.