From Colony to Nation: 200 Years of American Painting at the New York Historical Society Museum
June 7--September 8, 2013
Drawn from the New York Historical Society's venerable collections, this exhibition presents a chronological and thematic survey of masterworks ranging in date from 1720 to 1917. Included are Colonial, Federal, and Gilded Age portraits; Hudson River School landscapes; marine and maritime paintings, with a focus on works inspired by the War of 1812; and genre, history, and narrative subjects.
It's in this last group--the genre, history, and narrative subjects section--where we can see a small canvas that rivets attention. A painting by Edwin White (dated 1861) shows a man in a cabin seated before a fire. Make that lounging in front of a fire. A black kettle sits deep within the hearth, in licking flames of playful oranges and yellows, leaping and glowing. Warm. Inviting. Natural.
The subject of White's painting is a man reading a paper. An upturned stovepipe hat, like a bucket, on the floor near his chair. And there really is a bucket (of paint) high up on the right near the rafters. His long legs are thrown outward and crossed at the ankles. A puffy lower jaw describes a man in contemplation. What is he reading? What does he make of it? The man is dressed handsomely but poorly. He isn't a governor but he seems comfortable in his home. It's a rustic room, with exposed masonry and long wooden planking for the floor.
The only furniture is the one chair on which the man sits. It seems as if he has worked a long day. His long topcoat renders him grand to a modern viewer. He looks like a tired, elegant soldier. He's really just a man who has worked all day, probably in a humble capacity. He's likely reading the war news. The War between the States--the Civil War. Pinned to the wooden door is a sign that reads "Haiti." Emigration for black Americans was in vogue at the time. Haiti as well as Africa were choice destinations bantered about by white Americans, as was Edwin, the painter. The man is African American.
The room's dilapidated interior looks homey. The walls are chipped away here and there. I think it must be the glorious fire and the tired elegance of the man who is reading that combine to make the painting so striking. It's as if you can't get enough of it. You could gaze at it all evening in your own home and never tire. Indeed, what a treasure it would be to have this painting. There's an old fashioned broom in the corner. It looks well worn.
A happy home is well worn, isn't it? Lived in. A place to go when tired. A warm room. I bet that fire smelled good. A wood fire. In a room made entirely of natural supplies. That's it! This painting shows the comforts of home, though they be monetarily impoverished, in a pre-industrial America. Delightfully simple.
White used a little ruby at the sleeve and to line the hat, a bit of sapphire highlights to cool the walls. A nutmeg floor and that magical fire. All aglow.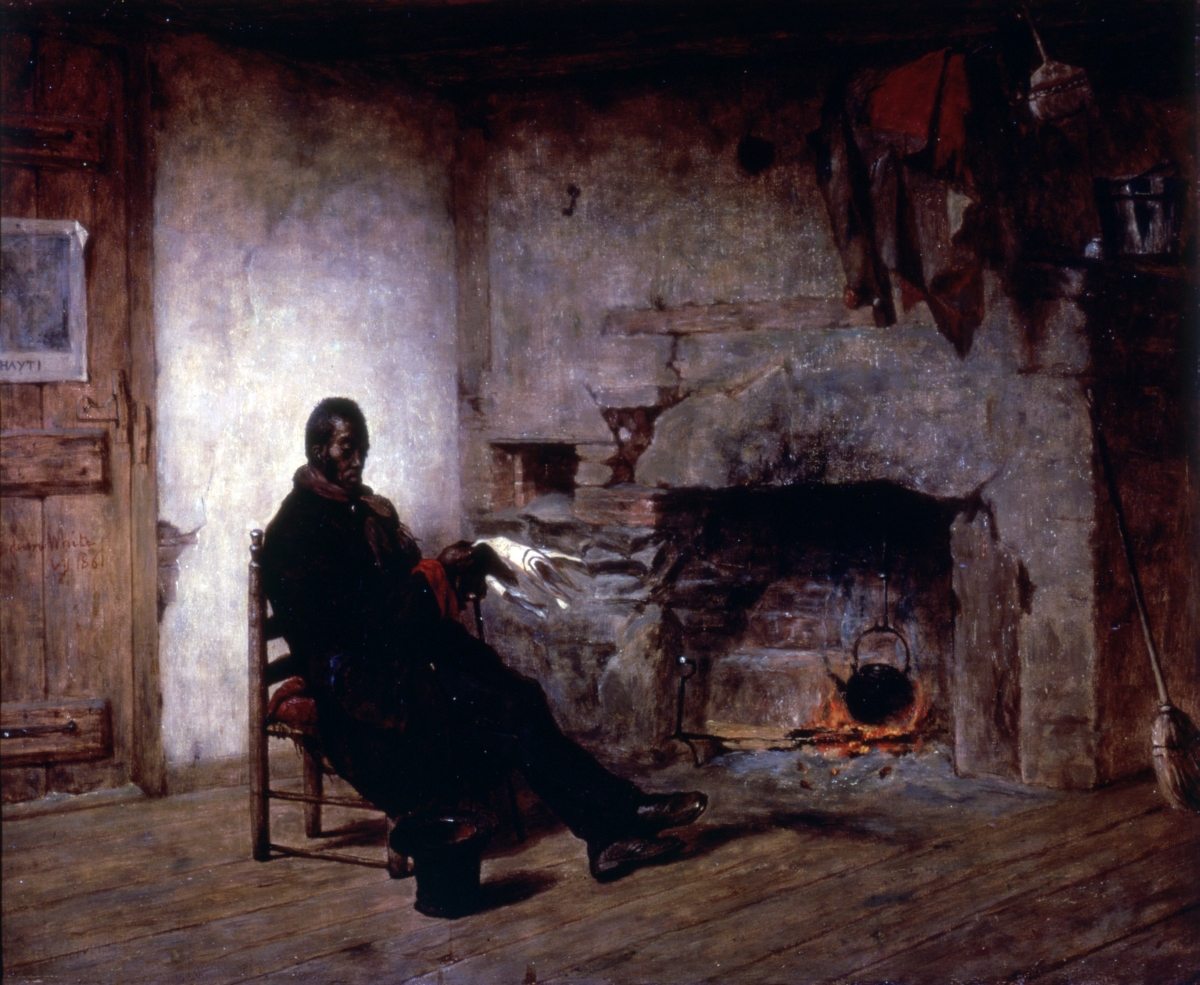 Edwin White learned to paint in Paris and Rome and right here in New York at the National Academy of Design on Fifth Avenue. Interestingly, his cousin was the first president of Cornell University.
There are other paintings to see at this exhibit. Lots of maritime works. Ships and seas. From the colonial era (1718) there's a portrait labeled "oil on bed ticking," which is worth seeing if only for the bed ticking. The Early Republic collection shows men in neckcloths and a woman with "Josephine" curls about her forehead; she wears an empire waist, gathered below the bosom--a style made famous by Napoleon's wife, circa 1807; it's a portrait of Mrs. Schuyler by Gilbert Stuart.
Ralph Earl painted the portrait of a Mrs. Duane that's here. It's the year 1787 and Mrs. Duane wears her hair in a huge white-powdered pouf.
John Singer Sargent has one of his long, large canvases in the show, a painting of Mrs. Jacob Wendell from 1888 and it is typical Sargent in that it's magnificent. Mrs. Wendell wears a tiny rose-gold (looks like Cartier, but Manhattan's branch of the Paris manufacturer wasn't yet opened) band on her little finger. Other rings glisten jewel-like on her hand, although up close, the ring pigments seem no more than drools of colour. Mrs. Wendell's fingers look rosy and warm and alive.
On burlap, there's a large piece by Colin Campbell Cooper entitled "Fifth Avenue, New York City, 1906." Cooper is celebrated for having done a rendition in gouache while aboard the ship Carpathian during rescue of survivors from the tragically wrecked Titanic mid-ocean. Cooper's Fifth Avenue painting looks like it has bits of crushed gem dashed down at street level with little daubs of white paint that beautifully illuminate petticoat hems.
Most of the people in the street are men. One man holds a delicate walking stick in his hand. The sky, all the while visible on nubby burlap, Cooper shows in peaches and watery blues. The architecture is very good. You know you are in New York when you see it. An especially fun detail is a clock that stands like a lollipop on a street corner as people and carriages rush by. Horses have brushstrokes of amber across their haunches.
It's all worth the trip to see. The only negative is that due to space restrictions, some of the paintings, notably that of Edwin White, hang too high on the wall. You'll need to stand on tiptoe to get a better view, which you will want to do. You'll wish to gaze right into the dancing fire that embraces the cast iron kettle, but you can't.
(Also at the New York Historical Society Museum this month is AIDS in New York--The First 5 Years)
Image: Edwin White (1817-1877), Thoughts of the Future (Thoughts of Liberia, Emancipation), 1861. Oil on canvas. New-York Historical Society, The Robert L. Stuart Collection, S-200