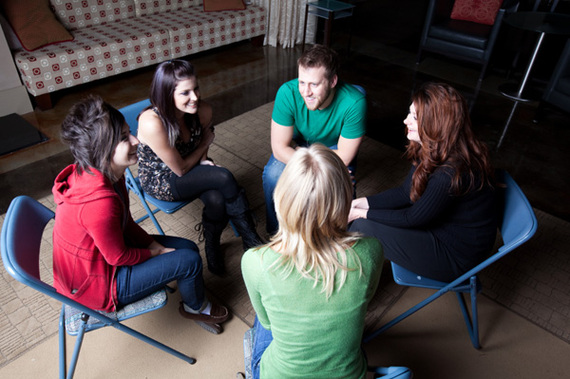 When Kathleen Hammett's third daughter was born, Hammett suffered a massive postpartum hemorrhage (PPH) and hysterectomy. Her baby daughter was able to go home two weeks before Hammett, who was stuck in the ICU, clinging to life with excruciating internal bleeding.
In addition to not knowing -- and, at some points, not caring -- whether she'd live or die, Hammett was left feeling completely isolated by her condition. When she finally got out of the hospital, no one in her small town could relate to what she had suffered. No one could grasp what she'd undergone, nor the pain of knowing she couldn't have more children.
Anita Sullivan lives with a different kind of suffering and uncertainty. Sullivan has a brother who's been missing for the past six years, and her husband, a disabled veteran, suffers from a debilitating illness called Cyclic Vomiting Syndrome.
"Very few counselors know how to help the family of a missing person," says Sullivan. "The grief and emotions are much different than for someone who has died, and [the counselors] aren't trained for it."
Despite their contrasting situations, both Sullivan and Hammett ultimately sought out support groups online to find people who could understand their distinct pain.
These groups, often closely monitored to protect their members, are not a new phenomenon, but chances are you know or think little about them until you find yourself needing one.
"Sometimes when friends and family do not understand," explains Hammett, "the anonymity of the online support group is invaluable... it was truly the safest place I could go."
"I tried therapy," she adds, "but found that I got more relating to these women online than anyone in my community -- they had been there, we shared some of the same fears, disappointments and gratitudes in ways that no one else could."
Hammett says the 400 PPH survivors in her group, many of whom were available day or night, were always there to answer a question or address a fear within at least 20 minutes.
For some, online support groups are especially helpful because of the physical limitations that accompany their illnesses. Leslie Bowman is a university professor who teaches her classes online. Bowman suffers from Arthritis, Ehlers-Danlos Syndrome and Type 2 Diabetes and belongs to five different online support groups. Bowman says the availability and lack of time constraints means you never have to miss a meeting due to a flareup.
These groups can also provide a much needed social component. Kelly Kane notes when she was diagnosed with Hodgkin's Lymphoma at the age of 24, she gave in-person support groups a shot. While Hodgkin's frequently affects young adults, Kane was being treated at a hospital where most people were "twice [her] age."
"I met people that were older than my parents," she says. "They were married and retired and in a completely different place than me as I was just starting out in my career."
Thankfully Kane's diagnosis came at a time when blogs were just beginning to crop up and she stumbled across a group of people starting treatment at the same time as her. In addition to providing support along the way, the group generated lasting friendships for Kane.
The Internet connects people in endless ways, but support groups are a unique variation on this connectivity. People may use these groups for themselves, but also to understand what loved ones are going through. As many sufferers and family members note, it's impossible to understand the experience without living it.
There are support groups for anything imaginable and they are not limited to medical conditions. There are groups for people with J-pouches, people who have dogs suffering from kidney failure, people with every kind of mental illness, people who are estranged from their adult children and more. Online, they can all find that bit of solace that may not exist in the confines of their immediate physical world.