 "First step in solving any problem is recognizing there is one."
In the season opener of The Newsroom, Jeff Daniels' character Will McAvoy launches into a wonderfully grumpy tirade with this one liner. While he was talking about the current state of the country, the same could be said for the mobile wallet landscape. Over the past few months, a dizzying array of announcements about mobile wallets have been made, leaving many industry insiders scratching their heads as to how, and more importantly when, the benefits will extend to the consumer. (Disclosure: my company contributed to the noise by making one of these announcements).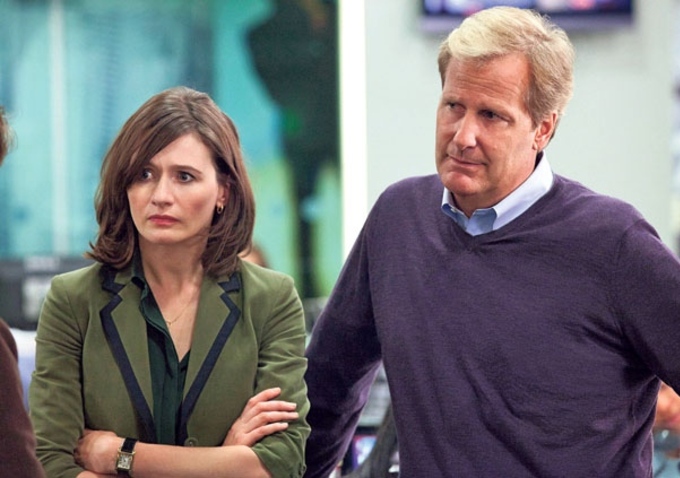 Emily Mortimer and Jeff Daniels in The Newsroom (AP Photo/HBO, Melissa Moseley)
One of the biggest problems I see facing companies in the space is that they have put more focus on the technology, and not on the tangible benefits. Looming in the shadows is an ever-skeptical customer who has grown increasingly frustrated with the promises of this over-hyped technology.
In order to understand this nascent space and move forward in the most healthy way possible, we have to recognize the problems and find solutions to each of them -- three critical areas that are worth pointing out are 1) the real market opportunity and why companies are missing the boat; 2) over-saturation and the question of trust; and 3) lack of consumer education.
Missing the Boat -- It's the Offers in the Wallet, Not the Transactions
We all recognize that the payments value chain is purposefully complex and dominated by huge financial services behemoths. The common thinking among wallet deployers is that there is little in the way of new revenue to be extracted from the five or six companies that touch every credit card transaction.
Baris Cetinok, SVP at American Express, recently presented data indicating that the size of this part of the industry is roughly $100 billion. With the exception of companies like PayPal and Square, most are conceding this revenue in favor of the much larger opportunity -- the $400-500 billion commerce opportunity in the form of advertising, marketing, coupons and loyalty services based on location and delivered on the phone.
To be clear -- the opportunity here is massive. So it's interesting that companies still center discussions around transactions and NFC.
As for NFC, whether it ultimately emerges as the standard or is a high-class technology in search of a problem, the reality is that it will take at least five years before there is enough new Point-of-Sale (POS) hardware deployed to know. What can be done today is to link a payment instrument to a wallet, thereby creating the closed-loop mechanism that is so essential for creating a relevant consumer experience and attracting brands to spend marketing dollars.
This is where innovators like PayPal, Square and American Express are way ahead of the pack. They can mine all the past purchase behavior of card holders, make recommendations to consumers based on their location and that past purchase behavior, and also help merchants drive more traffic to their stores. Most importantly, a merchant can pay for the marketing that drove the customer into the store only when a consumer transacts -- a real-world cost-per-transaction model. Consumers get a credit on their statement immediately -- which can show up in their wallet (or even with a simple SMS message).
Clearly, the mobile wallet winners will be those that create the most value for consumers. The lesson here is: It's not about the technology! It's about what creates most value for consumers!'

Oversaturation -- It's a question of trust
There are seemingly hundreds of players in the 'wallet wars' -- there is the mobile operator consortium called Isis, Apple Passbook, PayPal, American Express, Square, Microsoft, Google and a host of promising start-ups. Plus, Walmart and other large retailers are not-so-secretly plotting their own wallet effort.
Credit card companies and possibly mobile operators have a distinct leg up -- and for once, Google and Facebook are sitting at the wrong part of the value chain.
And card issuers and operators are beginning to understand this advantage -- recent moves like the Electronic Transactions Association new Mobile Payments Committee with representatives from all four of the major U.S. carriers is one example of the recognition that there is more power in collaboration among market players for the benefit of consumers, versus establishing competing standards. Project Oscar in the U.K., which would create a common mobile payments and marketing platform, is another recent example.
In addition, carriers and payments companies have the scale to create meaningful audiences for brands and businesses. The numbers speak for themselves -- for example, consider a card issuer like American Express with over 50 million cardholders, or AT&T with over 100 million subscribers, versus the few hundred thousand consumers that have downloaded the Google wallet with few outlets to actually use it.
The wildcard in this whole discussion is Apple -- they have the potential to disintermediate a lot of other solutions. While the iPhone is rumored to be incorporating NFC, the reality is that Apple doesn't need it. Passbook isn't iPay yet -- but with over 400 million iTunes accounts with credit cards on file, Apple could leapfrog all the other players by enabling consumers to pay with their accounts. And if they launched their own payments solution, not only would they immediately recoup what they are paying Visa and Mastercard for transactions, they also have the data to deliver really relevant offers to their users and can also enable retailers to deliver real-world offers with closed-loop ROI.
From a consumer perspective, trust will play a key role in decisions about what wallet to use. Financial partners and mobile operators benefit from a high level of consumer trust: you may not always like your carrier or credit card company, but you trust that they are not going to abuse your personal data.
To combat the risk of annoying the consumer further, everyone needs to come together to make it easy for the consumer to feel comfortable making mobile transactions. And that speaks largely to retailers who must work with card deployers to get their loyalty programs and offers integrated directly into a mobile wallet, in order to provide a seamless, simple customer experience.
Lack of Consumer Education
Left to our own 'devices,' we in the mobile payments world are in danger of making what could be a play in two acts complete with happy ending, into an excruciatingly long melodrama in which none of the characters are really happy -- nor the audience. Right now, most consumers are educated enough to know that there is great power in the mobile phone, but they don't know who to trust or how to get started.
Good advice? We need a narrator to help guide them along -- but that narrator cannot be focused on the agenda of his/her own company.
One such narrator in this space is Harvard professor and author Doc Searls. Searls recently wrote an insightful piece in The Wall Street Journal titled 'The Customer as God' and said:

"The largest and most durable opportunities are those that use the freedom we have or give us the freedom we want and need. Progress in empowering customers won't be smooth or even, but it will happen. Today, the supply side still reigns, but (in the future), everyone will understand that free customers are more valuable than captive ones."
Consumers also need to understand the value proposition of the mobile wallet -- what will they get if they choose one wallet or another? How will they be rewarded for their purchases, or for their loyalty to a store?
The winners in the wallet wars will be those who are able to educate consumers on their products, and create value within the mobile wallet, beyond the simple payments mechanism.
Where do we go from here?
Machines and technology can certainly free us from so many tasks -- from the mundane to those necessary for survival and well-being. Giving consumers control over their mobile experience happens when there is complete transparency, and when consumers choose to participate in a program or download an app and providing their express permission for their personal information to be used.
It is crucial that all players in the mobile payments industry strive toward the goal of putting the consumer in control and educating them on how this new technology can make their lives simpler and richer.
Once we can pinpoint some of the problems in the mobile payments space, companies can move forward to finding solutions that benefit us all. These solutions lie in greater consumer education, companies working together to provide a unified payments solution, and providing real value to consumers when they choose to open their mobile wallets.