Serendipitous sequence of events that always accompanies seeing my friend Mikel Orbe, head of the interior furnishings department within the Trade Commission of Spain in New York, brought me to LA's Dwell on Design. As Mikel's job is to promote Spanish talent, he immediately took me to the main attraction -- a show set up right on the convention hall floor called Bravos: Groundbreaking Spanish Design.
Soaking in the diversity and feeling quite privileged -- with my private tour guide, I walked around this innovative exhibit featuring 21 Spanish designers born after 1960 who are responsible for the recent Spanish design boom. Then Mikel dove in behind the display panels (this was clearly his territory) and produced a beautiful catalog. He said: "This is for you," and proceeded to show me additional examples by the artists represented in the exhibition while lovingly explaining the stories behind them.
Then, he introduced me to the curator -- Juli Capella, the one who had researched and chosen the key designers participating. According to him, these are the ones who "hold the design of the 21st century in their hands, and above all, in their heads." (All of the quotations are from the text of Bravos)

Juli Capella writes:
Whenever we ask about how we are seen abroad, the answers reflect a number of clichés... [W]e are attributed with a refreshingly entertaining style, which is regarded as Latin and Mediterranean. The influence of Spain's rich artistic legacy also makes itself felt, and many see traces of Picasso, Dalí and Miró in our works. Gaudí is also present in the freedom of gesture and naturalism.
In my mind's eye, I recall an image of Gaudí's Casa Milá (La Pedrera) in Barcelona where every detail converts function into art. The railing on the balconies, produced on site out of recycled metal scrap by architect Jujol, is one of the world's first abstract sculptures. Ahead of its time in many ways, La Pedrera includes an underground garage. Because of the architect's innovative pillar, column and beam-framework that sustains all of the building's weight, the apartments are all open spaces that allow for individual room partitioning to be configured by each tenant -- Gaudí's open plan predates Le Corbusier's Villa Savoye by more than two decades!
It feels great to witness continuation of such innovative work! In fact, Bravos presents products that have individuality, are conceptual, eco-conscious, experimental, ironic and humorous. As someone who is fascinated with flexibility and ability to change and adapt, I seem to gravitate to pieces that are reconfigurable or have been designed to transform depending on the need. Please enjoy some of my personal favorites below:

Martín Azúa:
"Spanish design is characterized by a brilliance that is often the product of precarious circumstances."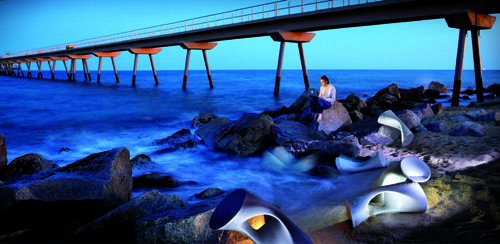 The portrait of the designer by photographer Rafael Vargas
Casa Básica
(1999) A folding and reversible habitable space intended for those in transit; it weighs 250g and can be placed in a pocket.
Washbasin
(2005) Manufacturer: Cosmic A rotomoulded polypropelene sink that can be used in a variety of contexts, even in a garden with a hose!
Nacho Carbonell:
"Spain is a land of inspiration. If you look closely, the whole of Spain has been continuously producing gifted minds in terms of creativity."
Dream of Sand (2007)
A sofa that can be molded to individual shape.
Emiliana Design Studio:
"Design was associated for many years with the ideas of exclusivity and glamour, but now it is being recognized for other facets, such as practicality, efficiency and sustainability."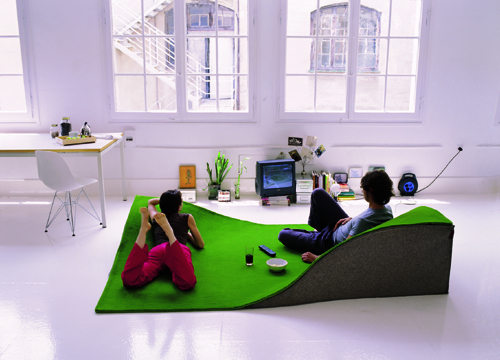 Flying Carpet (2002) Manufacturer: Nani Marquina
A three-dimensional carpet is a place to recline and stretch out with your back being supported in a variety of ways.

Luis Eslava:
"The International design scene has woken up to the fact that every passing year sees Spanish designers behind more and more of the most significant creations."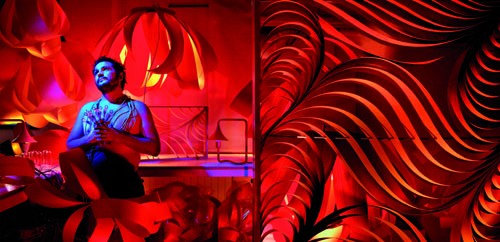 The portrait of the designer by photographer Rafael Vargas
Magnificent
(2009) Manufacturer: Almerich A ceiling lamp that invites the user to modify its appearance and luminosity.
Martí Guixé:
"Everything is intricate, with different levels and many possibilities."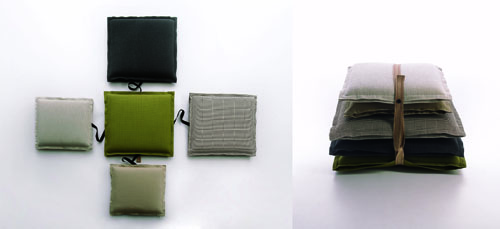 Xarxa Seat (2008) Manufacturer: Danese
A seat made of five different pillows that can be arranged as a bed, a sofa, or a chair.
Ernest Perera:
"The emergence of new design companies willing to take risks, to stand out, means that we are beginning to see interesting pieces by new names in Spanish design."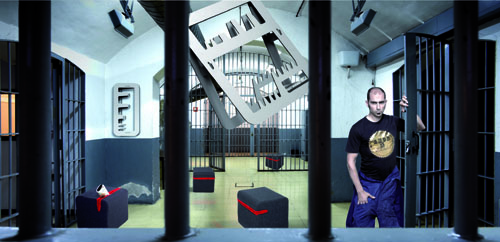 The portrait of the designer by photographer Rafael Vargas
Rain Drops Keep Fallin
(2001) Manufacturer: Amor de Madre A Plate that stands up vertically to be self-drying.
Uncut
(2007) Manufacturer: Amor de Madre A slipper that encourages participation to ensure perfect fit.
Hot Dogs
(2007) Manufacturer: Amor de Madre A pouffe that keeps your feet warm and stores magazines.
Bravos is presented in conjunction with the Spanish Agency for International Cooperation (AECID), Dwell on Design, the Consulate General of Spain in Los Angeles, and the Embassy of Spain in Washington DC as part of the Cultural Program: SPAIN Arts & Culture 2011. After being hosted by Dwell on Design, the exhibit will travel to different cities all over the Unites States during 2011 and 2012.