I just came back from Spain after attending Habitat Valencia Fair -- a showcase of the Spanish furniture industry. Everyone involved said that this year the attendance, as well as the number of exhibitors, have dramatically diminished and that whoever was there truly showed courage. I also heard a few times that in today's market, Spanish companies have to make an effort to export their products more than ever. President of the Spanish Association of Furniture Manufacturers and Exporters (ANIEME), Mr. Juan Carlos Muñoz in his interview with the press said: "Exports are the only salvation for Spain's economy."
Thus, I want to do my little part and share some treasures I discovered. Perhaps these
wonderful products will make their way to the American consumer.
I zeroed in on a couple of offerings for kids. Having been designing for children ever since I became pregnant with my first daughter more than twenty years ago, I am especially interested in products that focus on developmental aspects while serving the end user, not necessarily the ones who pay for it. Namely, they are products/furnishings that:
1. Find a way to grow with a child;
2. Find a way to nurture and show utmost respect for a child's creativity/sophistication.
My friend Mikel Orbe, head of interior furnishings department within the Trade Commission of Spain in New York, set up an interview for me with Alex Fernanez Camps, an architect who happens to be a passionate bicycle racer. As soon as he started talking about one of his recent products, a bicycle for children, I knew that he was also a dad. Manufactured by Orbea (no relation to Mikel), GROW is a bike with an adjustable seat, handle and length of the frame. It is lightweight and is specifically designed to accommodate children's changing needs while they are learning how to ride, hone their skills, and to become expert racers.
Alex informed me: "The advantage of GROW, apart from reduced economical and ecological costs along the whole of its life cycle, is a much better ergonomic adjustment for the user. Kids often ride a too small or too big of a bike for quite a long time which is not healthy." I thought it was terrific that Alex involved his own daughter and son in the development and prototyping process. He exclaimed: "They know a lot about it!"
Giving your children an opportunity to get involved in what you are passionate about is a win-win for parents.
There are economic advantages to owning this smart bike as well. While growing in size, it can be used by the same child for twice, even two-and-a-half times as long. Thankfully, GROW received accolades in Spain. In June of this year, it was awarded a prestigious Delta Gold Award.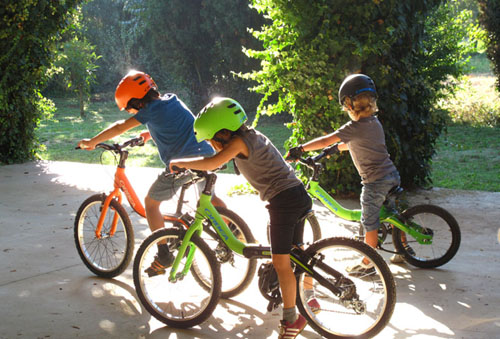 GROW. Photo courtesy of Alex Fernandez Camps

Another piece that really intrigued me was presented in the NUDE Section of Habitat Valencia Fair, designated for student work. THEA is a child's chair that doubles as:
• Art supply storage;
• Marker board;
• Puppet theater
was created by MENUT, a design studio established in 2011 by Maria Baldó, Daniel Ortega, and MJ Velasco. Their objective is "to gap the bridge" between children and adults. Maria told me: "For an adult, it is not easy to remember how they used to see the world when they were little, when everything was a discovery. We create products that allow children and adults to interact."
This compact, versatile product offers a great deal without dictating boundaries. It is genius to simply suggest a theater curtain by making a cut-out in the chair's back. What it looks and feels like is left to imagination. There is this built-in versatility that allows for hours and hours of play. In addition, if you need to announce something to the audience, you just lift a lid of a storage compartment in the base. In fact, the finger puppets reside there along with markers. Magical--it's all right there at your fingertips! What a pleasure.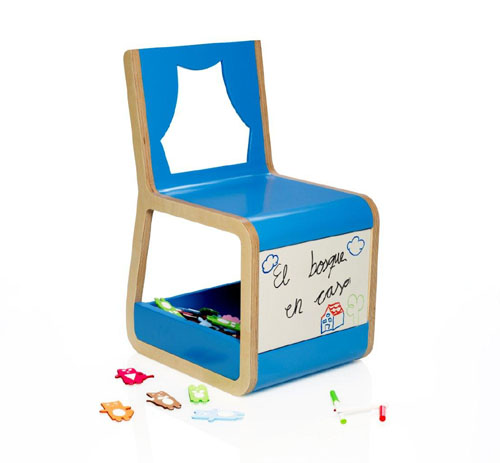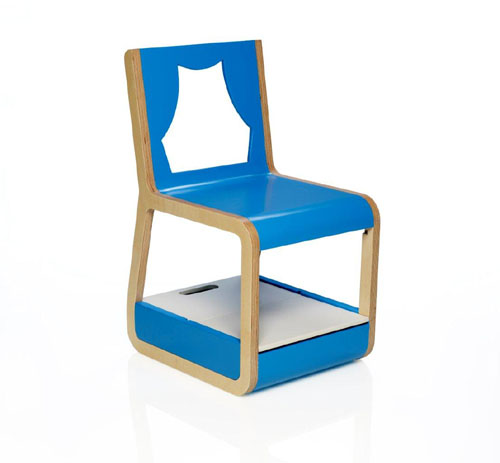 THEA. Photos courtesy of MENUT STUDIO
Despite poor economic climate, I came back encouraged. From bicycles races to puppet shows, Spain's designers are not spinning their wheels, but giving children the tools to thrive and succeed!