"Fresh off the boat," an émigré from the Soviet Union, I decided to study architecture at sixteen ... Who could have known that I had it in me! First year of Architecture School at USC was pivotal. It's easy to connect the dots many years later. Well, I doubted my potential for being a good architect, parent, and author. Now the question is: Do I have it in me to be a good teacher?
I've been asked to lead a course in Architecture for high school students as part of a public Saturday High (classes in art & design for high school students) at Art Center College of Design in Pasadena, California. I've been allotted 10 three-hour sessions to introduce 14 to 17-year-olds to the field I am passionate about. Where do I begin? Three hours in one sitting is a long time. Are they going to listen to me? Am I going to get through? Paula Goodman, the Director of K-12 Programs at Art Center says that the syllabus I constructed sounds "terrific." We shall see if I have it in me to make it come alive.
The motto for the first class is a quote from Peter Lorenz: "We do not know anything about the future, but we will arrange it, nevertheless." I rush through my own background, eager to distribute a student profile. I want to learn about them by focusing on issues related to their personal environment. It's a good idea to start with something familiar and ask unexpected questions. I can't wait to hear about their private enclaves and if there are some things they would like to re-arrange. Mack is actually in the process of repainting hers. Shawn would prefer wood floors. We start digging: why is having a view important? What about privacy? Do they tend to keep doors closed or open? Ian does not feel compelled to isolate himself because there is hardly anyone around most of the time.
A studio-style classroom has seven large tables, big enough to share by two people. There are 10 of them today, all facing in one direction -- I am standing in front of the group with my back against the wall. Quickly realizing that in order to facilitate a more relaxed discussion, I need to move to the center, I relocate. Yes, it's better! They are actually opening up! I am encouraging them to think out loud. What does it mean to "accommodate functional needs?" We establish that "play requires space."
Next, according to plan, is my presentation of Mind Mapping, a way to open one's mind to 360 degrees of associations. I learned about this technique from the book called How to Think Like Leonardo da Vinci by Michael J. Gelb. Everyone weighs in while we create a group diagram of an ideal room of their own. They are engaged and pick up on the concepts immediately. "My Room" is a place to rest, work, sleep, play, read, learn, get ready, and eat. We are using key words or codes to establish connections, systems, networks. I am quickly writing down the insights that are coming from all directions. We are getting somewhere! Colin brings up a surprising design objective: "My room should have a kitchen."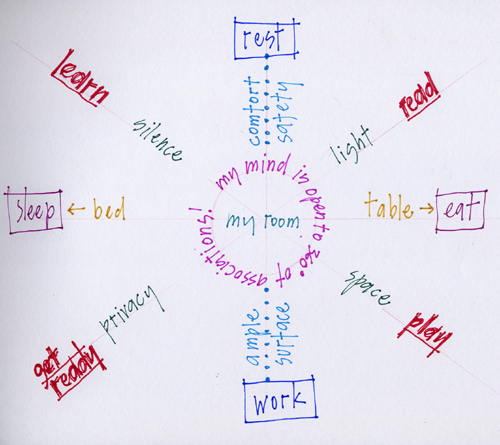 "My Room" mind map
So far so good. I distribute white 15.5"x12" envelopes to use as drawing surfaces (happened to buy a box of 500 when I only needed a dozen). They are to do their personal versions of the mind map. In the meantime, I am learning their names by reading collected questionnaires. Feeling enthusiastic: it will be possible to structure this class as a layering process. Then I announce a break, but no one leaves. The rest of the time is allocated to making a collage interpretation of a hand-drawn mind map.
I place piles of design magazines on everyone's desk. They begin to intently cut and rip. Perhaps for this age group it is an equivalent of getting on the floor and playing with blocks. Or am I being too simplistic? I want this class to be about feelings that architecture stirs up. It should be about attunement and noticing things that they have never paid attention to before. Yes, I will also teach them about scale and context, and how to use an x-acto knife.
Fascinating journey to embark on!