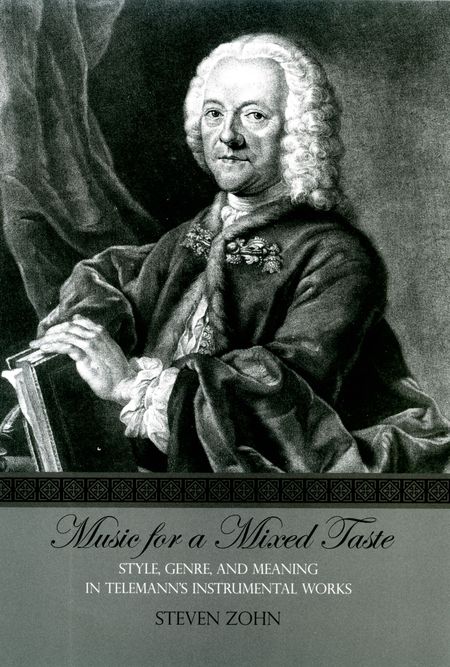 Cover of "Music for a Mixed Style," by Steven Zohn, showing Georg Philipp Telemann, whose opera Orpheus opens Saturday in a production by the New York City Opera. Photo courtesy of Oxford University Press.
Ask most classical music people to identify the titans of the Baroque era and they'd name Bach, Vivaldi, Handel, maybe a Scarlatti or two.
But Georg Philipp Telemann?
Tell them he belongs on the list partly for his operas and they'd think you're kidding about this composer, best remembered for some chamber music.
But it's no joke, Telemann's gorgeous music. Anyone with doubts should go to his opera.
Orpheus, considered by some his masterpiece, opens its run of four performances Saturday at the Teatro del Museo del Barrio at East 105th Street and Fifth Avenue by the New York City Opera.
Most Americans know little about Telemann's long, remarkably productive life (1681- 1767) and his reputation's current resurgence.
In Europe, performances and recordings have made Telemann an object-lesson in the cruel forgetfulness of history and the possibility for second chances after about 280 years.
First performed in Hamburg in 1726 as Die wunderbare Bestandigkeit der Liebe oder Orpheus ("The Marvelous Constancy of Love or Orpheus"), the opera is getting its first New York production, just its second in America. The operatic pedigree of the Orpheus and Eurydice myth -- Gluck, Offenbach, etc. -- gets an interesting link with Telemann, based a libretto by Michel du Boullay that adds Orasia, the widowed queen of Thrace. She falls in love with Orpheus, has Eurydice bitten to death by an adder, then orders the ur-crooner ripped to bits in a Dionysian frenzy.
"That Orpheus is finally being done in New York, by a company with the stature of the New York City Opera, is an important step in Telemann's revival," said Steven Zohn, a professor of music history at Philadelphia's Temple University. Zohn's 2008 book Music for Mixed Tastes: Style, Genre and Meaning in Telemann's Instrumental Works, is regarded as a landmark in Telemann studies.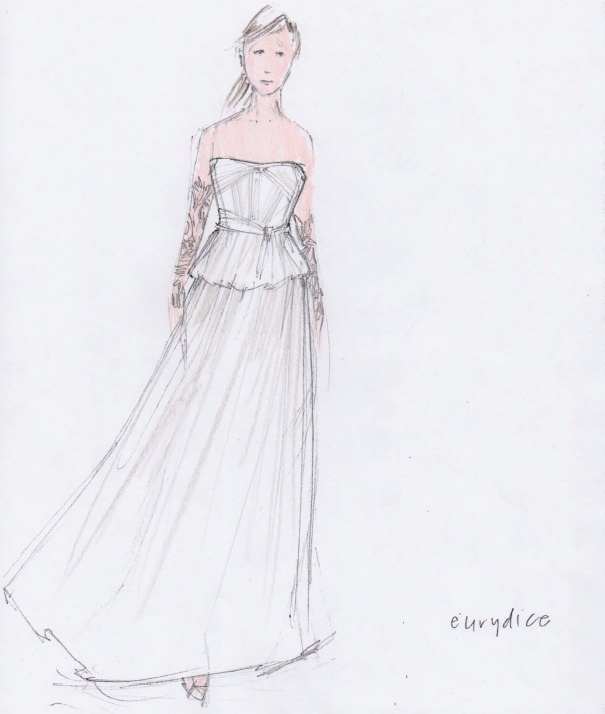 Sketch for Eurydice costume for Telemann's "Orpheus," courtesy of NYC Opera, set and costumes designed by David Zinn.
I recently sat in a midtown Manhattan rehearsal room where the NYCO's Orpheus came vibrantly to life. I heard an opera in three languages -- German, Italian and French -- each used for its dramatic potential, a Telemann trademark. I was even more excited by the music live than in a recording I'd heard, by what a rare (and ignored) admirer in the 1920s called its "neo-antique purity."
The fast-moving theatricality offers a break from the turgidity of much Baroque opera. Rebecca Taichman, the quick-rising director in whose hands NYCO general manager/artistic director George Steel has put this production, along with those of conductor Gary Thor Wedow, clearly revels in Telemann's pre-Mozartian mix of comic and tragic modes. Rather than play it safe with a traditional staging of an opera few people know, Taichman makes Pluto, Lord of Hell, a corporate one-percenter whose heart is softened by the beauty of Orpheus's music.
I have two Telemann-related treasures at home. One is my dog-eared copy of Telemann's Twleve Fantasias For Transverse Flute -- Telemann played the flute, the zither and he sang -- and the other is a crumbling book of essays by Romain Rolland.
I'd played Telemann's fantasias since my teens, marveled like other flutists at their sheer invention and an almost romantic quality that feels ahead of its time. I'd play these pieces and wonder: Who is this brilliant, approachable guy?
A decade ago, I wandered by one of those remaindered books tables on Broadway and spotted a crumbling copy of Rolland's Essays on Music. I'd heard of his essay on Beethoven -- A Portrait of Beethoven in his Thirtieth Year -- and bought the book.
I found another essay: "Telemann: A Forgotten Master."
Rolland doesn't put it this way, but from how his essay describes Telemann, he was a combination for his time of Igor Stravinsky and Leonard Bernstein, a pure innovator and a brilliant all-around music-and-theater man. He writes that "Bach transcribed whole cantatas of Telemann with his own hand" to get a grip on what was hip. Telemann stressed melody as a source of modernity. "Who plays on instruments must be versed in song," the composer wrote.
He shook up the establishment by starting a publishing company for his own music. He founded the first musical journal published in Germany. He was a serious poet and kapellmeister of several churches. He played music in taverns on evenings when he wasn't writing letters to his friends Bach and Handel.
Telemann (by his own count, reported by Rolland) produced 12 complete cycles of sacred music for all the Sundays and feast days of the year; 19 passions, whose poems were usually written by him; 20 oratorios, 40 serenades, 600 overtures, trios, concertos, clavier pieces and about 700 airs.
Contemporary experts say he wrote over 50 operas, and Orpheus is one of about seven intact enough to perform. Another Telemann opera that has George Steel's eye is one about Socrates that focuses on the philosopher's scrambled domestic life with two wives, a piece that blends rubber chicken humor and seriously beautiful music.
Rolland writes that Telemann grew invisible because history ruthlessly plays favorites.

"Since the day when the greatness of Johann Sebastian Bach was admitted, all that was great in his lifetime has become less than nothing," he wrote in his 1922 essay, which seems to have been overlooked as fully as Telemann.

The amount Telemann wrote, the ease with which he did it, convinced people he was too prolific to be great, that he tossed off "wallpaper."

What's giving Telemann his comeback?

Not long ago, musicologists helped locate a Berlin archive of musical manuscripts the Red Army spirited out of Germany at the end of World War II. They expected the most exciting finds would be by Bach. They found a lot of Bach -- and 200 choral works by Telemann.

Scholarly detective work has identified works not recognized as Telemann's at first. There was an authorship controversy about Orpheus. But Zohn and others who have studied historical performance records are sure it's his. And the multilingual aspect is uniquely Telemannic. Kim Witman, director of the Wolf Trap Opera Company, the first American company to stage Orpheus, says the multilingual element drew her. "At first I thought it was just interesting from an academic standpoint," she said, in a telephone interview. "But it really works."

George Steel also speaks of that element, though he takes a broad interest in German Baroque opera, one he hopes to explore in future NYCO seasons.

The unforgetting of Telemann, Zohn says, has come with the recent publication of all his known instrumental work. Most of the vocal scores are also finally out. In the last few years, "misconceptions were replaced by reasoned opinions based on first-hand knowledge of the music. Sensitive performances and recordings are bringing the music before a wider public."

And Zohn, who hopes to attend Orpheus in New York, sees it as "another chance for Telemann's music to speak for itself."