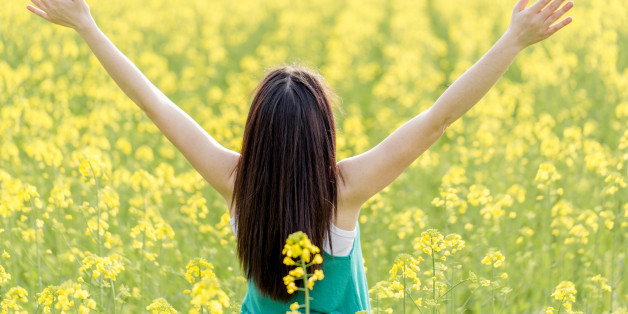 It finally hit me. That thing that's been missing for some months now in my life. Connection. Deep-rooted connection. Deep-rooted connection to myself.
Sitting at home sick from work, I watched Arianna Huffington's speech at Smith College's commencement, and it hit me. As a somewhat recent grad (Barnard '09) I left the collegiate world in search of this connection to my inner being, and largely found it in a rural village in Malawi, Africa. At the time I thought I wanted to just help the world. In reality, I think I also wanted to help myself. Yes, it sounds like a cliche. Sure, there are things about my experience there I don't miss. But it gave me a full two years to discover the kind of person I want to be, in a way that staying in the U.S. wouldn't have done.
This isn't another article by a Returned Peace Corps Volunteer that is trying to persuade people in search of a change to join. I find those rather trite. Instead, it's some thoughts building on Arianna's speech, which I think planted many seeds in people's heads about what we mean by success, and how we can restructure our lives to include our well-being in the mix.
Before I left for Malawi, I couldn't stand being alone. In full disclosure, I was terrified of it. In my job before I left, I unexpectedly had a day off, and spent a good three hours trying to find people to spend it with. When I realized my efforts would be futile, I spent the day roaming around New York City, feeling pretty self-conscious and bored. Instead of reveling in the rare opportunity to do things on my own, I chose to shop and go see a movie. I now look at that experience and laugh, because after two years of living alone, I know the inner connection that arises from it is not only therapeutic, but also quite necessary to become a better version of yourself.
I realize that not everyone needs to pack up and go to a rural village somewhere in the world that people in their lives rarely hear about in order to find out how their inner workings actually work. But I think it is necessary to find something you love doing, no matter what the risk or fear associated with doing it is, and to jump in and go for it. Worse case, it fails, but you come out knowing some more about yourself. Best case, it ends up not being the experience you expected, but the experience you needed.
Good luck, and show yourself (and then, maybe, the world) what you're made of!