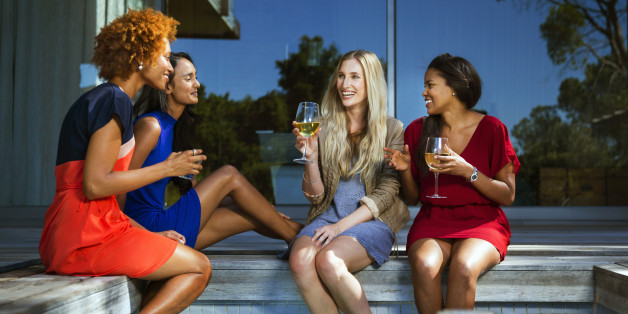 Sometimes, the third bottle drains all discretion. Here are 31 things women do only when drinking wine with other women:
1. Switch the definition of words typically in our grasp, like "indigent" and "indigenous."
2. Contemplate a drastic hair color change for summer that we'll never follow through with.
3. Decide to sell Stella + Dot.
4. Convince one another of celebrities we would be instant BFFs with, if only we had the opportunity to meet. Common victims include Gwyneth Paltrow, Beyoncé, Andy Cohen, Emma Stone, Mindy Kaling, Ellen and that girl from Rich Kids of Beverly Hills.
5. Watch the "How To Tell If You're A Basic Bitch" video. Over and over.
6. Make brunch plans the next day no one has any intention of keeping.
7. Swear by the effectiveness of the 7 Minute Workout. Offer helpful
demos to prove it.
8. Extol the virtues of rompers.
9. Gossip viciously, often reaching the pinnacle of behind-the-back insulting. "She's just not a girls' girl."
10. Admit to a friend you hated her when you first met. But then she grew on you.
11. Make insincere promises of services to one another. "I'll totally do your closet -- it will make such a difference." "My dad's a lawyer. He'll review the contract for you and take that guy to the bank. For free!"
12. Bore one another with stories of weird dreams.
13. Create the dream cast of Real Housewives -- geographic location and year of tenure doesn't matter!
14. Take the perfect group selfie for Instagram but never post it due to the inability to think of a clever hashtag. (The next morning, think of dozens of options.)
15. Reminisce about Gossip Girl.
16. Lie about frequency of barre class attendance.
17. Vow to finally take that group vacation. "I don't have the money for it, or the days off of work, and I'm not sure who will watch my baby, but I deserve a girls' trip."
18. Defend drastic hair highlighting regimen, saying, "I was blonde as a kid."
19. Admit our inner Samantha. Tell stories we'll immediately regret to prove it.
20. Frequently start sentences with, "OK, you have to promise not to say anything, but..."
21. Decide to start a book club. A "serious" one this time.
22. Pledge allegiance to Jenna Lyons.
23. Vow to start a juice cleanse. Next week.
24. Sing "Let It Go." Trash talk Taye Diggs for leaving her.
25. Debate hummus preferences.
26. Cry. Then say, "I mean, I never cry."
27. Make a list of the missing and crucial emojis that didn't make it into the next release.
28. Convince the group the ex is worth giving another chance. Tonight.
29. Rank, in order of preference, the Americans desperate for fame on Ladies of London and the Brits who pretend they're too good for it.
30. Find out if oil pulling is a real thing.
31. Swear to make this wine night a weekly thing.