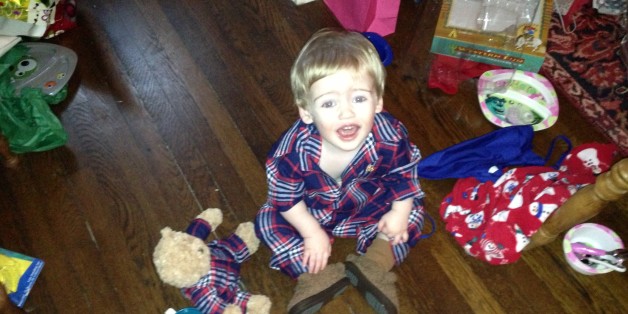 'Twas 15 days after Christmas and all through the house.
Not a decoration was taken down, I felt like such a louse.
The stockings still hung on my chimney, now bare,
In hopes my organized mom soon would be there.
Any evidence of the holidays now made me sneer.
Even the Restoration Hardware wreath that once gave me cheer
The greenery's all wilted, our pillaged nativity a vision of Hell.
When a tree isn't watered for weeks, Are you aware of the smell?
The children nestled back at school playing Duck Duck Goose,
Leaving me completely and totally out of an excuse.
There's no energy to pack Nutcrackers or to clean up sap
After all, doesn't Santa's unpaid intern deserve a long winter's nap?
Upstairs is scary, my girl's Melissa & Doug strewn and slandered
In favor of -- who knew? -- her brother's Skylander.
The kids rigged the train set with wrapping paper bombs made of toile
And I think Elf On A Shelf is having an affair with the American Girl doll.
"Tomorrow I'll take down the lights," said Procrastination Mommy each day at dawn,
as I filled the Spode holly mug I wish, too, was gone.
Smocked children in Seaside smiled from our display of holiday cards
Their grins now as menacing as the deflated snowman's in our yard.
"Sunday night, I'll get this house back to its pre-holiday glory!"
I swore again to my husband, "No ifs ands or buts -- end of story."
When, what to my wondering eyes should appear? The premiere of "Downton Abbey,"
Followed by eight episodes that made me quite sappy.
After the show I finished the Peppermint Bark (to rid myself of bad habits).
And polished off the fudge (to make room for Cadbury rabbits).
As I dozed off I heard a dream voice, like a bowl full of jelly:
"Allison, get it together! Your dog is sick from eating needles, the poinsettias are smelly!"
And I knew in a flash it was Vince Vaughn, sexy as Saint Nick.
With a wink of his eye, he said, "Out of bed, quick!"
I ran downstairs with the laser focus of Homeland's Carrie,
Only three hours it took, what for months had seemed scary.
Everything put away, gone as fast as my Advent candy
Those damn Container Store bins finally came in handy.
And as I poured the pinot it took to tolerate in-laws, I know it seems trite,
I whispered, "Happy clean house to all, and to all a good night."