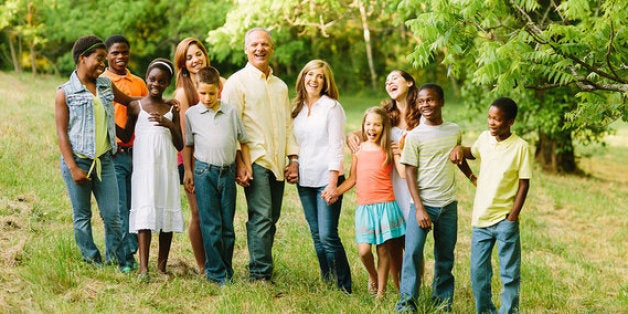 Eight years ago, our family of nine adopted five children from Liberia, West Africa. My husband, Roy, and I had raised seven children who had turned out well, so we thought, "What's five more?" To say we were clueless about our upcoming adventure is an understatement.
One thing that surprised us was the extent of their issues surrounding food. We had been told that they would have a fascination with food, but we weren't clued in to the depth of that interest. We were given the guideline to allow them to eat as much as we ate, but not more than we ate. Let me just say up front -- that doesn't work.
Our children had been raised in an orphanage. We were told they were fed two meals a day, usually rice and sometimes pasta. When our children came to live with us, though, they told stories of eating popcorn, fresh fruit, soda and meat, and they definitely knew what candy was. We had no way of knowing what the truth actually was but regardless, they definitely arrived with significant food issues.
After arriving in the United States, we had a long drive home from the airport. On the way, we gave them each an apple for a snack. That's when we started getting an idea of what we were dealing with -- one of our children collected everyone's apple cores and saved them next to her seat. We tried to assure her that we had more food, but nothing could persuade her to let us throw the apple cores away. We felt it was best to just let her have them, if it made her feel safer.
Once we got home, the breadth of the matter quickly became evident. Initially, we would wake up in the middle of the night and find one of our children in the kitchen eating. Then we would catch them taking food from our younger children. They would eat so much that they would vomit, then go back and eat more. We found them eating out of the trash can and compost at times. They would hoard food in their rooms by the bucketful. They even took a grocery list to our neighbor and asked him to buy them more food.
We tried many things to help them, such as feeding them as much as they wanted and giving them sandwich bags of nuts to carry around in their pockets. Nothing worked. No matter how much food they ate, in their minds, it was never enough. It could be quite stressful, as we couldn't even take them to the grocery store without someone stealing a candy bar.
So, eight years later, what have we learned about the issues surrounding food and adoption? Two main ideas come to mind. First, I learned that my children and food issues are serious. I used to think that they would grow out of it. I thought that as time went by and they continued to have plenty of food every day, they would come to understand that there would always be another meal. That's not the case, though. Unfortunately, it is evident that this will follow them throughout their lives. Now, instead of continually trying to fix it or fight it, I've come to accept it as part of who they are. The attitude of acceptance has been a relief, actually, in that I don't let this one problem weigh me down with stress any longer.
The second thing I've learned is to let go of negative thinking and false guilt. As someone who has spent her life raising children, watching them have a problem that I can't fix made me feel like I wasn't doing a good job as a mom. It took a therapist continually reminding me that I was my own worst critic for me to let go of negative thinking. I had to remind myself that my children joined our family with their issues already ingrained into them and that we were all doing the best we could.
Yes, adoption can come with certain issues, but I've seen my children grow emotionally and spiritually over the last eight years and blossom as individuals. My prayer is that our children will not let their pasts define their futures, and that the life they now have will empower them with the skills to cope with whatever comes their way.