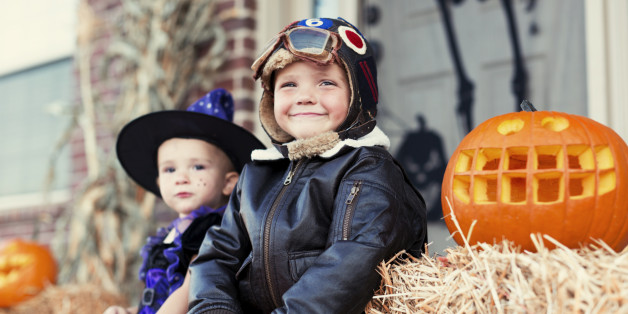 My kids are still working on becoming funny. At least I hope they're working on it, and that where they sit right now on the funny spectrum is not where they'll remain. Funny is important to me. The fact that it's lost on my children leaves them not getting 62% of what comes out of my mouth. Since the remaining 38% is made up of directives they're ignoring, we have a major communication problem over here.
When my then-5-year-old son shouted back to me from the door of a stranger's house on Halloween night, "Mom, she doesn't have any chocolate, is it OK if I pick something else?" I realized that my kids are too earnest for my taste.
See, I (jokingly (totally not jokingly)) told my son to make sure he gets lots of chocolate. The for me was implied. He did not pick up on the implication. He took it as a rule or mission of Halloween. He took it as advice from his mother who looks out for him and knows more about Halloween and the world at large than he does.
And nothing I said for the rest of the night could change his mind.
"Honey, I was just joking. Get whatever candy you like," I said.
"But you said to get as much chocolate as I can. I'll get chocolate," he said.
"You are evil. You better blog about this," husband said.
Every house was the same. My kid shouted back to me, "This one has more than one kind of chocolate, does it matter which I get?" and "This one has chocolate and Skittles. I really like Skittles. Is it OK if I pick the Skittles?" Once he even said to the kind stranger holding the candy bowl, "My mom wants me to get chocolate. Do you have any chocolate, maybe in your pantry?"
He had no idea that I was planning on stealing any candy from him. It would never occur to him that I'd want candy or play such a trick.
I seem to never learn the lesson that my kids don't pick up on subtlety, irony, sarcasm and jokes meant for the adults in the room. I made my daughter cry once when she saw me handing out ice cream sandwiches to her brother and to each of the three neighbor's kids and asked, "Can I have one too?" I said, "No. I'm giving ice cream sandwiches to all the other children but I'm going to give you onions for dessert." Even though I assured her I was joking and quickly handed over the ice cream, she cried again a few days later when she asked for dessert and I said, "Onions for dessert!" Kid cannot take a joke.
While other parents anxiously await their children to achieve milestones like tying shoes and learning to read, I'm waiting with baited breath for my kids to grasp sarcasm, trickery and actually funny jokes.
Originally published by Allison Hart on Motherhood, WTF?
Like what you see? Subscribe to Allison Hart's blog Motherhood, WTF?, follow her on Facebook, or check out her books!