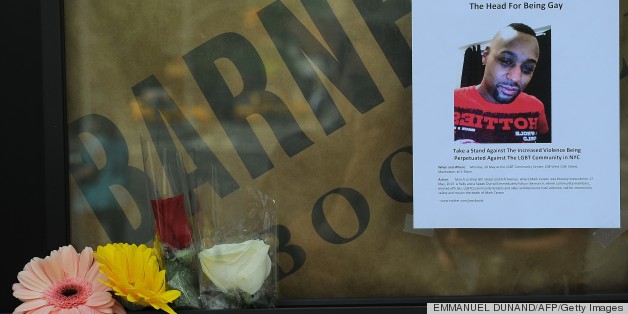 The news of yet another heinous hate crime, this time the brutal, point-blank killing of 32-year-old Mark Carson, marks what is hopefully the last in a disturbing string of violent acts targeting LGBT people.
Just four days earlier and a few short blocks from where Carson was killed, a gay man was attacked coming out of gay bar, Pieces. About a week prior to that, we saw the horrific images of two gay men who were beaten up near Madison Square Garden. And let's not forget the gay couple who were harassed and then punched on the 2 train one night this February, and Lou Rispoli, the gay rights activist who was attacked and killed near his home in Sunnyside, Queens, just days before Hurricane Sandy.
All these anti-gay acts of violence occurred in New York City, and two of the attacks took place in the one neighborhood that has historically been considered a safe haven for LGBT youth and adults alike, the West Village.
Gay marriage is legal in the state of New York. The federal Employment Non-Discrimination Act (ENDA) is facing potentially groundbreaking legislative movement this year, and the federal Defense of Marriage Act (DOMA) is likely to be struck down by the Supreme Court by the end of June. We are enjoying small victories and can smell the big win, even see the finish line. So what gives? Why are our brothers and sisters still bleeding in the streets?
Hate crimes overall are up year over year. According to New York City Police Commissioner Ray Kelly, there have been 22 bias attacks in the city so far in 2013, whereas at this point in 2012, there had only been 13 such attacks. And according to a recently released special report by the U.S. Department of Justice's Bureau of Justice Statistics (BJS), "Hate Crime Victimization, 2003-2013," 234,979 hate crimes based specifically on sexual orientation occurred across the United States from 2007 to 2011, up 2 percent from the period of 2003 to 2006.
This year, as more states allow same-sex marriage, ENDA faces a groundbreaking vote and DOMA faces extinction, why are we seeing an uptick in hate crimes committed against our LGBT brothers and sisters? Plenty have weighed in on the potential causes -- the changing demographics of the West Village, the fact that gay men tend to be targets for crime, etc. -- but my gut instinct tells me that something much larger is going on. I believe that we're seeing the tortured last battle of an anti-gay subset of our society that knows that it's losing the culture war. The homophobes know that a shift in consciousness is occurring, that the majority of the country now believes that gay people should be allowed to have jobs and homes and spouses and kids. The most hateful among us, who likely maintained some comfort in the sense of moral rightness that they felt justified their hatred, are now realizing that they're no longer in control. And what do angry, ignorant people do when they feel that they no longer have control (even if it's over something that they never truly controlled to begin with)? They lash out, of course. They use their angry words, their fists, their guns and their knives.
At risk of conflating issues of race and sexuality, history is telling. If we look at the time period just before the Civil Rights Act of 1964 was passed, there was an uptick in violence. In fact, the bill was brought to the House of Representatives just two days before President John F. Kennedy was assassinated. Some of the worst violence was seen during the months leading up to the passage of the bill, which introduced protections from discrimination on the basis of race, color, religion or national origin. Note that we're still working on getting gender identity and sexual orientation added to that list.
Yetta Kurland, a candidate for City Council representing the district where Carson was murdered, wrote in a Facebook message to me:
The murder of Mark Carson exposes just how deep the hatred towards our community is. Despite all the advancements we have made, all the awareness and work we have done, a man is shot down and killed for being gay, in the West Village in 2013. We still have a long way to go to create a world where the LGBTQ community does not live in abject fear. This fear extends to fair treatment in the workplace, to safety when we walk down the streets, fair representation in the halls of power, access to public resources, and an idea that we should simply not exist.
Regardless of the cause, the end result is needless bloodshed. There is no excuse for harming others, but have faith that love will prevail over hate. We shall overcome.