I did it.
I scheduled a photographer to take our family holiday pictures. I warned her to get sleep the night before and to eat her Wheaties that morning. I somehow convinced all three boys to put on the "fancy" shirts (read: they have buttons and collars) I bought for them. Their new cords were perhaps a little long, but these will be their "dress pants" until the spring. I endured the cries of righteous indignation when they saw sweater vests were involved. I brushed their hair and then resigned myself to the fact that they would appear in our photos in Avengers-themed and neon yellow sneakers.
I tasked my husband with dressing the baby, who was blessedly more cooperative than her brothers. It was only later, during the shoot in full sun and 78-degree weather, that I figured out that my husband had put the baby's dress and tights on her over her pajama top.
Then I set about dressing myself. Nothing fit exactly as I hoped. One sweater showed the muffin top lumps a little too much. One blouse was too blousey -- I looked like Violet Beauregard from Willy Wonka after she blew up into a giant blueberry. My current selection of denim in my closet is either slightly too loose or slightly too tight, so I erred on the side of loose. Finally, I settled on an outfit that somewhat coordinated with the boys'. Then I tackled my hair, which ended up being a small disaster thanks to my botched handling of the curling iron. Undaunted, I piled everyone in the car and drove us to a local college campus, dripping in Southern moss and beautiful Spanish architecture, under blue skies.
The photographer we worked with is both energetic and optimistic, essential traits for a family photographer. She was a good sport, but the same cannot be said for two of my children. They scampered up onto the chapel's cloister garden walls. They sat on the edge of the fountain, standing back up with wet bottoms. They dive-rolled in the wet, muddy grass. A little piece of me screamed out and died when it saw the stains on their new cords. I know it doesn't really matter, and they are kids and this is normal, but I just wanted to get that one maybe non-goofy, maybe non-muddy picture for the card.
We tried to hold it together, but the 5-year-old wouldn't look at the camera or gave the baby bunny ears when asked to pose. The 8-year-old wouldn't open his mouth to smile. The napless baby demanded to nurse, tugging on my shirt and making the whimper recognizable to any mom of a hungry infant. I ended up frantically breastfeeding on the chapel steps while about forty people on a campus tour shuffled by unexpectedly. That was awesome. There were many moments that I wanted to give up and just let the photographer get pictures of the kids while I hid around the corner, maybe in the fetal position.
But I did it. I am in the picture this year for our holiday cards, as is my husband, for the first time since 2006. I plan on being in pictures during the holiday as well. I was thinking today that if I had been in all our family holiday card photos in the ten years and change since I became a mother, I would have been photographed postpartum, then pregnant, then postpartum, then a little more together, then pregnant, then postpartum, then still sporting baby weight, still sporting baby weight, still sporting baby weight (sigh), then pregnant and now still a bit postpartum. What a story those pictures could have told about our family between the changes in our kids and the changes in my body and my husband's. I wish I had them now.
What I have realized and acknowledged since writing the post "The Mom Stays in the Picture" and then watching it go viral, and reach so many of you is that our family pictures do tell our stories. They are the stories we plan to pass to our children, to help recount to them and help them remember from where and whom they came. But even more than that, keeping ourselves out of these pictures -- out of these stories -- can symbolize something greater about how we see and treat ourselves as both mothers and human beings, and our children are watching. I am hoping that we might accept ourselves, perceived warts and all, as valuable, integral, essential parts of our own stories. I'm hoping we can value ourselves in our everyday forms as mothers, women, caretakers, warriors and, most importantly, individuals.
One small step toward these goals, for me, has been staying in the pictures. My friends are already starting to get the hang of asking each other to take pictures of us with our kids when we are out at an event or activity, and my 8-year-old is learning to use the Instagram camera app on my phone. I have embraced the (to me) imperfect and the spontaneous. I'm going to be in the pictures of us at our annual Christmas Eve dinner, dressed up and posing, but I will also be in the pictures on Christmas morning in our jammies and in my glasses. This holiday season is a moment in time for my family, and it will be captured in its entirety. I am determined to include myself, because I complete the picture. (Repeat to self as needed.)
There's no time like the present to get into the picture, my fellow moms (and dads too). Turn over the cameras -- to neighbors, to friends, to tripods, to photographers. The pictures don't have to be perfect. Your hair might have weird, fried crinkles in it like mine did. Your muffin top might make it into the shot. You might be in your jammies, but be in the picture. You are a big part of the story -- your story, your children's story, your family story -- and this moment will never come again. Tell us your stories... and don't leave out the best parts.
Send your holiday family photos with YOU in the picture to parents@huffingtonpost.com, and we'll add them to our slideshow.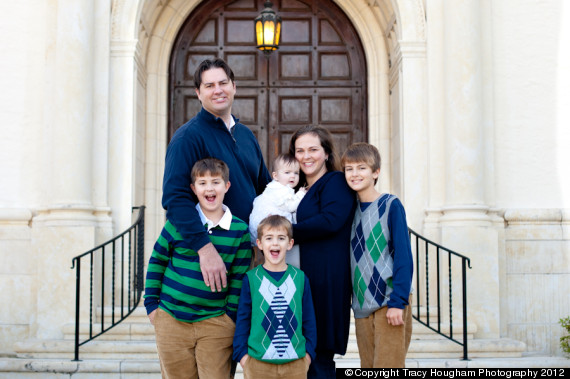 PHOTO GALLERY
The Mom Stays In The (Holiday) Picture