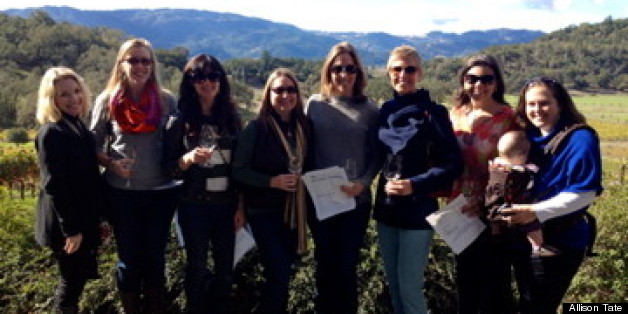 I don't need a greeting card holiday to celebrate the mothers in my life. Except I kind of do, just because normal, everyday life sort of swallows me whole a lot of the time, and I barely have time to wash my hair and give each of the little people in my life love before the day is done. So I'm going to take a moment to thank Hallmark for trying to capitalize on emotions and say that sometimes, I do need the designated holiday. Unfortunately for Hallmark, I am never organized enough to buy an actual greeting card. Sorry, Hallmark.
I could write a lot of words about motherhood and what it means to me, and I might. But today I want to write about mothers: not my own mother or my grandmother this time, but the mothers who are in my life and help me be a mother. They help me be a better mother. They help me be a better person. They are my village.
This one is for the mothers who pick my children up from school for me because I'm sick, because the baby is napping, or because I am stuck in traffic. They take my boys to practices or games and bring them home sometimes. I want to be everywhere, but sometimes I can't be. They take care of the most important things in the world to me and deliver them home safely.
This is for the mothers who volunteer to chaperone field trips and school parties and who work on PTA with me. We are all busy and all our time is valuable, but they help make a difference in my children's schools, and that is so important to me. My children spend more time at school than they do at home during waking hours, and I want that environment to be as positive as possible.
To that end, this is for the mothers who put their own children in childcare so they can teach at my children's schools. They aren't being paid generously and they are subject to a whole lot of headaches, and yet they still make the choice to teach. I know the job does not end when they turn the lights off in the classroom each day, and I am grateful that they share their talent and their dedication with my little gang. I could never give my children everything that each of these women give them.
This is also for the mothers who were my teachers, both in school and in college, who became a part of my life, who mentored me and modeled for me the possibilities of all the paths I could choose and who told me I could choose them. Their support and encouragement changed my life and who I am, both as a person and as a mother myself.
This is for the mother that puts her own children in childcare so that she can be my doctor and take care of me. She's the one who called me from her car with her 1-year-old in the backseat, on her way to a Gymboree class, to talk about an issue with my last pregnancy. She's the one I called at 2:00 a.m. with my third pregnancy, certain I had given myself listeria by eating deli sandwiches at my child's birthday party. She's the best doctor I have ever had, and I'm so glad that even though she has two small children of her own, she juggles everything her life to continue to be a doctor and to bring my babies into the world.
This is for the mother who is also my primary babysitter. She has three children of her own and a day job, but when I ran out of gas at the baseball field on a week night -- pregnant and stuck with three hungry, exhausted children while my husband was out of town -- she dropped everything and came to help. She feeds my children, plays games with them, and snuggles them to sleep so that I can have breaks or attend meetings or parties without them sometimes. The only way I can go on my third grader's field trip tomorrow is because she is willing to watch my baby on her day off from work. I pay her, but I could never pay her enough for the peace of mind of knowing I have a pro here in my place.
This is for the women, some of whom are are not yet mothers themselves, who love my children because they love me. They send my children some of the only mail they ever receive and remember them when they don't even have to -- the best gift of all to a child. We don't always acknowledge it, but they truly are family to my children, and I am so glad.
This is for the moms who sit with me at lunches or dinners or, sometimes, bars -- who laugh with me, who cry with me, and who nod their heads when I talk. They listen to the stories about my children, to my gripes and my worries, and they don't judge me. More importantly, they don't judge my children. They are my soft places to fall. When I call, they answer. I really don't know what I would do without my friends. It takes another mother to fully understand the distinct and intricate combination of love, exhaustion, exasperation, fear, and pride that goes into everyday mothering of these crazy, complicated little creatures in our care. It takes another mother to listen to our words but also to go farther and feel our hearts. It takes another mother to say, "You are doing a good job," and for us to hear it on our bad days. Because we know they know. I have those mothers in my life, and I am so thankful.
This Mother's Day, I hope to celebrate my mom a little. I hope to be celebrated myself. But I am feeling overwhelming gratitude today for the mothers who surround me and take care of me and my children, and I hope I do the same for them. I need these mothers, each of them -- I need the ones who have careers big and small, the ones who do not work for pay, the ones who live around the corner and the ones who live across the country. Every mother is vital to my village, whether we have made the same choices or not, whether we parent the same way or not. Our paths might not look the same, and they might not even all lead to the same place. But we're all walking, and they are choosing to walk beside me -- and sometimes, to carry me. Thank you, ladies. This one is for you.