I wrote to the President of the United States. I also wrote to the First Lady, every Governor of every state and all of the State of Connecticut Government. I also wrote to a few other politicians that we know in a few other states. Why did I write to them? Because my resolution for 2015 is to be more than a bystander and try to help stop bullying. Also, because change must happen in this country -- real change -- that has to come from the top down where we all decided to #BeBrave and stand up to bullying.
Here's what I wrote to them: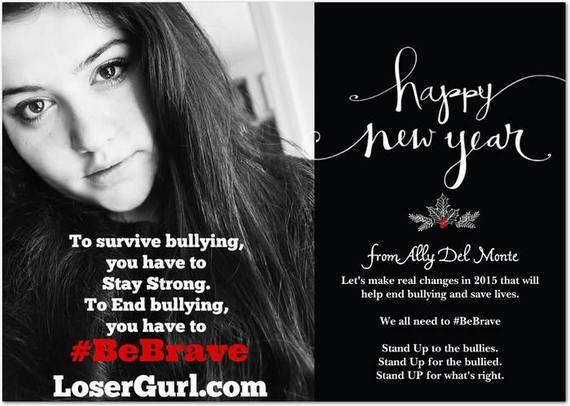 I'm Ally. When I was 13, I tried to kill myself because I had been tormented by bullies for year. Luckily, I survived, and I've made it my goal to help others by becoming an anti-bullying advocate and teaching others how to be brave and stand up to bullying. I'm 16 now, and I live in Connecticut. Bullying isn't just a problem in my state, it's a problem everywhere. We can fix it, however, if the whole country works together.

We need to acknowledge that bullying is a national problem and work hard to find a national solution. I think if we all learn to #BeBrave, we can do it.

Help me make 2015 the year that the United States takes bullying seriously. I am trying hard to be the change I want to see in the world. Will you help me?
I was very clear that I wanted them to take bullying seriously. I'm asking them what they plan on doing about bullying in their state. Bullying is killing us. It's killing both our souls, and our bodies. It's killing our future.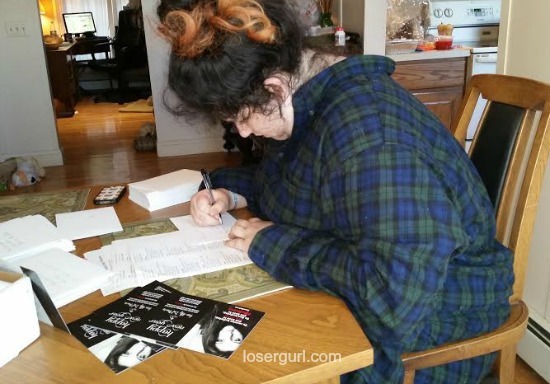 Politicians are supposed to be representative of the people they serve. Imagine, for one minute, if someone from every state in America were to stand up and say, enough, it is time for us all to #BeBrave and stand up to bullying. Imagine if they asked their lawmakers to help them pass laws to help ? Do you think change might happen then?
Have you ever thought that you are just one person, and that noting you do can make a difference? I used to feel the same way. And while it might be true that I am only one person. but I will never be able to help things change if I don't try.
Where does YOUR state government stand on bullying? Why don't you ask them? Here's a list to start:
Alabama- Robert Bentley @GovernorBentley
Alaska- Bill Walker @AkGovBillWalker>
Arizona - Doug Ducey @dougducey
Arkansas- Asa Hutchinson @GovBeebeMedia
California- Jerry Brown email here
Colorado- John Hickenlooper @hickforco
Connecticut- Dan Malloy @GovMalloyOffice
Delaware- Jack Markell @GovernorMarkell
Florida- Rick Scott @FLGovScott
Georgia- Nathan Deal @GovernorDeal
Hawaii- David Ige @GovHawaii
Idaho- Butch Otter @ButchOtter
Illinois- Bruce Rauner @BruceRauner * To be inaugurated 1/12
Indiana- Mike Pence @GovPenceIN
Iowa- Terry Branstad @TerryBranstad
Kansas- Sam Brownback @govsambrownback
Kentucky- Steven Beshear @GovSteveBeshear
Louisiana- Bobby Jindal email
Maine- Paul LePage @Governor_LePage
Maryland- Larry Hogan @StateMaryland *Inaugurated 1/21
Massachusetts Charlie Baker @MassGovernor
Michigan- Rick Snyder @onetoughnerd
Minnesota- Mark Dayton @onetoughnerd
Mississippi- Phil Bryant @PhilBryantMS
Missouri - Jay Nixon @GovJayNixon
Montana- Steve Bullock @GovernorBullock
Nebraska- Pete Ricketts Contact form
Neveda - Brian Sandoval @GovSandoval
New Hampshire- Maggie Hassan @GovernorHassan
New Jersey- Chris Christie @GovChristie
New Mexico- Susana Martinez Contact form
New York - Andrew Cuomo @NYGovCuomo
North Carolina- Pat McCrory @PatMcCroryNC
North Dakota- Jack Dalrymple @NDGovDalrymple
Ohio - John Kasich @OHPressSec
Oklahoma- Mary Fallin @GovMaryFallin
Oregon - John Kitzhaber @GovKitz
Pennsylvania - Tom Wolfe To be inaugurated 1/20
Rhode Island - Gina Rainmondo @GinaRaimondo
South Carolina - Nikki Haley @SCGOVOFFICE
South Dakota - Dennis Daugaard @SDGovDaugaard
Tennessee - Bill Haslam @BillHaslam
Texas - Greg Abbott @TexGov Inauguration 1/20
Utah - Gary Herbert @GovHerbert
Vermont - Peter Shumlin @GovPeterShumlin
Virginia - Terry McAuliffe @GovernorVA
Washington - Jay Inslee @GovInslee
West Virginia - Earl Ray Tomblin @GovTomblin
Wisconsin - Scott Walker @GovWalker
Wyoming - Matthew Mead email
How about you send a tweet to your Governor and ask?
YOUR GOVERNOR, Let's join with @Loser_gurls & make 2015 the year (Insert your state Abbreviation) learns to #BeBrave & stand up to #Bullying
It takes a lot more than the Governor of a state to get an idea to become a bill to become a law. If we we want to really help stop bullying, we need to tell our politicians to take notice and know we mean it. You need to start reaching out to your local state representatives to get them going, and I've linked each state to the Governor's websites, which you can track back to find your representative. Maybe you're not yet 18 (voting age) but you can still have a voice! You will, after all, vote one day. Your parents can vote. Twitter and social media can be a powerful tool, and raising awareness is always a good thing! I've also added each twitter address for the state Governors, and ways to reach them.
I've resolved to do make 2015 the year I try harder to help end bullying. I'm taking a stand and asking others to help. I'm hosting a series of 31 Ways to Be Brave and help Stop Bullying on my blog, Losergurl, this month. I'm standing up for what I believe to be a really important goal for all of us -- to help end bullying.
Need help? In the U.S., call 1-800-273-8255 for the National Suicide Prevention Lifeline.