Sports Illustrated has decided to have a curvy girl in the pages of its swimsuit issue. Apparently, we're all supposed to rejoice and be happy that someone actually endorsed someone who isn't a size 4. There's a spread in Sports Illustrated that features a real plus-size model -- Ashley Graham is a size 14/16 in a bikini. I want to point out that she is the size of the average American woman.
We couldn't be more proud of #CurvesInBikinis with @TheAshleyGraham in the 2015 @SI_Swimsuit! http://t.co/DeLU3A5L8y pic.twitter.com/JMawe9xbnL

— swimsuitsforall (@swimsuitsforall) February 4, 2015
Yay for those who are actually not what others think should be "beautiful"! Yay for those who have real curves and folds and still can look beautiful and feel beautiful and desirable! And hooray for Sports Illustrated for daring to put a plus-size girl in their issue -- except, wait, they didn't. They allowed an ad to be purchased and placed in their issue instead of it being an editorial decision, but still, hooray for them for taking money while letting the chubby girls of America feel loved and wanted. Baby steps, people, baby steps.
I love what Ashley says about the spread: "I know my curves are sexy and I want everyone else to know that theirs are too. There is no reason to hide and every reason to flaunt." I need to point out that I think that Ashley Graham is absolutely beautiful, no matter what size she is. Look at her face -- she owns being sexy and happy! That's beautiful. But I don't need Sports Illustrated to tell me that I can finally love myself, no matter my size.
I hated myself for years for my size. Heck, I'm bigger than Ashley, and I used to hide behind big shirts if I had to wear a bathing suit until I decided one day that I deserved to love myself, finally. The thing is, I needed to feel that way inside, in my head and in my heart. I had someone ridicule me while I was in a bathing suit once, and it scarred me for a long time. It took years for me to decide that I was worthy of loving myself for who I am, instead of what other people think is OK for me to look.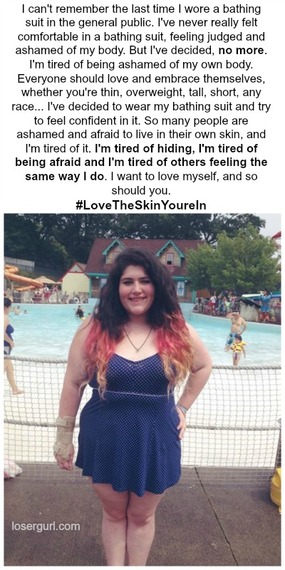 Are we allowing Sports Illustrated (and other media) to say that it's only OK to worship the kinds of bodies they deem acceptable? I really wish that Sports Illustrated had posted her photos on their own, and called her simply "beautiful." How about more real people, size 16, even 18 and higher? And let's not forget the "skinny" girls, who are often made to feel like they are not beautiful. Not "model perfect" girls with no waist and big butts and boobs, but thin girls. No one wants to hear "Go eat a burger, already" as much as no one wants to hear "Don't eat that, you're fat enough." So many athletes have curves, strong muscular bodies that are amazing because they are showing a woman she can do anything. Let's face it: This issue isn't about being a great sportswoman, it's about buying into the big fat lie that only a few body types are worthy of being showcased and called beautiful.
Let's stop body shaming already, and embrace that we all have our own beauty. We don't need Sports Illustrated or anyone to give us permission to feel comfortable or sexy in any kind of bathing suit or clothing.
I used to hide myself because I didn't give myself permission to love myself for who I am. Now, I embrace every part of me! I don't need permission from anyone to love my body -- it's just another part of me. We need to say it's OK to like a body, our bodies, no matter what size or shape nature has give us.
Ready to embrace yourself? Love you for who you are right now? Snap a pic and tweet it to me at @loser_gurls and use the hashtag #LoveTheSkinYoureIn.
Originally posted on my blog: Losergurl.com
Follow HuffPost Teen on
Twitter |
Instagram |
Tumblr |
Pheed |
Also on HuffPost:
PHOTO GALLERY
"Bodies Aren't Ugly. Bullying Is"