I'm heartbroken. I'm heartbroken, selfishly, for me, for the band, for the fandom and most of all for Zayn.
In his statement, he says he is leaving "because I want to be a normal 22-year-old who is able to relax and have some private time out of the spotlight."
Zayn says:
My life with One Direction has been more than I could ever have imagined. But, after five years, I feel like it is now the right time for me to leave the band. I'd like to apologies to the fans if I've let anyone down, but I have to do what feels right in my heart. I know I have four friends for life in Louis, Liam, Harry and Niall. I know they will continue to be the best band in the world.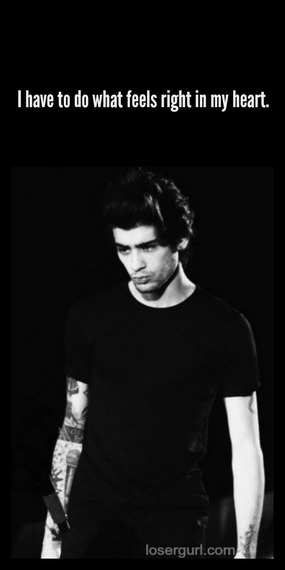 The thing is, I'm heartbroken, but I can understand why he felt he needed to leave. Why? We did this. Some of the fandom did this -- when we stopped seeing and loving them for the music that they shared with us, and started thinking we owned them. If I'm really honest, I have to say in a lot of ways some of his fans bullied him. They used their power as a fandom to harass him, causing a frenzy simply because he had his arm around someone.
If any girl is lucky enough to date one of the boys, they are also unlucky because it's guaranteed to unleash a torrent of hate on them for no other reason than the fan isn't dating them. How can you hate someone simply because someone likes them? How do you hate on someone because they have something you don't, and most likely, can't? When people started the whole "Larry" rumor, it destroyed an important friendship between two people who made magic -- with music. People treated the band members as if they owed all of their lives to the fans. We'd forgotten something.
When we've forgotten the most important rule there is, be kind, and treat others the way you want to be treated, then we all lose. Here's the thing. I get it. I, like most fan girls, would dream of dating one of the boys. I also recognized that it was improbable, and as someone who really, truly cares about the band, and the boys as people, I'm happy for them. I'm happy when they get girlfriends, and new cars and new haircuts, and even happy when Harry shows up with is crazy outfits. I'm happy they are happy. That's the way we should be.
Some people will think that the reactions of the fans is overkill. Please, don't. One Direction is much more than just a bunch of boys singing together. They are a group that helped bring together so many people. The truth is, One Direction helped save my life. They helped me find my way back of a dark, scary place. They helped me find my happy. So, if being in One Direction is making Zayn unhappy, I'm glad he found the strength to #BeBrave and do what's best for him. To #BeBrave, you have to stand up for the bullied, stand up to the bullies and stand up for yourself. He's doing what's right for him.
Sometimes, making the right choice for yourself seems like the worst choice for everyone else. But, if you really care about someone, you have to support the choices they make, even if you don't agree with them.
Zayn, I'm sorry to see you go. I'll miss you -- your voice, your style, your incredible high notes and your kindness. But I wish you well. I'll still love One Direction. I'm still going to 4 concerts. I'll still hope to meet the band at one of them. I want to thank them.
Follow HuffPost Teen on
Twitter |
Instagram |
Tumblr |
Pheed |
More on HuffPost:
PHOTO GALLERY
7 People Who Could Replace Zayn Malik On One Direction's Tour